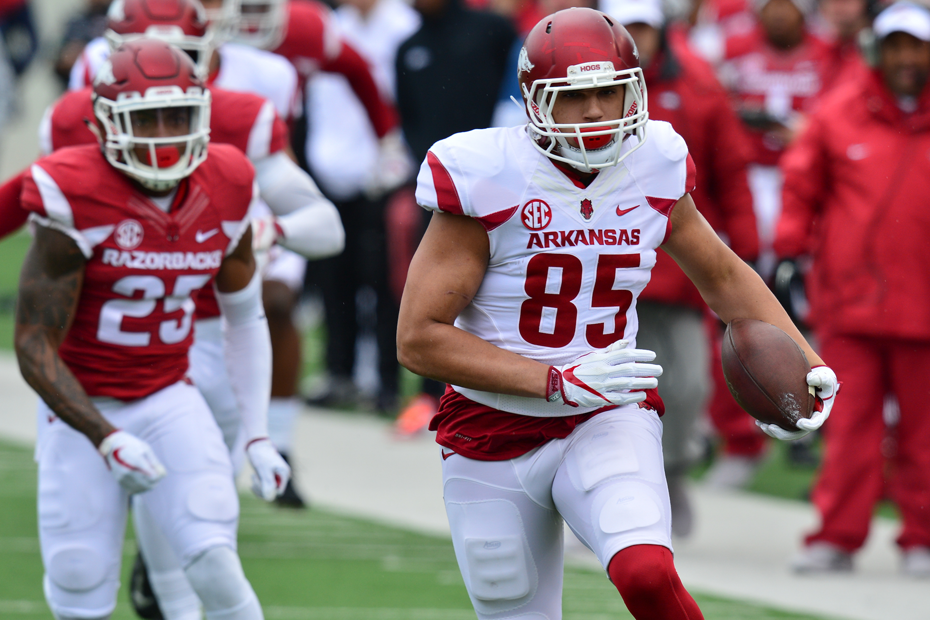 White Edges Red In Spring Game
HC Chad Morris' Opening Statement | Player Quotes | Top 10 Photos
LITTLE ROCK, Ark. – The Arkansas football team held its annual Red-White Spring Game on Saturday in Little Rock, as Razorback fans braved the cold, wet weather to watch the White team (offense) defeat the Red team (defense), 27-25.
Final Score: White 27, Red 25
Quarterbacks Ty Storey and Cole Kelley alternated drives in the first half, as each tossed for 126 yards through the air and one touchdown each. Storey went 7-of-14 through the air, while Kelley completed 10-of-19 passes.
Running back Devwah Whaley led the White team on the ground, rushing for 62 yards on just eight carries. Maleek Williams carried the ball 15 times for 61 yards, powering in Arkansas' only rushing touchdown.
Tight end Cheyenne O'Grady brought in both of Arkansas' touchdown receptions, combining for 58 yards, including a 53-yard catch-and-run score. Wide receiver La'Michael Pettway led the receivers with six receptions for 91 yards, including a 34-yarder that set up Williams rushing touchdown.
On the defensive side of the ball, linebacker Hayden Henry recorded a team-high eight tackles, including tying a team-best three solo stops. Jamario Bell and Randy Ramsey both led the team with two sacks, as Bell forced the lone turnover of the game, stripping quarterback Ty Storey as the first half came to an end.
Arkansas defensive backs combined for nine pass breakups, as senior Ryan Pulley had a team-best three.
Q1: 7:39
1 & 10
White 7, Red 4
After the Red team (defense) posted four points early with a three-and-out and two tackles for loss, the White team's (offense) first points came on the first play of its third possession as quarterback Ty Storey found Cheyenne O'Grady for a 53-yard touchdown.
Q2: 9:31
4th & 5
White 10, Red 8
Storey would lead a two-minute, 22-second drive, that went 60 yards in nine plays, capped off by a 38-yard field goal by kicked Christopher Lopez.
Q2: 1:57
2nd & Goal
White 17, Red 13
Quarterback Cole Kelley would get in on the scoring, as the sophomore signal caller commanded Arkansas' second nine-play scoring drive, going 73 yards in two minutes, 23 seconds to put the White team back in front 17-13. Kelley found wide receiver La'Michael Pettway down the left sideline for a 34-yard gain, setting up O'Grady's second touchdown reception of the afternoon.
Q3: 4:30
2nd & Goal
White 24, Red 21
To begin the second half, quarterback Dalton Hyatt went under center and led the White team on a 15-play drive, extending the drive a couple times with his feet. Hyatt rushed five times for 21 yards on the 75-yard scoring drive, the longest of the game. Running back Maleek Williams found the end zone from two-yards out to give the White team a 24-21 advantage.
Q4: 7:52
4th & 11
White 27, Red 22
Lopez added his second field goal of the contest, clinging one off the left post to give the White team a 27-22 lead, after the Red squad sacked quarterback Jack Lindsey on third down.