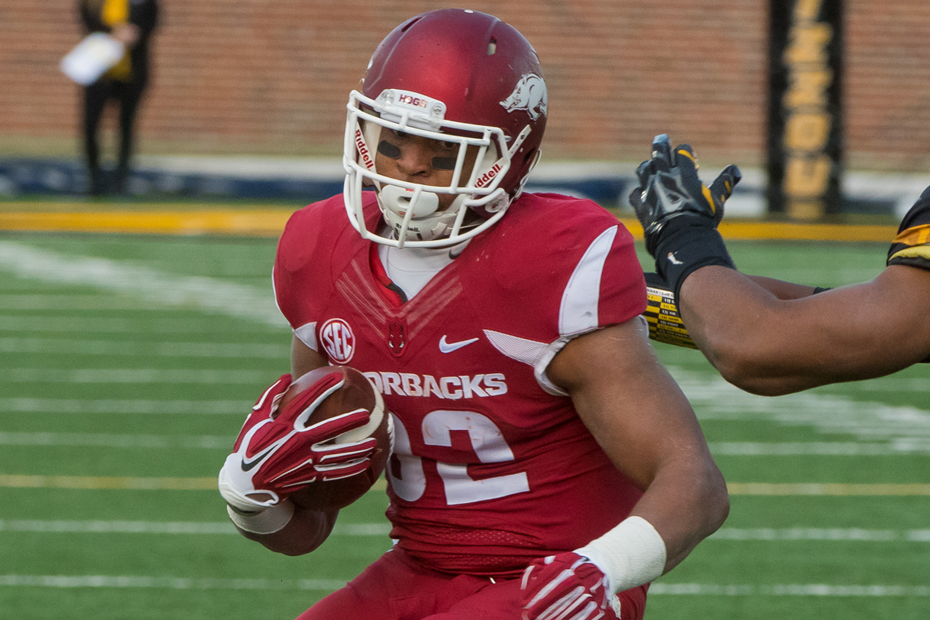 Williams Named Earl Campbell Tyler Rose Award Semifinalist
TYLER, Texas – Junior running back Jonathan Williams has been named an Earl Campbell Tyler Rose Award Semifinalist, as announced by the Tyler Chamber Monday.
Williams is one of 16 semifinalists that recognizes the nation's college offensive player of the year in honor of the legacy of Texas legend Earl Campbell.
In Arkansas' 30-0 shutout over No. 8 Ole Miss, the Allen, Texas native eclipsed 1,000 rushing yards in a single season with 1,013 total. Williams' 1,013 rushing yards marks the first time in his career he has rushed for over 1,000 yards in a season and makes him just the 12th Razorback to achieve the feat in program history. The junior's total rushing yards ranks fourth in the conference and 34th nationally. His single-season compilation currently ranks 16th all-time in program history and his 2,176 career rushing yards pegs him 12th all-time in school history.
Williams ranks third in the conference and 27th in the nation with 11 rushing touchdowns and his 5.79 yards per carry is good for third in the league and 28th in the nation.
The Earl Campbell Tyler Rose Award, announced in 2012 by the Tyler Chamber and SPORTyler, recognizes the top offensive player in Division 1 football who also exhibits the enduring characteristics that define Earl Campbell: integrity, performance, teamwork, sportsmanship, drive, community, and tenacity; specifically tenacity to persist and determination to overcome adversity and injury in pursuit of reaching goals.
In addition, the nominee must meet one or more of the following criteria: born in Texas and/or graduated from a Texas High School and/or played at a Texas-based junior college or four year D1 Texas college.
The Razorbacks will next take on the Missouri Tigers in Colombia, Missouri on Friday, Nov. 28. Kickoff is slated for 1:30 p.m. and will be nationally televised on CBS.
For more information on Arkansas Football, follow @RazorbackFB on Twitter.