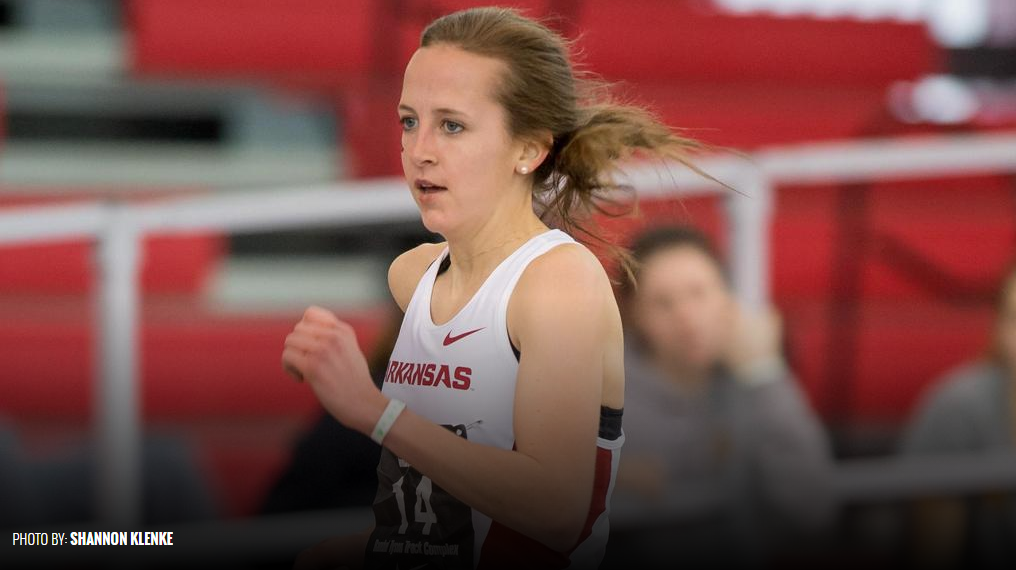 Women's @RazorbackTF Ranked No. 1 for the Second Week in a Row
FAYETTEVILLE, Ark. – On Monday (Feb. 23) the United States Track & Field/Cross Country Coaches Association (USTFCCCA) released its fifth regular season edition of the NCAA Division I National Team Computer Rankings and the Arkansas women's track and field team checked in at No. 1 for the second consecutive week.
The USTFCCCA also released the fourth regular season NCAA Division I Regional Rankings and the Razorbacks kept their No. 1 spot in the South Central Region.
The national team rankings are compiled by mathematical formulae based on national descending order lists. The purpose and methodology of the rankings is to create an index that showcases the teams that have the best potential of achieving the top spots in the national team race. Rankings points do not equate with NCAA Championships team points. Preseason rankings included marks from 2014, and the National Team Computer Rankings will continue to do so through the third regular-season edition.
Last weekend, the Razorbacks closed the regular season at the Arkansas Open on Saturday, Feb. 21.
Tamara Myers (7.54), Regine Williams (7.59) and Shekara Boakye (7.60) finished 1-2-3 in the 60 meter dash. Myers' time of 7.53 established a new personal-best for the senior.
In the 60 meter hurdles, Alex Gochenour (8.41), Leigha Brown (8.67) and Holly Hankenson (8.94) all set personal-bests and finished first, third and sixth, respectively. Brianna Swinton took first in the 200 meter dash with her personal-best time of 24.02, while R. Williams finished second (24.11) and Daina Harper took third (24.44; PR).
Rebekka Simko (2:08.56), Chandler Crumblish (4:58.47), Alex Gochenour (19-8.75) and Micah Dennis (48-0) all set new personal-bests and took the individual title in the 800 meter run, mile, long jump and shot put, respectively.
Taliyah Brooks, who took fifth in the 60 meter dash with a new personal-record 7.70, won the high jump event with her mark of 5-8.75.
In the highly anticipated pole vault competition, Sandi Morris defeated current collegiate record holder Demi Payne (Stephen F. Austin). Both competitors missed three times at 4.59m, but Morris earned a tiebreak win with zero misses before 15-0.75 to Payne's two misses. The Greenville, S.C. native got the jump-off win over April Steiner-Bennett (jumping for Asics) by clearing the 15-0.75 height at which she went out. With her jump-off win, Morris posted the 9th-best height in college history and now has four all-time top-10 marks in 2015.
Megan Zimlich and Ariel Voskamp tied for fifth place in the pole vault (13-5), while Ariel Lachance took seventh place (12-5.25).
The Razorbacks will be back in action on Feb. 27-28 for the SEC Indoor Championships at Nutter Field House in Lexington, before returning home to the Randal Tyson Track Center for the NCAA Indoor National Championships (March 13-14.
For the latest information on Arkansas women's track and field, follow @RazorbackTF on Twitter.
Women's Indoor Track & Field National Team Computer Rankings (Top 25)
1. Arkansas
2. Georgia
3. Florida
4. Texas
5. Oregon
6. Kansas State
7. Texas A&M
8. Baylor
9. Kentucky
10. Georgetown
11. Wisconsin
12. Southern California
13. Southern Illinois
14. Akron
15. Clemson
16. Stanford
17. Texas Tech
18. Mississippi State
19. Providence
20. Missouri
21. LSU
22. Florida State
23. Iona
24. Notre Dame
25. New Mexico
Women's Indoor Track & Field Regional Rankings (Top 15) | South Central Region
1. Arkansas
2. Texas A&M
3. Texas
4. LSU
5. Baylor
6. SMU
7. Texas State
8. Stephen F. Austin
9. Arkansas State
10. Lamar
11. Sam Houston State
12. Louisiana Tech
13. Rice
14. Tulane
15. New Orleans
Fayetteville, the "Track Capital of the World", will be at the center of the track and field universe on the weekend of March 13-14 as the Razorbacks will host the 2015 NCAA Indoor Track and Field Championships at the Randal Tyson Track Center, the home of the "Fastest Indoor Track in the World". Since the facility's opening in 2000, Arkansas and the Randal Tyson Track Center have hosted the event 11 times, including nine straight seasons and 11 of the last 13 championships.
A two-day, all-session ticket to the NCAA Indoor Championships is $40 for reserved seating and $30 for general admission adult ticket.
NCAA all-session passes are available online at HERE, by contacting the Razorback Athletics Ticket Center via phone at (800) 982-HOGS