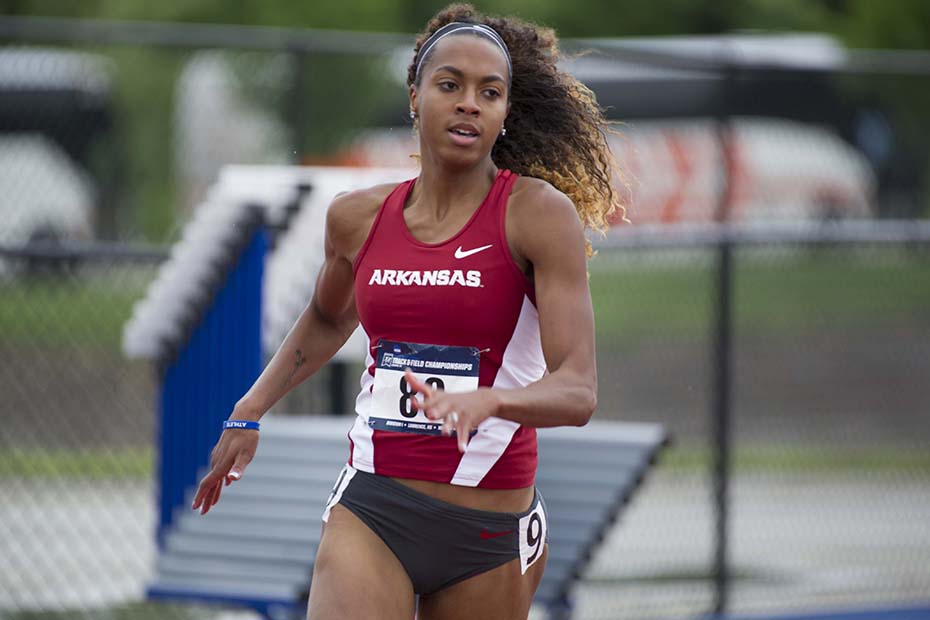 World-Leading Relay Performance Highlights Weekend
NCAA West Full Results | NCAA Outdoor Meet Schedule
LAWRENCE, Kan. – The No. 2 Arkansas women's track and field team capped its NCAA West Preliminary weekend with 21 national qualifiers (inclusive of the four heptathletes) advancing from Lawrence to the 2016 NCAA Outdoor Track and Field Championship in Eugene, Oregon on June 8-11.
The weekend was highlighted by a world-leading performance by Razorback 4-x-400-meter relay team Damajahnee Birch, Daina Harper, Monisa Dobbins and Taylor Ellis-Watson whom bested regional rivals, the Texas Longhorns in the final race of the day to secure an automatic qualifier to NCAAs in the event.
Anchored by nine-time All-American, Ellis-Watson, Arkansas' 4-x-400 crew shattered the program record by almost two seconds running 3 minutes, 25.48 seconds to improve on the time (3:27.09) formerly held by 2013 NCAA national champions Chrishuna Williams, Sparkle McKnight, Gwendolyn Flowers and Regina George.
The remarkable effort earned the quartet a place in collegiate history as the fourth-best team to ever contest the relay with the seventh-best performance of all-time.
In addition to the 4-x-400, four student-athletes accounted for eight of the Razorbacks' qualifiers as Taliyah Brooks (heptathlon and long jump), Alex Gochenour (heptathlon and 100 hurdles), Dominique Scott-Efurd (5K and 10K) and Payton Stumbaugh (heptathlon and 100 hurdles) all individually qualified in two events apiece.
In total, 15 student-athletes make up the 21 qualifiers traveling to Hayward Field to represent Arkansas in 10 events and two relays.
2016 NCAA Qualifiers – Saturday, May 28
5,000 Meters
• Distance specialist, Scott-Efurd added another event to her docket in Eugene as one of the top-six qualifiers out of the West region in the 5K. The Capetown, South Africa native was the top finisher out of heat two and heads into the outdoor national meet as the fastest collegian with her personal best time of 15:25.10 from the Stanford Invitational.
100 Meter Hurdles
• Already Eugene-bound for the heptathlon combined events duo Gochenour and Stumbaugh raced into the 100 hurdle top-12 to further increasing the Razorbacks' list of national qualifiers. Arkansas indoor and outdoor high hurdle record-holder, Stumbaugh advanced automatically as the fastest runner out of heat two while Gochenour earned her spot as one of the sixth-fastest non-heat winners.
4-x-100 Relay
• Razorback quartet Kelsey Herman, Taylor Ellis-Watson, Daina Harper and Kiara Parker kicked off the last day of competition for Arkansas in phenomenal fashion earning an automatic qualifier with a runner-up finish out of heat two of the event. The qualifier was the second for all four relay members whom advanced individually in open events a day prior.
4-x-400 Relay
• Demolishing its season's best performance by seven seconds, the Arkansas 4-x-400 relay team collected the program's 21st national qualifier with a heat two victory. The event marked the third qualifier for quarter-mile sprinters Ellis-Watson and Harper who both contributed to the success of the 4-x-100 and advanced individually in the open 400.
NCAA West Preliminary Results May 26-28
Rock Chalk Park
Lawrence, Kansas
100 Meters
Kiara Parker (10) – 11.50Q
400 Meters
Taylor Ellis-Watson (3) – 51.76Q
Daina Harper (8) – 52.93Q
800 Meters
Ceara Watson (23) – 2:08.91
1,500 Meters
Nikki Hiltz (17) – 4:22.66
Therese Haiss (24) – 4:26.15
Annika Sisson (39) – 4:35.29
5,000 Meters
Dominique Scott-Efurd (6) – 16:15.88Q
Valerie Reina (28) – 16:56.33
10,000 Meters
Dominique Scott-Efurd (1) – 34:20.35Q
100 Meter Hurdles
Payton Stumbaugh (7) – 13.20Q
Alex Gochenour (11) – 13.28Q
Kelsey Herman (18) – 13.39
Taliyah Brooks – DNF
400 Meter Hurdles
Damajahnee Birch (9) – 57.89Q
Brianna Swinton (14) – 58.42
Leigha Brown (22) – 59.23
3,000 Meter Steeplechase
Jessica Kamilos (5) – 10:04.76Q
Devin Clark (6) – 10:08.35Q
4-x-100 Relay
Arkansas A: K. Herman, T. Ellis-Watson, D. Harper, K. Parker (5) – 44.58Q
4-x-400 Relay
Arkansas A: D. Birch, D. Harper, M. Dobbins, T. Ellis-Watson (1) – 3:25.48Q
Pole Vault
Lexi Weeks (1) – 4.22m/13-10Q
Tori Weeks (5) – 4.22m/13-10Q
Ariel Voskamp (7) – 4.12m/13-6 1/4Q
Megan Zimlich (22) – 4.12m/13-6 1/4
Long Jump
Taliyah Brooks (3) – 6.33m/20-9 1/4Q
Kelsey Herman (4) – 6.24m/20-5 3/4Q
Shot Put
Micah Dennis (28) – 15.29m/50-2
Heptathlon (season's best performances)
Taliyah Brooks (4) – 5,991Q
Payton Stumbaugh (5) – 5,985Q
Alex Gochenour (10) – 5,833Q
Leigha Brown (16) – 5,647Q
Q denotes NCAA qualifier.
For more information on Arkansas track and field including in-meet updates, follow @RazorbackTF on Twitter.