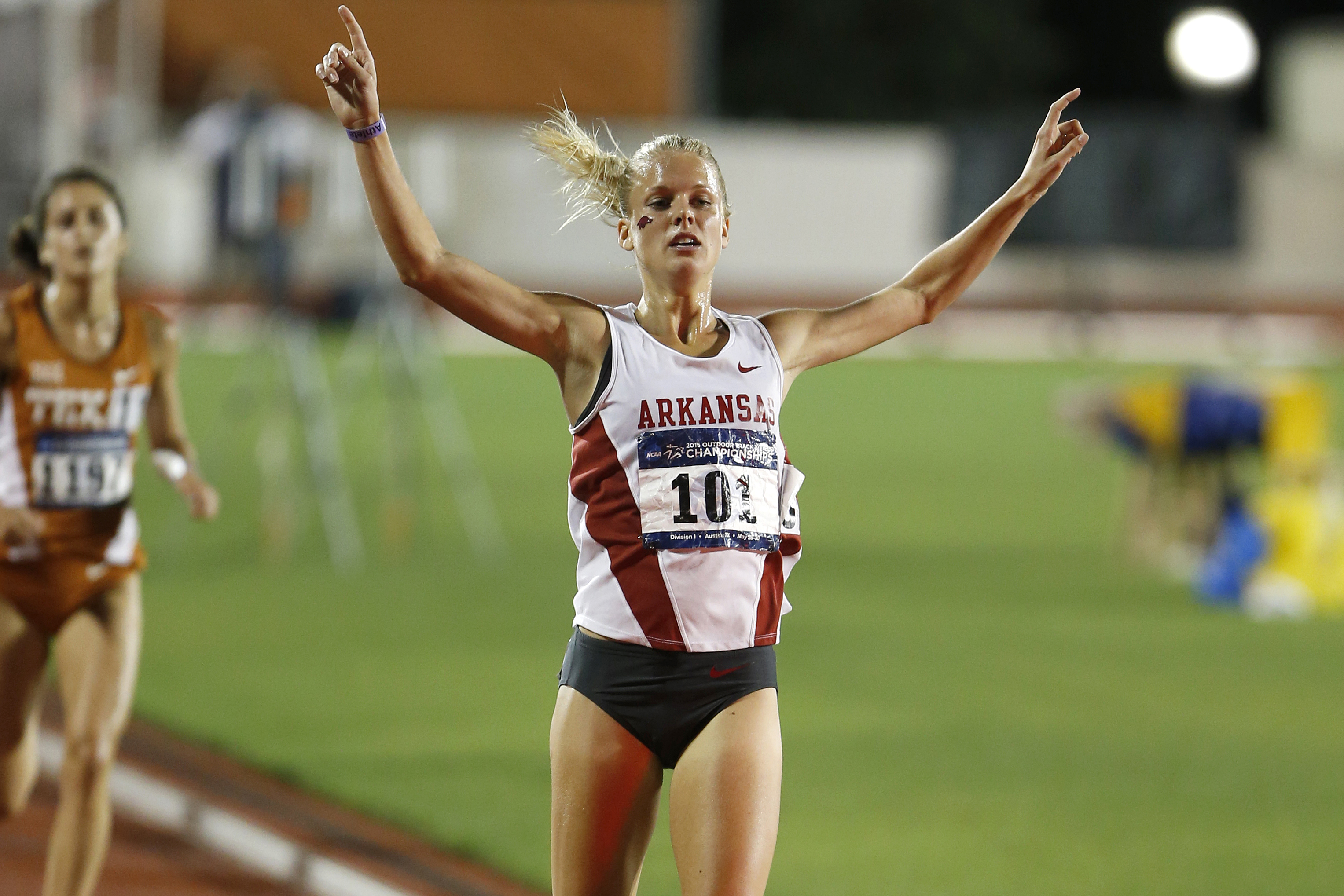 WTR No. 2 in USTFCCCA Pre-NCAA Season Ranking
FAYETTEVILLE, Ark. – Coming off a successful performance at the NCAA West Preliminary, which produced 17 NCAA qualifiers, the University of Arkansas women's track and field team remains in the top five of the USTFCCCA rankings as the No. 2 team in the country in the final ranking prior to the national meet. Team ranking was based on the number of qualifiers to the NCAA Championships. Arkansas returns to competition June 10-13 at the NCAA Outdoor Championships in Eugene, Oregon.
The Razorbacks opened up last weekend's preliminary round strong with Dominique Scott and Diane Robison finishing third and 11th, respectively, to advance in the 10,000 meters on day one of the event. Their momentum carried over to Friday's competitors as the pole vault trio of Sandi Morris, Desiree Freier, and Ariel Voskamp punched their tickets to Eugene convincingly, all clearing the height of 4.24m/13-11 on their first attempts.
On the track, Taylor Ellis-Watson led the way, winning her quarterfinal heat in a time of 51.52 to advance. Seniors Rebekka Simko and Chrishuna Williams followed up with bold efforts of their own in the 800 meters. Simko ran to a second-place overall finish, posting a personal best time of 2:03.57 moving her up the program top 10 performance list to No. 4. Williams, already with one of the top times in the country, finished fifth in the race to gain the automatic bid.
Day two closed out similar to the likes of day one with another distance pair getting the job done for the Razorbacks. Jessica Kamilos and Shannon Klenke both secured spots at the national meet in the 3,000-meter steeplechase finishing in the top 12 of the Friday night quarterfinal event.
On the final day of competition, the Razorbacks capped of the weekend with five qualifiers. The duo of Alex Gochenour and Taliyah Brooks, both already qualified in the heptathlon, raced to automatic bids in the 100-meter hurdles. In the field, javelin school-record holder, Amethyst Boyd qualified for the second-consecutive year moving up 10 spots from her No. 19 rank to finish 9th overall.
Already moving on at 10,000 meters, Scott returned to track to claim the top spot and advance in the 5,000 meters. Ending the weekend with a win out of heat two, Ellis-Watson anchored the 4×400-meter relay team including 800-meter qualifier Williams and a pair of sophomores in Regine Williams and Brianna Swinton.
For more information on Arkansas track and field including in-meet updates, follow @RazorbackTF on Twitter.