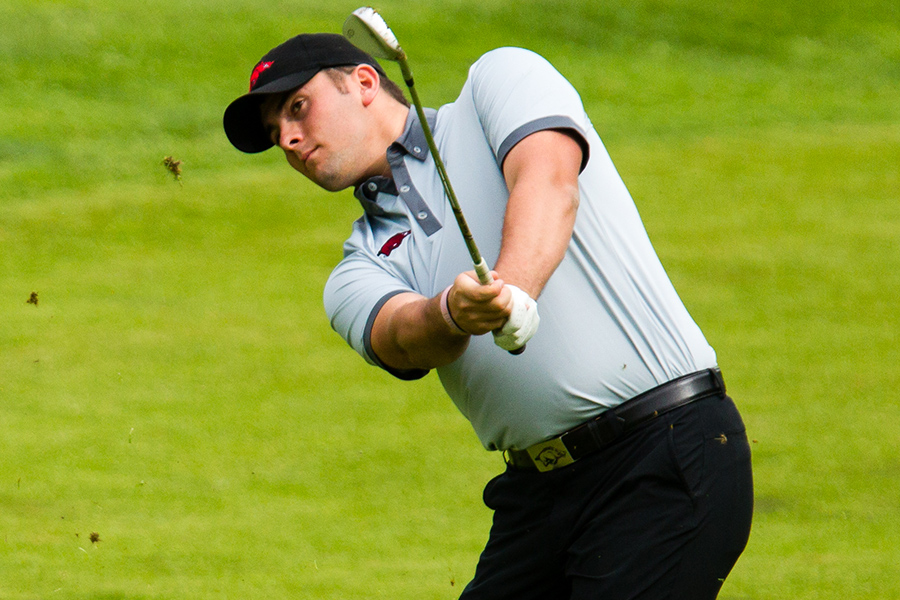 Youth Leads The Way In Second Round
NEW HAVEN, Conn. – Fueled by a par of 71s from the freshman duo of Alvaro Ortiz and Alec Tahy, the Arkansas men's golf team improved its score by 12 strokes with a four-man 289 on the second day of the NCAA New Haven Regional held at The Course at Yale on Friday.
Playing in his second career collegiate round, Tahy finished the day with 13 straight bogey-free holes and played the front nine (started on the 10th) at even-par 34. Ortiz joined Tahy in shooting even-par on the front nine while the duo combined for 30 pars on the day.
Arkansas' 289 followed a first round 301, as it will enter Saturday's final round in 12th place. The top five teams from the region and one individual (not on an advancing team) will advance to the NCAA Championships held at Concession Golf Club in Bradenton, Fla. from May 29 – June 3.
The Razorbacks will begin the final round at 7:25 a.m. going off the 10th tee for the third straight day. Just like the second round, Arkansas will be paired with LSU and the College of Charleston.
Redshirt junior Kolton Crawford was one of just 12 players to shoot even-par or lower in Thursday's first round and followed with a two-over 72 on Friday to sit in a tie for 17th place (70-72). Vying to be the individual to advance to the NCAA Championships from the New Haven Regional, Crawford sits four strokes back of Northwestern's Dylan Wu. Crawford has shot 72 or lower in seven of 10 final rounds on the year.
Ortiz and Tahy led the way as four of five players in the Arkansas lineup improved their score from the first round. Junior Gonzalo Rubio led the Razorbacks with three birdies on the day en route to shooting 75, while redshirt sophomore Zach Coats also carded a 75.
Live scoring for Saturday's final round is available at www.Golfstat.com while fans can follow @RazorbackMGolf on twitter for in-round updates.
@RazorbackMGolf Lineup
T17. Kolton Crawford – 70-72/142
T46. Alvaro Ortiz – 77-71/148
T50. Alec Tahy – 78-71/149
T62. Gonzalo Rubio – 76-75/151
T71. Zach Coats – 79-75/154
NCAA New Haven Regional Standings (Seed)
1. South Florida (3) – 281-276/557
2. NC State (8) – 289-277/566
T3. San Diego State (6) – 284-283/567
T3. Vanderbilt (1) – 285-282/567
5. Oklahoma State (4) – 286-284/570
6. Iowa (7) – 291-280/571
T7. Ohio State (9) – 282-291/573
T7. North Texas (11) – 291-282/573
9. Troy (10) – 289-289/578
10. LSU (2) – 294-287/581
11. College Of Charleston (12) – 303-285/588
11. Arkansas (5) – 301-289/590
13. Robert Morris (13) – 305-292/597
14. St. Peter's (14) – 307-294/601