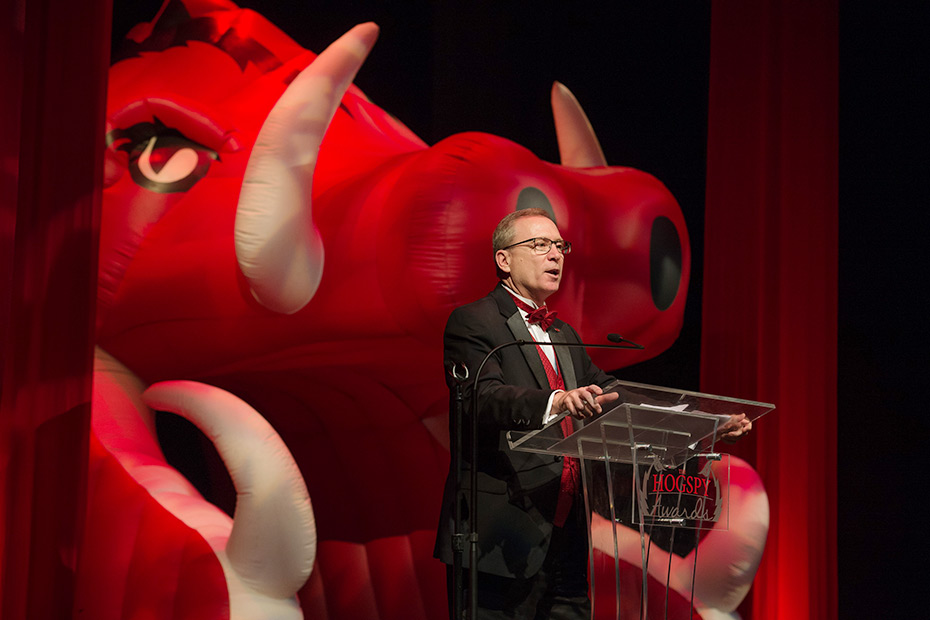 2016 HOGSPY Awards Winners
FAYETTEVILLE, Ark. — It was a night to remember for Arkansas Razorback student-athletes, Spirit Squad, marching band and coaching staffs Wednesday night at Bud Walton Arena.
The fifth annual HOGSPY Awards, hosted by SEC Network lead anchor Dari Nowkhah and Golf Channel anchor Lisa Cornwell, recognizes the athletic department's competition and classroom accomplishments during the past year.
Arkansas track and field took home several of the evening's team and individual awards, including: Female Rookie of the Year (Lexi Weeks), Female Student-Athlete of the Year (Dominique Scott), Male Scholar-Athlete of the Year (Jarrion Lawson), Female Scholar-Athlete of the Year (Taylor Ellis-Watson), Female Sports Coach of the Year (Lance Harter), Female Team of the Year and Male Team of the Year.
The full list of winners is featured below:
2016 HOGSPY Award Winners
Rookie of the Year (Male)
A standout rookie who demonstrated outstanding athletic performance during competition. A rookie is defined as any freshman student-athlete in their first year of competition at the University of Arkansas.
Dre Greenlaw, Linebacker (Football)
Rookie of the Year (Female)
A standout rookie who demonstrated outstanding athletic performance during competition. A rookie is defined as any freshman student-athlete in their first year of competition at the University of Arkansas.
Lexi Weeks (Track and Field)
Play of the Year (Female)
A striking performance by an individual which lead to an outstanding victory
Amanda Wellick (Gymnastics)
Play of the Year (Male)
A striking performance by an individual which lead to an outstanding victory
Brandon Allen at Ole Miss (Football)
Student-Athlete of the Year (Male)
An overall standout athlete who demonstrated outstanding athletic performance on the field of play and has been instrumental to the team's success. This award is primarily based on athletic performance.
Hunter Henry, Tight End (Football)
Student-Athlete of the Year (Female)
An overall standout athlete who demonstrated outstanding athletic performance on the field of play and has been instrumental to the team's success. This award is primarily based on athletic performance.
Dominique Scott (Track and Field)
Scholar-Athlete of the Year (Male)
A student-athlete who excels in the classroom and best represents Razorback athletics. This student must be a junior or senior who maintains a GPA of 3.5 or above.
Jarrion Lawson, 4.0 GPA (Track and Field)
Scholar-Athlete of the Year (Female)
A student-athlete who excels in the classroom and best represents Razorback athletics. This student must be a junior or senior who maintains a GPA of 3.5 or above.
Taylor Ellis-Watson, 3.7 GPA (Track and Field)
Coach of the Year (Female Sports)
Head Coach Lance Harter (Women's Track and Field)
Coach of the Year (Male Sports)
Head Coach Dave Van Horn (Baseball)
Team of the Year (Female)
Track and Field
Team of the Year (Male)
Track and Field
Heart of the Hog
A student-athlete who is considered the heart of the team. Their outstanding leadership positively influences their teammates in and out of competition.
Melissa Wolff (Women's Basketball)
Comeback Student-Athlete
A standout student-athlete who demonstrated outstanding resilience to overcome a significant obstacle or setback in order to have a profound contribution during athletic competition. A significant obstacle is defined as an event that has hindered the ability to compete.
Jessica Kamillos (Women's Track and Field)
Top Graduating Student-Athletes
Christian Heymsfield, 4.0 GPA (Men's Track and Field)
Andrew Pisechko, 4.0 GPA (Men's Track and Field)
Male Academic Team of the Year
Men's Golf, 3.32 GPA
Female Academic Team of the Year
Swimming and Diving, 3.61 GPA
Lee Spencer Cup Team Champion
Men's Track and Field
Lee Spencer Cup Individual Champion
Flavia Araujo (Women's Tennis)
Razorback Leadership Academy (Leaders of Distinction)
Devin Randall (Men's Track)
Eric Janise (Men's Track)
Flavia Araujo (Women's Tennis)
Breana Jones (Volleyball)
Chanell Clark-Bibbs (Volleyball)
Outstanding Band Member
David Cox
Outstanding Spirit Squad Member
Billy McIver