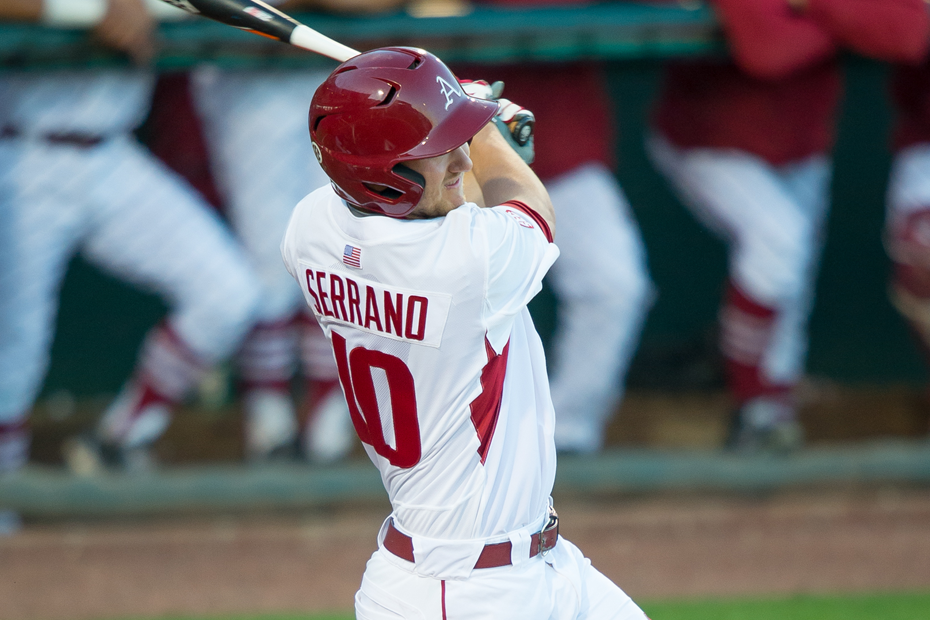 Baseball Cruises Past Ole Miss with 10-3 Victory
FAYETTEVILLE, Ark. – The University of Arkansas baseball team (13-12, 2-5) pounded out 15 hits and scored 10 runs to knock off Ole Miss (13-13, 3-4) 10-3 Thursday evening in the SEC series opener at Baum Stadium.
A pair of three-run innings fueled the offensive output as Joe Serrano and Brett McAfee tallied three hits apiece, while Tyler Spoon tied a season high with three runs batted in.
Arkansas' big inning came in the fifth frame when Cullen Gassaway and Spoon delivered back-to-back RBI doubles as part of a four-hit inning to turn a 2-2 tie into a 5-2 Razorback lead.
Ole Miss had a golden opportunity in the seventh inning with the bases loaded and no outs, but Zach Jackson went to work and struck out three straight batters to leave the bases loaded and slam the door on Ole Miss.
Arkansas stole all the momentum and capitalized in the bottom half of the seventh, scoring three more runs on two hits and the benefit of three Ole Miss errors to put the game out of reach and make it 8-3.
The Razorbacks added two more insurance runs in the eighth inning as Clark Eagan tripled home a run and Spoon capped his three-RBI game with a sacrifice fly to give Arkansas all the runs they would need in a 10-3 victory.
Dominic Taccolini (5-2) picked up the win in 5.2 innings of work, allowing three hits and three runs, while striking out seven. His five wins is now tied for the SEC lead.
Jackson was dominant once again, throwing 2.1 innings and striking out six of the seven batters he retired. Lance Phillips closed out the game with a scoreless ninth inning.
Arkansas and Ole Miss will play game two of the three-game series Friday evening with first pitch slated for 6:03 p.m. at Baum Stadium. The game will be televised nationally on SEC Network with Dave Neal and Kyle Peterson on the call.
Arkansas Head Coach Dave Van Horn opening statement: "It was a good job by the players after a short night and such a demanding last three weeks to come out and get through this game and find a way to win. I'm proud of our pitchers for fighting through those two innings where it wasn't looking good – bases loaded, no outs a couple of times.  We swung the bats well and made the plays in the field for the most part and beat a pretty good team."
Van Horn on mixing up the lineup: "Last night I changed the lineup a lot, mixed it up and tonight I did it again.  We were just matching up some of our right-handers against their lefty and had the lefties ready to go if we needed them.  They did a good job.  They've been coming off the bench and getting a hit, a couple scoring a run and driving in a run."
Van Horn on Zach Jackson getting out of a bases loaded situation: "Very rarely can you wiggle out of a jam like that against that type of talent, but when you've got the kind of stuff that Jackson has, you can.  It's rare.  It was good to see him get out of it."
Game Notes
Arkansas has now won four straight games against Ole Miss dating back to last year.
The Razorbacks have recorded double-digit hits in 13 games this season and scored 10 or more runs six different times.
Arkansas improves to 5-1 when scoring 10+ runs and 12-1 when leading after 6 innings
The Razorbacks tied a season high with four doubles in the game.
The Arkansas pitching staff tallied double-digit strikeouts (14) for the ninth time this season.
Andrew Benintendi extended his hitting streak to eight games, tying his career high.
Joe Serrano recorded his first three-hit game of the year and 55th multi-hit game of his career.
Tyler Spoon tied his career high with 3 RBI.
Brett McAfee's three hits tied his career high.
Bobby Wernes recorded his 10th multi-hit game of the year.
Six of the seven outs Zach Jackson recorded were from strikeouts.
For more information on Arkansas baseball, follow @RazorbackBSB on Twitter.