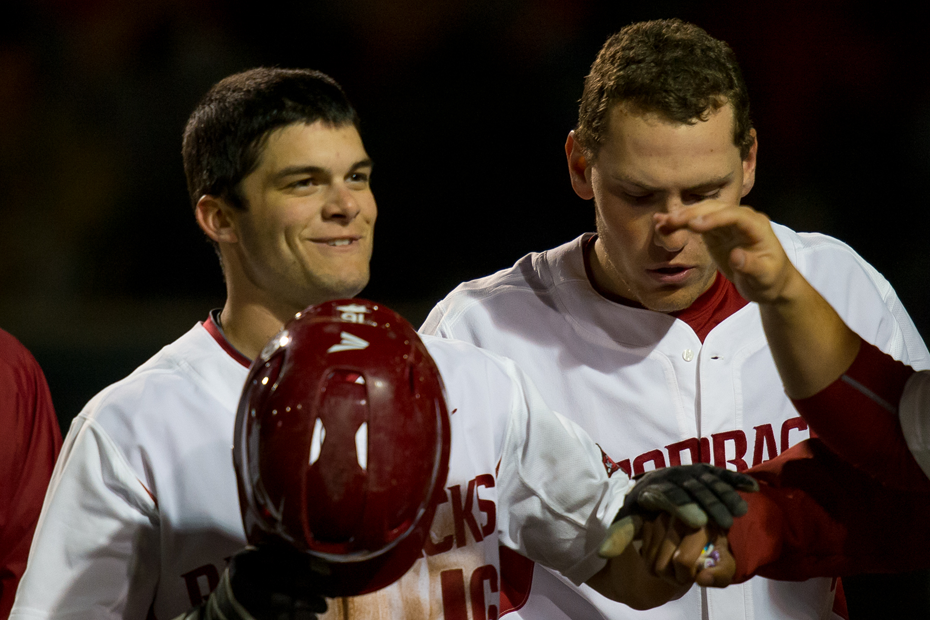 Baseball Drops 5-4 Decision To Ole Miss
FAYETTEVILLE, Ark. – The University of Arkansas baseball team (13-13, 2-6)  saw a late rally come up short Friday evening as Ole Miss (14-13, 4-4) made an early lead stand up in a 5-4 victory at Baum Stadium in SEC action.
The Rebels scored three of its five runs in the second inning when Trey Killian walked three and allowed two hits that led to a 3-0 Ole Miss advantage.
Arkansas chipped away at the lead in the bottom of the inning as Clark Eagan singled and came home to score on a Michael Bernal base knock up the middle to make it 3-1.
The two teams traded single runs in the fourth inning before a solo home run by Ole Miss in the fifth gave the Rebels a 5-2 lead.
Arkansas battled back again in the seventh inning when Bobby Wernes walked and Andrew Benintendi followed with a two-run blast to right field to close the lead to a run at 5-4. The long ball was the team-leading seventh of the year for the sophomore.
The Razorbacks put a runner on in the ninth, but a groundout by Tyler Spoon ended the game. Arkansas had a runner on base in every inning and stranded 11 base runners in the game.
Trey Killian (0-2) suffered the loss in 5.0 innings of work, giving up five runs on six hits, while walking four and striking out six. Jacob Stone, Josh Alberius and Lance Phillips shut down the Rebels in relief, each allowing a hit, but tossing up zeros in the final four frames.
Arkansas and Ole Miss will play the rubber game of the series Saturday afternoon at Baum Stadium with first pitch set for 2:05 p.m. The game will be broadcasted on SEC Network Plus and the WatchESPN app.
Arkansas Head Coach Dave Van Horn opening statement: "There was a lot of chit-chat going on from their dugout in the top of the first, but not much really happened.  It was some different opinions.  Give credit to Ole Miss.  They got a couple big hits when they worked some counts and Trey had to lay it in there a little bit.  I thought on the other hand, our team battled back.  They played hard, played good defense.  We just left too many runners out on base."
Van Horn on the loss: "The game slowed down the last two to three innings.  They had some runners on and they didn't get them in late in the game either. We struck out too many times and we swung at too many bad pitches.  That's what I saw.  We were going out of the zone chasing balls up.  We might've got their starter out of there a little bit earlier if we had stayed in the zone."
Van Horn on tonight's pitching performance: "They did a good job.  The pitching has been good all week for the most part. We've played four games now in four days.  We've had a chance to win every game – won two of them and lost two, couple one run games.  Probably the main reason is our pitching has had a good week."
Game Notes
Arkansas has hit 24 home runs in 26 games this season.
Andrew Benintendi extended his career-long hitting streak to nine games with a home run in the seventh inning.
Benintendi leads the team and ranks No. 2 in the SEC with seven home runs on the year.
Benintendi has recorded at least one RBI in four consecutive games.
Bobby Wernes has three straight multi-hit games and 11 multi-hit performances on the year.
Josh Alberius has only allowed three runs in 18.0 innings pitched this season and has not allowed a run in his last four appearances.
For more information on Arkansas baseball, follow @RazorbackBSB on Twitter.