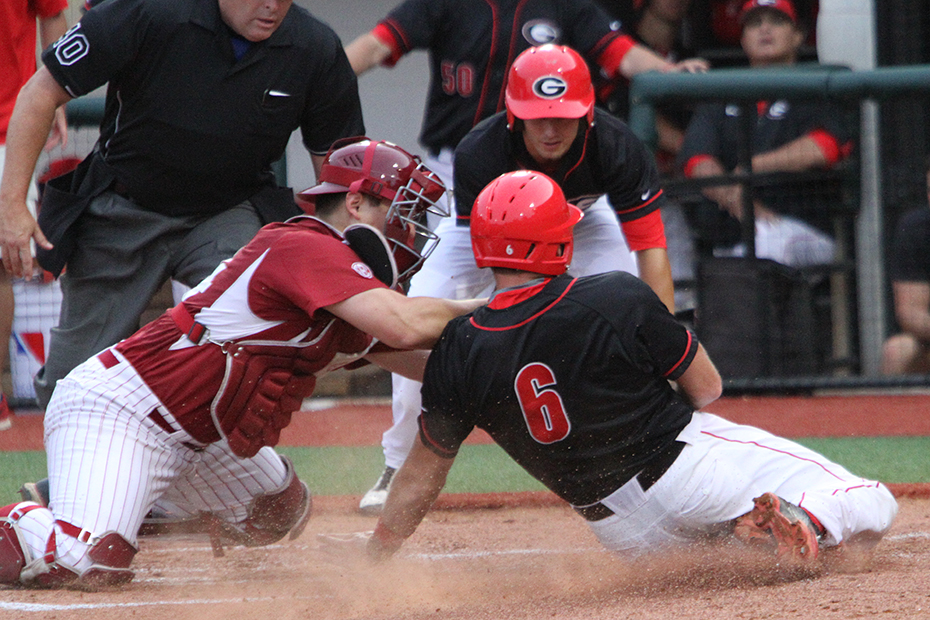 Baseball Drops Game One to Georgia in Athens
ATHENS, Ga. – The 20th-ranked University of Arkansas baseball team (31-20, 15-12) faced an early deficit and never recovered Thursday evening, falling 10-1 at Georgia (26-26, 10-17) in game one of a three-game set at Foley Field.
Georgia jumped on Arkansas starter Trey Killian in the first inning, using a two-out rally to plate four runs and take a 4-0 lead. The Bulldogs added another run in the second inning and five spot in the seventh inning to seal the win.
After giving up five runs over the first two innings, Killian settled in and worked three consecutive scoreless frames and ended the game after 5.0 innings, six hits, four earned runs and three strikeouts.
Alex Gosser paced the offense with a pair of hits, while Andrew Benintendi went 1-for-3 with a single and a walk to extend his hitting streak to eight games and his reached base streak to 24 games.
Arkansas scored its only run of the game when Joe Serrano single up the middle with two outs in the fifth inning, sending Bernal home from second to make it 5-1 at the time.
The Razorbacks left seven runners on base in the game and had their last lowest run total since a 2-1 loss to Mississippi State on April 26.
Arkansas and Georgia return to action Friday evening with a 6:05 p.m. CT first pitch at Foley Field. Keaton McKinney will go for his fifth win in his last six starts for the Razorbacks.
For more information on Arkansas baseball, follow @RazorbackBSB on Twitter.