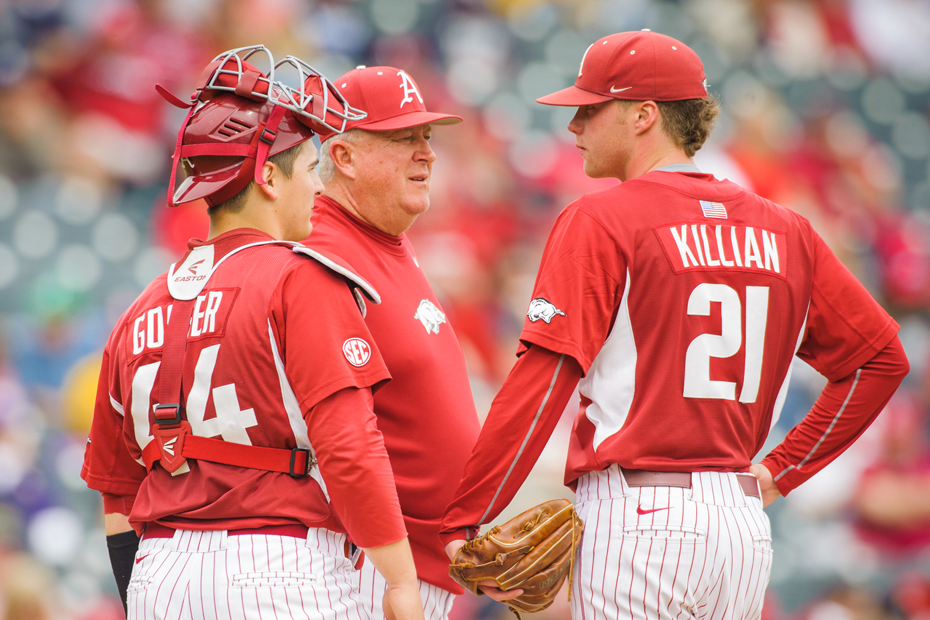 Baseball Falls as UK Evens Series
FAYETTEVILLE, Ark. – The University of Arkansas baseball team (19-16, 6-8) gave up three runs in the first inning Saturday evening and never recovered, falling 16-4 as Kentucky (19-14, 5-8) evened the series at Baum Stadium.
The Wildcats came out firing in the first inning, using a pair of walks and three singles to jump out to a 3-0 lead. Kentucky added another huge offensive spurt with seven runs in the third inning to put the game out of reach.
Arkansas managed to score a run in the sixth inning when Clark Eagan was hit by a pitch and came around to score on an error for the Razorbacks' first run of the night.
Arkansas added two more runs in the eighth inning as Luke Bonfield recorded an RBI, before Carson Shaddy capped the scoring in the ninth inning, lining an RBI single to left field in a 16-4 loss.
Joe Serrano, Brett McAfee and Rick Nomura all recorded doubles in the game, while Andrew Benintendi extended his hitting streak to eight games with a single in the eighth inning.
Arkansas will go for its third consecutive SEC series win on Sunday afternoon with first pitch set for 12:05 p.m. at Baum Stadium.
For more information on Arkansas baseball, follow @RazorbackBSB on Twitter.