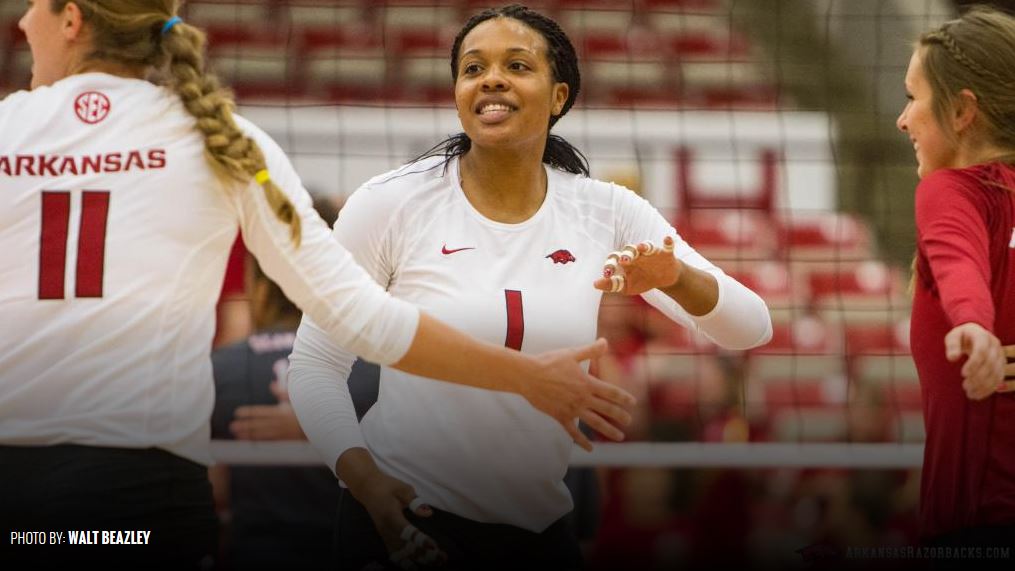 Clark-Bibbs Paces @RazorbackVB to Win at Georgia
ATHENS, Ga. – Behind a career-high 21 kills from Chanell Clark-Bibbs, the University of Arkansas volleyball team posted a five-set win Sunday afternoon at Georgia. With the win, the Razorbacks even their overall record at 13-13 and improve to 7-6 in Southeastern Conference play. Additionally, Bailee Hankenson and Meredith Hays each turned in double-double performances against the Bulldogs.
Having dropped sets three and four, the Razorbacks found themselves in their ninth five-set match of the season. Clark-Bibbs registered six of her 21 kills in the final frame including three straight to help Arkansas to an early 6-1 lead. Georgia pulled to within two at 8-6 but the Razorbacks responded with a four-point run to re-establish their advantage. Fittingly, Clark-Bibbs closed out the match with one final kill off the Bulldog block.
Clark-Bibbs has double-digit kills in five of her last six matches and with Sunday's performance, replaced her previous best of 17 kills which she'd set in three matches earlier this season. It was her 11th match of the year with at least 10 kills, seven of which have come against SEC opponents. She is now hitting .408 in conference play. Clark-Bibbs added five digs, three blocks and a service ace in the win over Georgia.
In a back-and-forth opener, the score was tied at 17-all before the Razorbacks rattled off eight of the final 12 points to take the first frame, 25-21. Georgia (11-14, 3-10 SEC) saved two set points before Arkansas closed out the frame with a kill off the hand of Meredith Hays. The Razorbacks led by as many as seven points in the second set but the home team used a late-set push to tie the score at 23-23. Arkansas secured the set and 2-0 match lead thanks to consecutive UGA errors.
With her seventh kill of the match, Hays moved into sole possession of 17th place on the program's career kills list, moving past former standout Michelle Coens (1999-02). Hays now has 880 kills in her Razorback career. She had 12 kills and 13 digs to complete her 10th double-double of the year while Hankenson tallied 51 assists to go along with 13 digs for her fifth double-double of the year.
Samantha Skinner had her fifth double-digit effort of the season with 10 kills during Sunday's match and totaled four digs and four blocks. Opposite Clark-Bibbs, sophomore Ana Sofia Jusino put down seven kills on 11 swings with no errors and posted a match-high five blocks. Behind the Razorbacks' defense at the net, libero Monica Bollinger had a match-high 17 digs while freshman Kori Ortiz added seven.
The Razorbacks begin a three-match home stand Nov. 14 when they host South Carolina at Barnhill Arena. First serve of the conference matchup is scheduled for 7 p.m. (CT) and will be streamed on SEC Network+ which is available through the WatchESPN app. Following the match, the prep rally for the Arkansas-LSU football game will be held at Barnhill.
Final
Arkansas 3, Georgia 2 (25-21, 25-23, 22-25, 13-25, 15-9)
Time: 2:21 | Attendance: 977
Athens, Ga. | Ramsey Center
#RazorFacts
• Stat Leaders at Georgia
o Kills: 21 – Chanell Clark-Bibbs
o Digs: 17 – Monica Bollinger
o Blocks: 5 – Ana Sofia Jusino
• Improve to 3-1 in SEC Network appearances this season
• Leads all-time series vs. Georgia, 21-9
o Won five straight and seven of last nine meetings vs. UGA
• Ninth fifth-set match of the season
o Two five-set wins over Georgia to sweep season series
• Career-high 21 kills for Chanell Clark-Bibbs
o 10 or more kills in five of last six matches
• Double-Double Watch
o Bailee Hankenson: 51 assists, 13 digs | fifth of the season
o Meredith Hays: 12 kills, 13 digs | 10th of the season
• Next match: Nov. 14 vs South Carolina at Barnhill Arena
o First serve at 7 p.m. (CT) on SEC Network+
o Prep rally for Arkansas-LSU football game will be held at Barnhill following match
For more information on Arkansas volleyball, follow @RazorbackVB on Facebook, Instagram and Twitter.