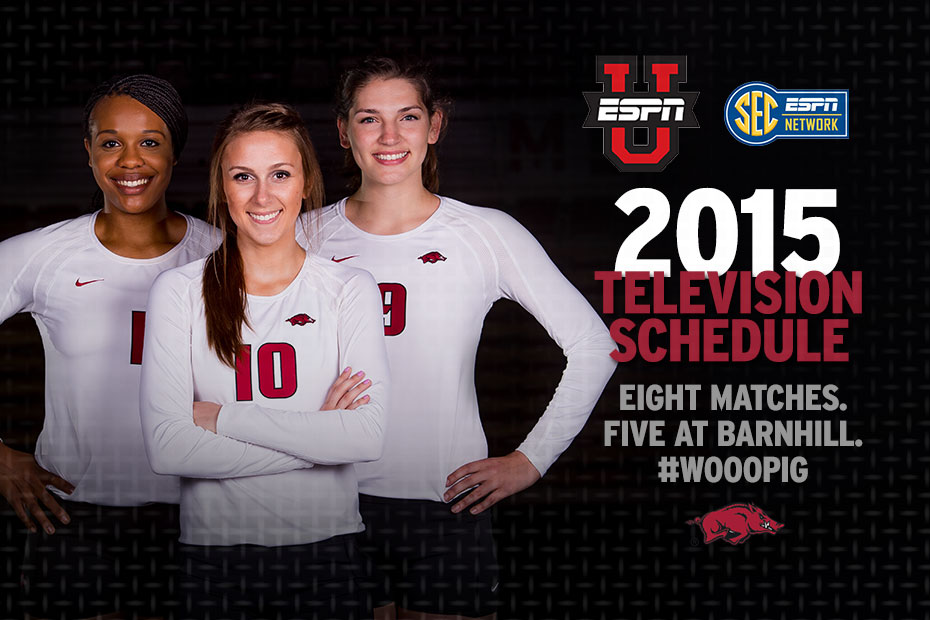 Eight Matches Scheduled for ESPNU, SEC Network
2015 Schedule | Buy Season Tickets
FAYETTEVILLE, Ark. – As part of the extended coverage for the sport, the University of Arkansas volleyball team will make eight national television appearances on ESPNU and the SEC Network during the upcoming 2015 season. Five of Arkansas' eight television matches will originate live from Barnhill Arena.
2015 @RazorbackVB on TV (all times central)
Wed., Sept. 23 – Arkansas at LSU, 8 p.m. (ESPNU)
Sun., Oct. 4 – Florida at Arkansas, 3 p.m. (SEC Network)
Wed., Oct. 7 – Arkansas at Kentucky, 7 p.m. (SEC Network)
Sun., Oct. 18 – Ole Miss at Arkansas, 4 p.m. (SEC Network)
Fri., Oct. 23 – Arkansas at Florida, 6 p.m. (SEC Network)
Sun., Nov. 1 – Alabama at Arkansas, 2 p.m. (SEC Network)
Wed., Nov. 11 – LSU at Arkansas, 7 p.m. (SEC Network)
Wed., Nov. 18 – Missouri at Arkansas, 5 p.m. (ESPNU)
The television release from the conference office comes three days after the Razorbacks' unveiled their 2015 schedule that features nine top-40 RPI opponents and 13 matches against teams that played in last year's NCAA Tournament. Arkansas' season begins Aug. 28-29 with the Arkansas Invitational at Barnhill Arena.
Additional school-produced events, available on SEC Network PLUS via WatchESPN, will be announced at a later date. In 2015, the SEC Network and ESPNU will air a combined 50 volleyball matches including the Wednesday Night Volleyball series featuring a weekly doubleheader. All SEC Network and ESPNU matches will also be available on WatchESPN.
Season tickets are now on sale through the Razorback Ticket Center. With pricing options beginning at $40, each purchase includes a free team knit hat. For more information and details about purchasing season tickets, call 800-982-HOGS (4647) or 479-575-5151, email raztk@uark.edu or visit the Razorback Ticket Center on Razorback Road. Click HERE to purchase tickets online.
For more information about Arkansas volleyball, follow @RazorbackVB on Facebook, Instagram, Snapchat and Twitter.