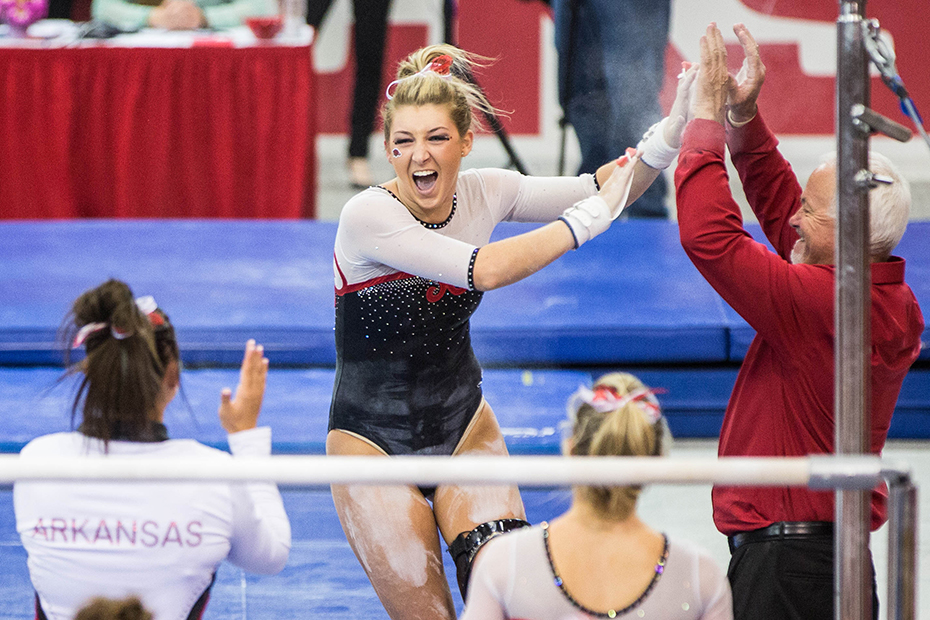 Gymnastics Moves Up to No. 9 in Rankings
FAYETTEVILLE, Ark. — Following a two-meet weekend in which Arkansas gymnastics averaged 196.300, the Razorbacks have moved up to No. 9 in the www.RoadToNationals.com rankings after their third week of competition. On the season, Arkansas boasts a 195.917 average team score, sandwiching the Razorbacks between SEC rivals Auburn at No. 8 and Georgia at No. 10.
"Moving from No. 16 the week prior into the top 10, that's the direction we definitely want to go," head coach Mark Cook said. "One of our goals is to be in the top nine so we can be a first seed for NCAA Regionals. We performed very well on Friday night, so we need to maintain that level of consistency as we attempt to move up even higher."
Arkansas is also in the top 10 on two events, vault and uneven bars. On vault, the Razorbacks rank seventh with a 49.125 average, led by Amanda Wellick who is ninth in the country with a 9.883 average score. Wellick has led Arkansas on the apparatus in all three meets, including 9.900's in Cancun on Jan. 2 and vs. No. 3 Oklahoma on Jan. 17.
On bars, the Razorbacks rank tenth with a 49.100 average, led by Paige Zaziski who is tied for 12th in the country with a 9.875 average score. Zaziski scored a team-high 9.900 on bars on Sunday vs. No. 3 Oklahoma to take home the event title, the fifth of her career on the apparatus. Braie Speed has been very consistent on bars so far this season, as she's tied for 34th nationally with a 9.842 average score.
Individually on balance beam, Sydnie Dillard is tied for 20th in the country with a 9.858 average score, while Zaziski is second on the team and tied for 33rd nationally with a 9.833 average score.
In all, six of the top 10 on www.RoadToNationals.com are from the SEC, while all eight teams from the conference – from No. 1 Florida to No. 21 Kentucky – are in the top 25.
For more #Gymbacks content during the season, please follow @RazorbackGym on Instagram, Twitter and Snapchat.