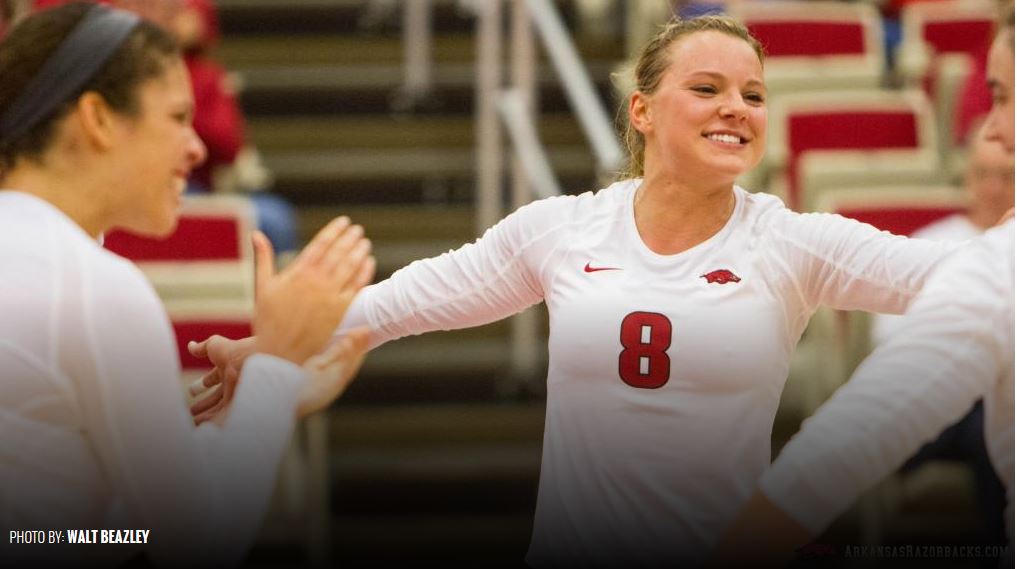 Hankenson Earns SEC Freshman of the Week Honors
FAYETTEVILLE, Ark. – On the heels of her standout weekend performances, Razorback setter Bailee Hankenson has been named the SEC Freshman of the Week as announced Monday afternoon by the league office. Hankenson dished out 10.88 assists per set in directing the Razorback offense and helping the team to road wins at Auburn and Georgia.
Hankenson is Arkansas' first Freshman of the Week since Raymariely Santos was selected twice during the 2010 season. She is the fourth Freshman of the Week under head coach Robert Pulliza, joining the list that includes Santos, Amanda Anderson (2009) and Jasmine Norton (2009). Overall, Hankenson is the seventh player under Pulliza's watch to earn SEC weekly accolades.
In Friday's opener, Hankenson guided the Razorbacks to a .276 hitting percentage with 36 assists in a straight-set victory at Auburn. She distributed the ball to five different players with at least five kills in the match. Hankenson followed up with her fourth 50-assist match in the Razorbacks' win at Georgia. She finished the match with 51 assists and completed her fifth double-double of the season with 13 digs.
The Decatur, Ind., native also totaled seven kills, five blocks and two aces in the two matches. Three of her five double-double performances this season and all five of her 50-assist matches have come against SEC competition. During conference play, Hankenson is the top freshman setter and fifth overall with 10.90 assists per set.
In its last outing, Arkansas posted its second five-set win over Georgia this year. Hankenson was one of two Razorbacks, along with senior Meredith Hays, to post a double-double. Offensively, junior Chanell Clark-Bibbs paced the team to victory with a career-high 21 kills and .515 hitting percentage. She has 10 or more kills in five of the Razorbacks' last six matches with a .432 hitting percentage over that stretch.
With Sunday's win, Arkansas evened its overall record at 13-13 and improved to 7-6 in SEC play. The Razorbacks return to Barnhill Arena this Friday to host South Carolina to begin a three-match home stand which will also features matches against Texas A&M (Nov. 19) and No. 7 Florida (Nov. 23). First serve of Friday's match against the Gamecocks is slated for 7 p.m. (CT).
For more information about Arkansas volleyball, follow @RazorbackVB on Facebook, Instagram and Twitter.