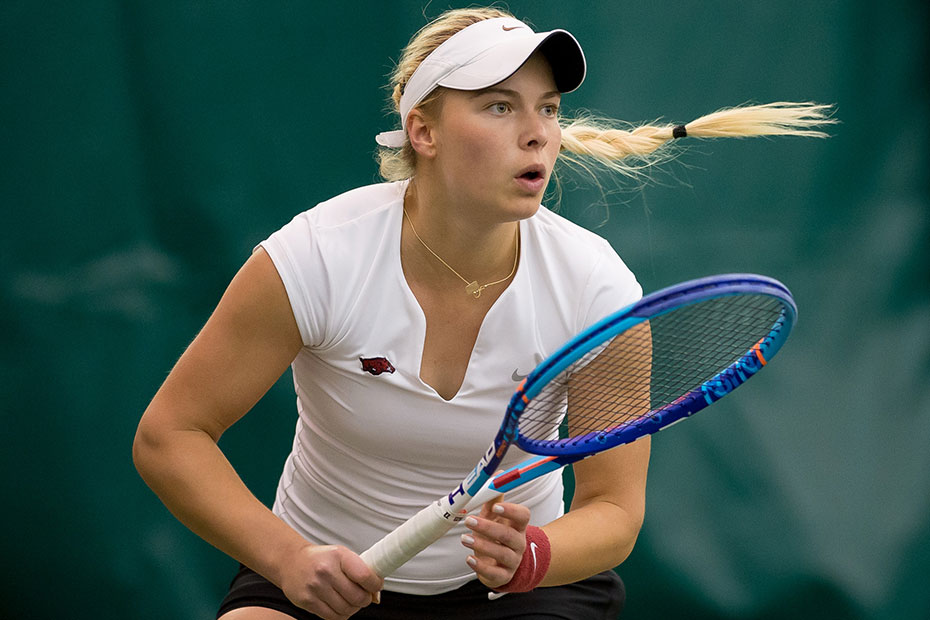 Hogs Hit The Road For Weekend Tilts
Live Scoring at No. 15 LSU | Live Scoring at No. 17 Texas A&M | Live Video at No. 17  Texas A&M
FAYETTEVILLE, Ark.  – A different kind of March Madness continues for the No. 26 Arkansas women's tennis team this weekend with road matches against Southeastern Conference foes No. 15 LSU and No. 17 Texas A&M.
The Razorbacks (14-6, 3-2) and Lady Tigers (14-6, 3-3) will meet at 4 p.m. CDT Friday at the LSU Tennis Complex in Baton Rouge, Louisiana. Following that match, the Razorbacks will head to College Station, Texas, for an 11 a.m. match Sunday against the Aggies (11-6, 3-3) at the George P. Mitchell Tennis Center.
"We look forward to more opportunities this weekend to keep building momentum," head coach Michael Hegarty said. "LSU and Texas A&M are both having elite seasons and we are excited to see how we fare."
Razorback Rundown
• Hegarty's squad picked up four team victories against Jackson State Wednesday afternoon at the JSU Tennis Facility, extending their win streak to eight matches.
• Prior to Wednesday's matches, freshman Ana Oparenovic was named SEC Freshman of the Week, the league announced Wednesday morning. Last weekend, Oparenovic compiled a 4-0 record in singles and doubles play to help propel the Razorbacks to a sweep of conference opponents No. 43 Alabama and No. 15 Auburn. Oparenovic's honor is the first of her career. She is the first Razorback to earn SEC Freshman of the Week acclaim since Shannon Hudson on Jan. 22, 2014. Earlier this season, sophomore Mia Jurasic was named SEC Player of the Week for her performance in the Razorbacks' 6-1 season-opening win against Houston on Jan. 16. The two awards mark the first time Arkansas has won multiple awards in the same season since 2011.
• The Razorbacks advanced to No. 26 in this week's edition of the Oracle/ITA Division I Women's Collegiate Tennis Rankings, the Intercollegiate Tennis Association (ITA) announced Tuesday. The Razorbacks' team ranking is the highest since checking in at No. 24 on Jan. 24, 2012.
• In addition to the team ranking, two Razorbacks broke into the top 125 in singles for the first time this spring. Oparenovic earned the No. 83 spot after picking up a pair of victories at No. 2 singles this past weekend. Senior Yuliya Lysa checked in at No. 88 after going 1-1 for the weekend.
#RazorFacts
• The month of March has been full of road trips as the Razorbacks have logged five states and 10 matches.
• Arkansas has defeated six teams currently ranked in the top 75 and has won eight-straight matches, including three-straight in SEC play.
• Oparenovic owns a team and SEC freshmen-best 14-4 overall record and a 4-1 mark in SEC play. Thirteen of her 14 dual-match singles victories have come in straight sets, including each of her last eight. She is currently riding a seven-match win streak and has won nine of her last 10 matches. In addition, she boasts a team-best 11-4 (3-1) dual-match doubles record with partner Mia Jurasic.
The Opponent – LSU
• LSU improved to No. 15 in the latest national rankings, after splitting their third conference weekend against No. 26 Kentucky and No. 7 Vanderbilt. The Lady Tigers defeated the Wildcats 4-3 in Lexington, Kentucky, on Thursday but fell 5-2 to the Commodores on Sunday.
• The Lady Tigers' singles lineup features two players ranked in the top 125. No. 19 Joana Vale Costa leads the way with a 12-6 dual-match record at the No. 1 spot, while No. 48 Jessica Golvin is 7-10 between the top three spots.
• Vale Costa and Ryann Foster are the Lady Tigers' top doubles duo. The 71st-ranked pair is 7-5 in dual-match play.
• LSU holds a 19-18 advantage in the all-time series against Arkansas. However, the Razorbacks have won eight of the last nine meetings, including last year's contest by a score of 5-2 in Fayetteville, Arkansas.
The Opponent – Texas A&M
• Texas A&M dropped 6-1 decisions at both No. 7 Vanderbilt and No. 26 Kentucky last weekend.
• Aggie Saska Gavrilovska is ranked a team-high No. 32 and owns a 6-2 dual-match singles record.
• The pair of No. 42 Eva Paalma and Rachel Pierson (5-7) and the duo of No. 44 Rutuja Bhosale and Anna Mamalat (8-3) are the Aggies' ranked doubles teams.
• Domenica Gonzalez leads the Aggies in singles victories with a 9-4 dual-match record, while Ines Deheza boasts the most wins in SEC play with a 4-2 record.
• Texas A&M owns an 11-6 lead in the all-time series against the Razorbacks, dating back to 1982. Last year, the Aggies defeated Arkansas, 5-2, in Fayetteville, Arkansas.
• The Aggies, who are 8-0 at home this season, will host No. 59 Missouri Friday before welcoming the Razorbacks to College Station Sunday.
Up Next
Following the weekend, the Razorbacks will travel to Athens, Georgia, on March 31 to take on the No. 3 Georgia Bulldogs at the Dan Magill Tennis Complex. First serve is set for 4 p.m.
For more information on Arkansas women's tennis, follow @RazorbackWTEN on Twitter.