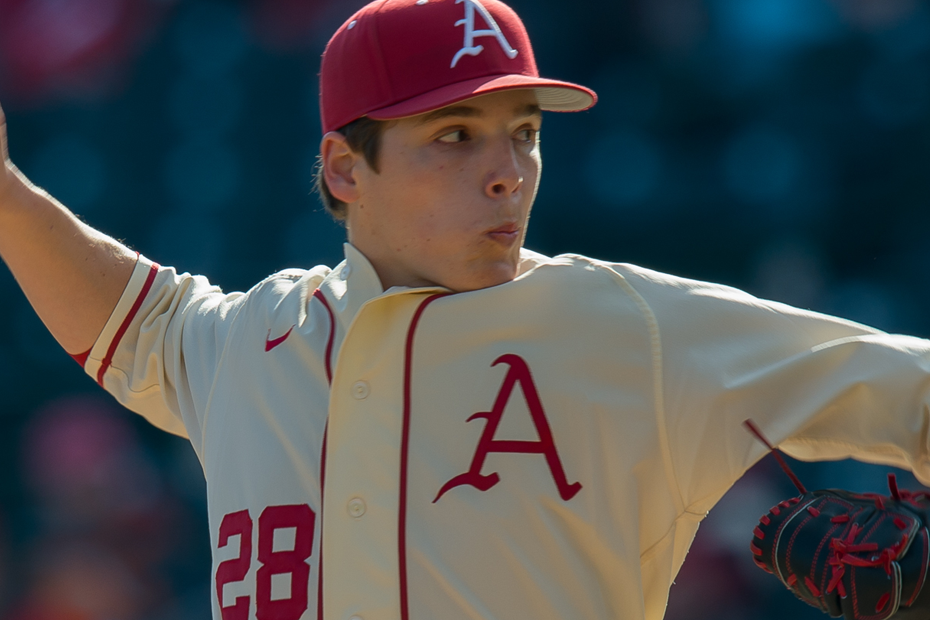 Hogs Roll Past North Dakota in Season Opener
FAYETTEVILLE, Ark. – The No. 16 University of Arkansas baseball team erupted for five runs in the seventh inning Friday evening to complete an 11-4 comeback victory over North Dakota on opening day at Baum Stadium.
Clark Eagan led the way at the plate, accounting for six runs as he went 3-for-5 with a double, triple, three runs batted in and three runs scored. Rick Nomura and Brett McAfee added three hits apiece to help Arkansas pound out 18 hits and score double-digit runs in its season opener for the second straight season.
The Razorbacks found themselves in a 3-0 third-inning deficit, but the bats came alive as Tucker Pennell led off the inning with a single and came around to score the first run of the year on a double to center by Eagan. The Razorbacks added one more run in the inning on a Joe Serrano sacrifice fly, before tying the game in the fifth frame on a single to left field off the bat of Tyler Spoon.
North Dakota battled back and took a 4-3 lead in the sixth inning, but the Arkansas' offense had the answer once again and pushed eight runs across over the next two innings to sure the comeback victory.
Cannon Chadwick picked up the win in relief, tossing 1.1 innings and giving up one hit, while striking out three. Jonah Patten was lights out in his collegiate debut, facing eight batters over the final 2.0 innings and recording five strikeouts to slam the door on North Dakota. Keaton McKinney lasted a team-long 3.1 innings and allowed four hits and one run.
Arkansas and North Dakota will a play a doubleheader on Saturday with first pitch slated for 11:35 a.m. at Baum Stadium. Game two will start 30 minutes following the final out of game one.
Arkansas Head Coach Dave Van Horn: "It's good to get a win in the first ball game obviously.  I thought our players did a really nice job of just staying under control and not panicking when we were down 3-0.  It was a good team win.  We used a lot of people and hit the ball extremely hard all day for the most part."
Van Horn on Eagan's Breakout: "I'm not surprised a bit.  He's been swinging it awfully good since the end of last season, summer and this fall he played a little bit until he got hurt.  He played a little bit at the end of fall ball and did well—picked it up where he left off.  He's a good hitter."
Arkansas Centerfielder Andrew Benintendi on the opening day win: "Obviously it's always good to get the first win. I think we did some good things today. A big one was when they scored three in the third and we came back and scored two in the bottom of that inning. Again in the sixth, they scored again and we scored three in the bottom. Rolling with the punches there. If we can do that throughout the year, it will be really good."
Arkansas Shortstop Brett McAfee on being able to play again: "That was an awesome feeling; felt like I never left. Baum Stadium is one of the best places to play. It was great to be out there in front of those fans."
Arkansas First baseman Clark Eagan on being in the leadoff spot: "Being leadoff hitter, you just want to set the tone and anytime you can do that, I feel like it will just help the offense. It felt great to get a few hits and get on base and keep the offense rolling."