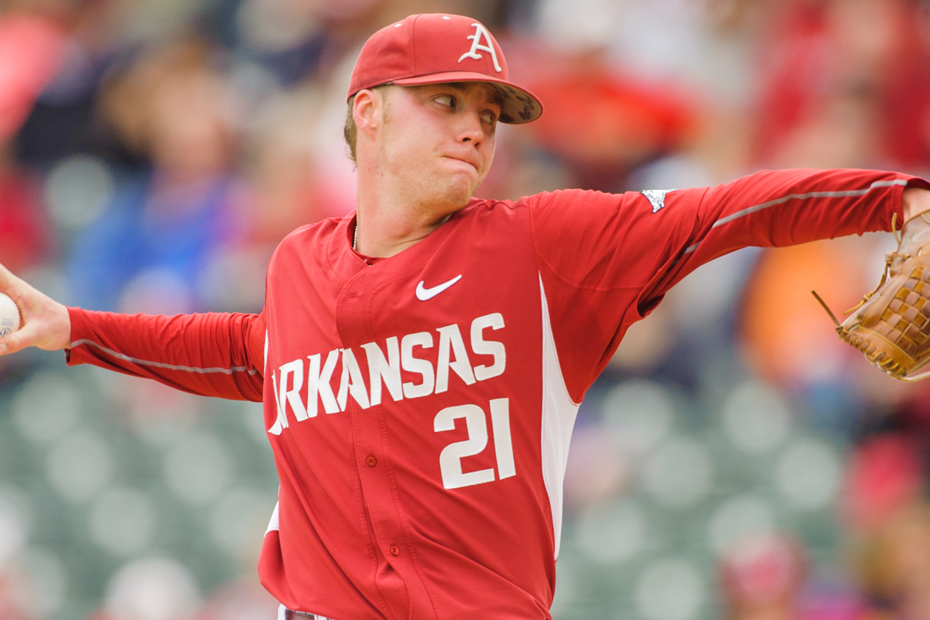 Hogs Welcome Ole Miss For Nationally Televised Series
FAYETTEVILLE, Ark. – The University of Arkansas baseball team (12-12, 1-5) caps another stretch of five games in five days this week, welcoming Ole Miss (13-12, 3-3) to town for a Thursday through Saturday SEC series at Baum Stadium. Thursday's game will be televised on ESPNU, while Friday game will be shown on SEC Network.
Tickets
Single game tickets to the series can be purchased by clicking here.
Follow Live
Thursday and Friday's game will be televised nationally on ESPNU and SEC Network respectively, with Dave Neal (PXP) and Kyle Peterson (Analyst) on the call. Phil Elson and Rick Schaeffer will have the call of all three games on the IMG Razorback Sports Network.
Probable Starters
Thu. | 6:35p | (ARK) RHP Dominic Taccolini vs. (OM) LHP Alex Gunn
Fri. | 6:03p | (ARK) RHP Trey Killian vs. (OM) RHP Colton Hathcock
Sat. | 2:05p | (ARK) TBA vs (OM)
Thursday Probable Starter – RHP Dominic Taccolini
Coming off a dominant performance last week against top-ranked LSU, Dominic Taccolini will once again get the ball in the series-opener as the sophomore looks for his fifth victory of the season. Taccolini shut down No. 1 LSU in 6.0 innings of work, allowing six hits and one run, while striking out two. Four of his six starts this season have been produced quality starts as the right-hander will pitch on national TV for the second consecutive week. Taccolini has allowed three earned runs or less in all six of his starts this year.

Friday Probable Starter – RHP Trey Killian
After a quality start against No. 1 LSU last week, Trey Killian will make his fourth start of the year Friday against Ole Miss. Last year against the Rebels, Killian tossed 8.0 innings and gave up three runs as Arkansas fell 3-2 in the series opener. In his last eight starts against SEC teams dating back to last year, he has allowed just nine earned runs, while striking out 43. Killian is just two weeks removed from tossing 7.0 perfect innings against Vanderbilt and earning Louisville Slugger National Pitcher of the Week honors.
Leading Off
•  Arkansas caps another stretch of five games in five days this weekend, welcoming Ole Miss to town for a nationally televised SEC showdown at Baum Stadium.
•  Arkansas has hit 23 home runs in 24 games this season, including multiple home runs in a game seven different times. The Razorbacks rank second in the SEC in total home runs with eight of their 23 long balls coming in the seventh inning or later.
•  The Arkansas pitching staff has tallied double-digit strikeouts in a game eight times this season, including a season-high 15 punch outs against Vanderbilt on March 14.
•  Andrew Benintendi is on an 11-game reached base streak and seven game hitting streak. Over the last 11 games, he has 15 hits, 11 RBI, eight runs scored, three home runs, three doubles, eight walks and six stolen bases.
•  Zach Jackson leads the Arkansas pitching staff with a 1.61 ERA and has 28 strikeouts in 22.1 innings of work. He has not allowed an extra base hit on the year as opponents are hitting just .200 against the right-hander.
•  The Razorbacks have recorded double-digit hits in a game 12 times this season, including three of the last six games. Arkansas has scored 10 or more runs five times this year.
Series History
Arkansas is 43-35 all-time against Ole Miss, including three consecutive wins against the Rebels dating back to last season. After dropping the opening two games of the regular season in Oxford last year, Arkansas came back with an 11-1 victory in the finale, before knocking off Ole Miss twice in the SEC Tournament. The Razorbacks are 18-16 against the Rebels in Fayetteville, including dropping two of three during the 2013 season.
Spring Break Road Tripping
Arkansas is in the midst of playing 22 games in the month of March, including back-to-back weeks with five games in five days. Thursday will cap a stretch of playing in three cities in as many days as Arkansas will have played in Little Rock, Memphis and Fayetteville.
Frequent Flyer on #SCTop10
Arkansas has appeared on SportsCenter's #SCTop10 three times in the last two weeks, including Bobby Wernes' famous jump throw play that landed at No. 1 against Southeast Missouri State on March 18. The Razorbacks also has been the No. 4 play twice with the crazy 9-2-1 putout to force extra innings at Vanderbilt on March 14 and Clark Eagan's diving catch against LSU on March 20.
Powerful Numbers
Arkansas has 23 home runs in 24 games and ranks second in the SEC in total home runs, sitting only behind Georgia with 26. The Razorbacks' 23 home runs through 24 games is the most since hitting 35 home runs through the first 24 games of the 2010 season, before finishing with a program record 92 homers in 64 games.
Doubled Up
Arkansas has turned 29 double plays on the year to rank second in the SEC, and has 210 twin killings over the last four years to rank No. 4 in the country over that span. Mississippi State leads the country with 229 double plays since 2012, while Southern Miss is second and Georgia Tech is third.
DVH Milestone Watch
Head coach Dave Van Horn is closing in on 500 wins at Arkansas, currently sitting at 496-283 (.638) in his 13th season at the helm of the Razorbacks. Van Horn is 28-26 all-time against Ole Miss, including a 6-12 record at Baum Stadium.
Coming Up
Arkansas hosts Missouri State on March 31 in midweek action, before traveling to Auburn for a three-game series against the Tigers April 3-5 at Plainsman Park. Game two of the series against Auburn will be televised nationally on SEC Network.
For more information on Arkansas baseball, follow @RazorbackBSB on Twitter.