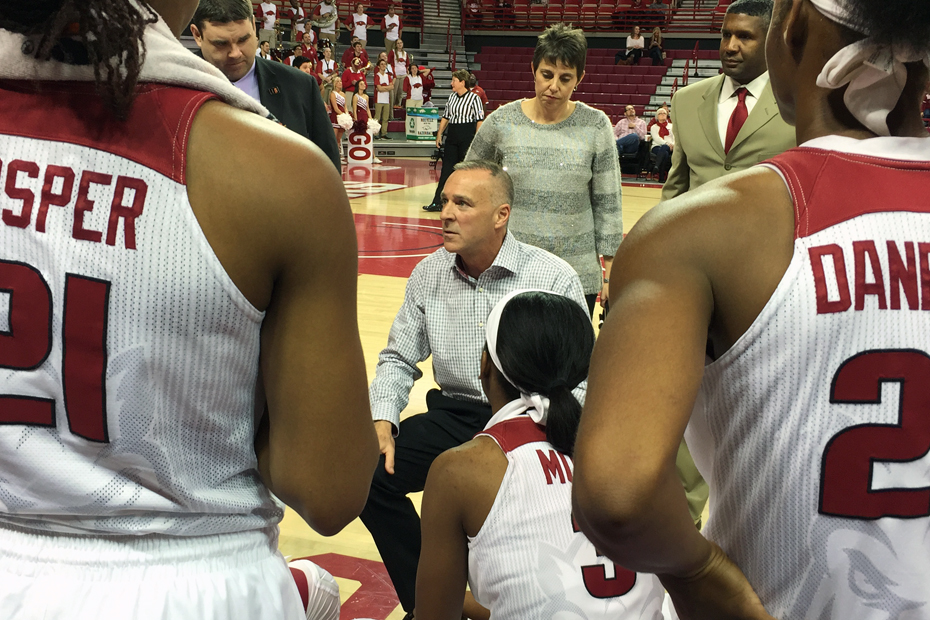 Jackson Scores 18, W. Basketball Wins
Box Score | Photo Gallery
FAYETTEVILLE, Ark. – The University of Arkansas women's basketball team had four players score in double figures led by junior Jessica Jackson with 18 in an 86-46 win over Mississippi Valley State in Bud Walton Arena Monday.
Jackson went to the line to start the game shooting a technical foul assessed to MVSU after they turned in the starting line up late. She hit the bonus shot and Arkansas would never trail in the game. The Razorbacks, 4-8, opened with a fast break, one of 12 in the game, and took a 17-11 lead after the first 10 minutes.
The Razorback offense exploded in the second period as Arkansas outscored MVSU 21-8 in the frame finishing with a 38-19 lead at halftime. Arkansas' 38 points at the half was the team's second highest point total of the season in the first 20 minutes of play.
Arkansas opened the third period with an 11-2 run that put the game out of reach for the Devilettes who fall to 2-8 overall. The Razorbacks battled foul trouble sending MVSU to the line 25 times where they converted 16 points.
Despite that disparity, Arkansas won nearly every other statistical battle including out-rebounding MVSU, 46-38, hitting more three-pointers, 6-0, getting more steals, 11-5, and committing fewer turnovers, 11-21.
Sophomore Devin Cosper is emerging as the Razorbacks' second scoring option behind Jackson. Cosper posted a career-best 16 points while grabbing four boards, getting two assists and three blocks and three steals. Junior Alecia Cooley just missed a double-double with 15 points and nine rebounds while freshman Jordan Danberry added 11 points, five assists, one block and two steals in the win.
GAME NOTES
• Arkansas starters: Jessica Jackson, Devin Cosper, Jordan Danberry, Melissa Wolff and Alecia Cooley
• MVSU was assessed a technical foul after failing to turn in their lineup on time. Jessica Jackson hit the free shot before the tip.
• Arkansas led 17-11 after the first period.
• Arkansas outscored MVSU 17-6 in the second period
• Arkansas' 38 first half points are the most since the season opener when they scored 51 against Southeastern Louisiana
• Arkansas has been even with or out-rebounded nine of 12 opponents this year
• 86 points is the second most of the season
• Arkansas has held 10 of 12 opponents at or below their current scoring average including MVSU
• Arkansas has won the turnover battle in eight games this year including against MVSU (11-21)
• Arkansas has had at least two three-pointers in every game this year
PLAYER NOTES
• Junior Alecia Cooley led all scorers with eight points in the first period
• Cooley scored in double figures for the fourth time this year finishing with 15
• Junior Jessica Jackson has scored in double figures in 10 of the 11 games she has played in this season
• Sophomore Devin Cosper has scored in double figures in five games including five of her last six games this year – she finished with a career-best 16 Monday
• All 12 Razorback players scored at least one point
• Tatiyana Smith made her Razorback debut at the 6:06 mark of the fourth period
UP NEXT
• Dec. 30 host New Orleans at 7 p.m.
• Jan. 3 at South Carolina at 2 p.m.
• Jan. 7 host Texas A&M at 7 p.m.
• Jan. 10 at Mississippi State at 2 p.m.
For more information on Arkansas women's basketball, follow @RazorbackWBB on Twitter.