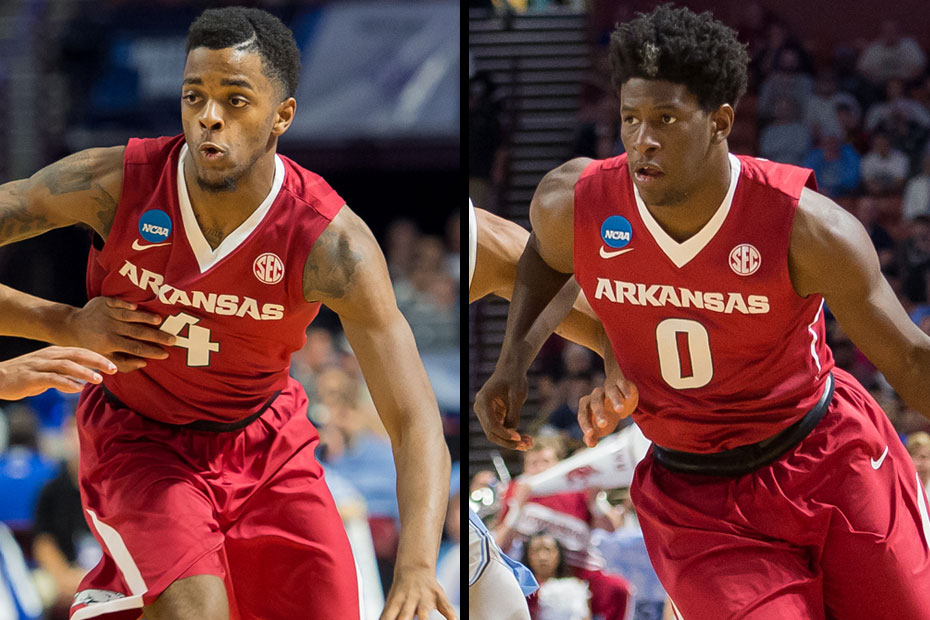 Macon and Barford to Enter NBA Draft, Won't Hire Agents
FAYETTEVILLE, Ark. – University of Arkansas juniors Daryl Macon and Jaylen Barford announced on Friday that they plan to enter the 2017 NBA Draft, but will not hire agents, leaving the option open for both players to return to school for their senior seasons.
With neither player hiring an agent, they will have 10 days following the NBA Draft Combine to make a decision on returning to school or foregoing their final year of eligibility. The NBA Draft Combine is scheduled for May 9-14 in Chicago.
"The new rule for the NBA Draft provides a great opportunity for these guys to workout with NBA teams and get the necessary feedback to make an informed decision," said head coach Mike Anderson. "Daryl and Jaylen had productive years for us and we will support them every step of the way through this process."
Macon proved to be a prolific scorer during his junior campaign, averaging 13.4 points per game, including a career-high 30-point effort against Ole Miss on Feb. 18. He spearheaded Arkansas' run to the SEC Tournament championship game for the second time in three seasons, averaging 16.7 points per game to earn SEC All-Tournament Team honors. Macon went a cool 30-of-34 from the charity stripe in the final minute of games and led the team with 80 assists on the year.
"My ultimate goal is to play at the next level and this is an opportunity to see where I stand and get feedback from NBA teams," said Macon.
Barford came to Arkansas as the No. 1 junior college player in the country and quickly asserted himself in the starting lineup, averaging 12.8 points and 3.8 rebounds per game. He reached the 20-point plateau five times, including a 20-point, seven-rebound performance to lead Arkansas past Seton Hall in the opening round of the NCAA Tournament.
"My dream has always been to play in the NBA and this gives me the chance to go through the process and be evaluated by teams," said Barford.
In their first season in Fayetteville, Barford and Macon helped lead the Razorbacks to a 26-10 overall record, tying for the seventh-most wins in program history. Arkansas ended the year winning nine of its final 12 games, including a trip to the SEC Championship game and the round of 32 in the NCAA Tournament.
For more information on Arkansas men's basketball, follow @RazorbackMBB on Twitter.