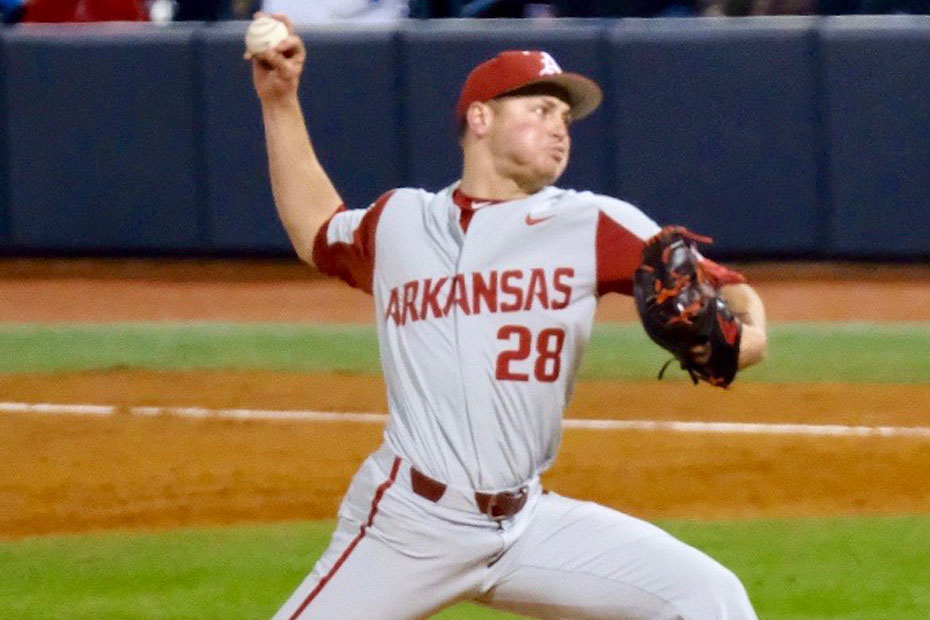 Missed Opportunities Prove Costly For Hogs
OXFORD, Miss. – The No. 5 Arkansas Razorbacks had their chances, but couldn't get the key hits when they needed it most Friday night, leaving 11 runners on base in a 5-4 loss to the No. 4 Ole Miss Rebels at Swayze Field. The loss evens up the three-game series between the two teams, setting up a rubber match on Saturday at 1:30 p.m.
The Razorbacks (19-8, 5-3 SEC) outhit the Rebels (24-4, 5-3 SEC) 11-9 in the game, but were hitless in the fourth, fifth, and sixth innings as Ole Miss' bullpen held Arkansas' offense, for the most part, in check. Seven of their 11 hits came off of Ole Miss starter Brady Feigl, but the Hogs managed just two runs during his 5.1 innings of work. Both of those runs coming in the second inning from a string of singles by Dominic Fletcher, Carson Shaddy, and Eric Cole.
Seven different Razorbacks recorded at least one hit with three garnering two or more. Junior Eric Cole led all Hog hitters, going 3-for-5 with an RBI, his fifth game this season with three or more hits. Freshman Casey Martin and sophomore Dominic Fletcher both turned in a pair of hits each.
Arkansas' defense was especially sharp, however, as it racked up four double plays in the first four innings, just one shy of the single-game school record for double plays.
Sophomore Evan Lee, who got the start on the mound, had some trouble from the onset, making it just one inning and allowing two earned runs on three hits with one walk in seven batters faced. Even with the tough outing from Lee, Arkansas' bullpen kept them in the game as freshmen Bryce Bonnin and Kole Ramage prevented Ole Miss from making any lead insurmountable.
Combined, Bonnin and Ramage threw 7.0 innings and gave up just two earned runs on five hits and struck out six. Ramage was especially effective as he threw 3.2 no-hit innings and struck out a career-high five batters in his ninth appearance this year.
The Hogs showed some life in the seventh and eighth innings, pulling within one after Grant Koch's RBI double and Jax Biggers sacrifice fly, but it was too little too late as Ole Miss' Parker Caracci earned the two-inning save, including striking out the side in the ninth.
Friday's game was the seventh one-run game Arkansas has played this season and third in its last four games. Arkansas is 3-4 this season in games decided by one run.
Up Next
The deciding third game of this three-game series between the Razorbacks and Rebels is set for a 1:30 p.m. first pitch on Saturday at Swayze Field. This is the fourth rubber match in five weekend series for the Hogs and second-straight for the road trip. A win tomorrow would give Arkansas its first series win over the Rebels in Oxford since 2010.
Sunday's game can be seen online only on SEC Network+ via the Watch ESPN app and WatchESPN.com.
For more information on Razorback Baseball, follow @RazorbackBSB on Twitter.