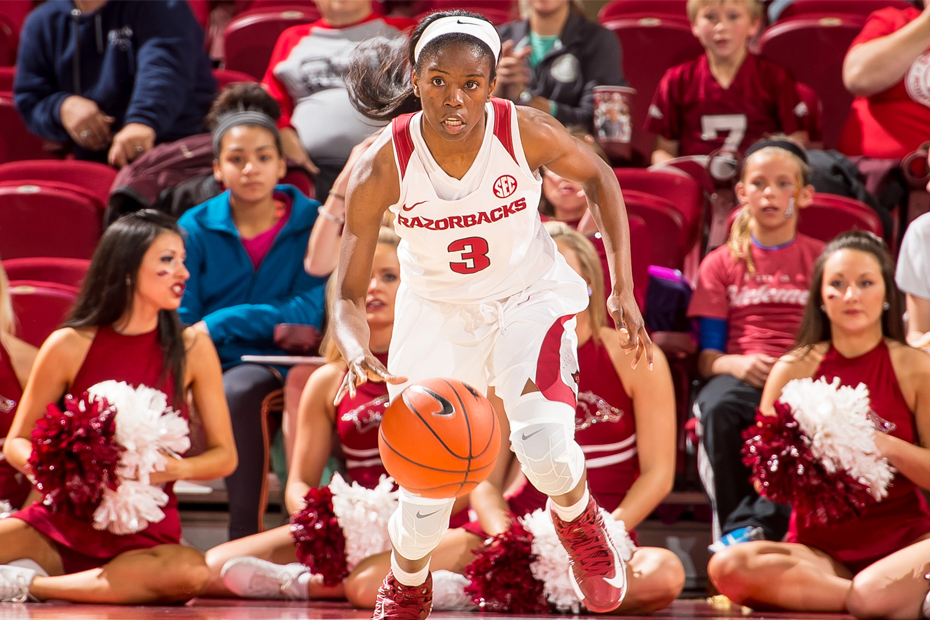 Monk, Danberry Solid at Missouri
COLUMBIA, Mo. – Freshmen Malica Monk and Jordan Danberry paced the University of Arkansas in SEC road action at Missouri Sunday. Monk scored a career-best 15 while Danberry added 12 but Arkansas fell 69-48 to the Tigers.
The loss drops Arkansas to 10-15 overall and 5-7 in the SEC while Missouri moves to 20-6 and 7-6 in the league.
Arkansas battled poor shooting in the first half and trailed big, 42-17, at the break. Two four-plus minute scoring lapses and a 7-for-30 shooting performance in the first 20 minutes saw the Razorbacks shoot just 23.3 percent early. Monk paced the team with seven points at the break, hitting a half court buzzer beater sending Arkansas into the locker room with 17 points, the lowest halftime point total in SEC play this year.
Scoring woes continued for the Razorbacks in the second half and the team finished shooting 33.3 percent on 20-for-60 from the floor.
Arkansas took good care of the ball with just nine turnovers, second fewest in a game this year and the Razorbacks were solid on the boards with 32 in the contest. Danberry reached double figures in the fourth period finishing with 12 points. It is the eighth double figure scoring game for Danberry.
The Razorbacks went with a freshman lineup in the final five minutes of the game and put together a 7-0 run against the Tigers. Danberry and Monk were joined by Keiryn Swenson, Briuanna Freeman and Bailey Zimmerman to close the game.
The underclassmen forced five Missouri turnovers in the closing minutes of the game and held the Tigers to a 1-for-9 stretch.
Arkansas' leading scorer, Jessica Jackson, tallied just two points while senior Melissa Wolff had just two points and four rebounds.
NOTES:
• Arkansas Starters, Jessica Jackson, Briunna Freeman, Jordan Danberry, Melissa Wolff, Alecia Cooley
• Arkansas is 4-5 all-time on Valentine's Day
• Arkansas is 11-6 all-time against Missouri and 6-2 in SEC games against the Tigers
• Arkansas' 17 first-half points is an SEC season low
• Malica Monk finished with a career-best 15 points
o It is her second game scoring in double figures
o Monk hit a buzzer beater to give Arkansas the win against Vanderbilt last week
o Monk hit a buzzer beater from half court to end the first half at Missouri
• Jordan Danberry scored 12 points – her eighth double figure scoring game
For more information on Arkansas women's basketball, follow @RazorbackWBB on Twitter.
— ArkansasRazorbacks.com || On Twitter @ArkRazorbacks || Facebook.com/ArkansasRazorbacks –