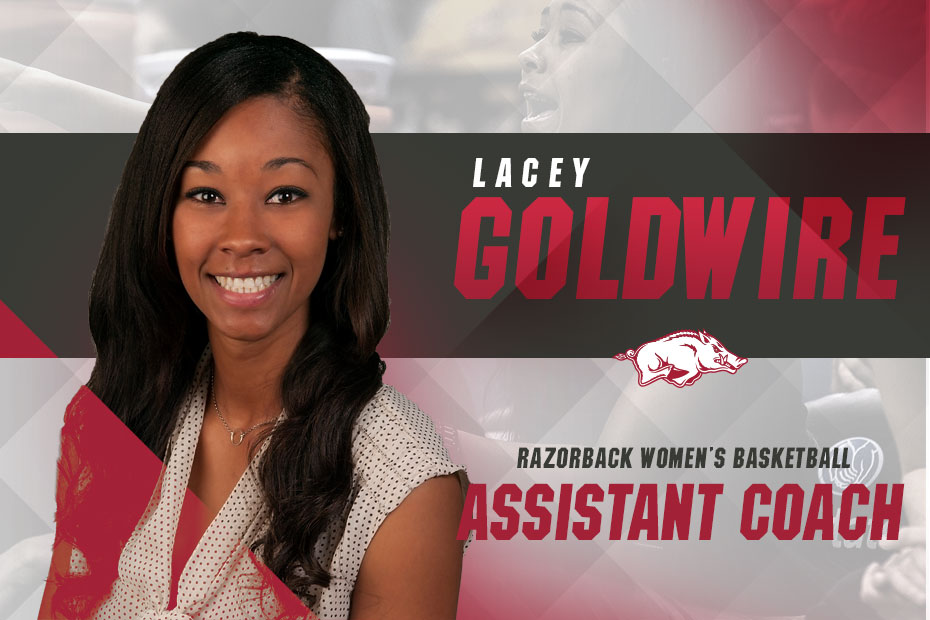 Neighbors Adds Goldwire To Staff
FAYETTEVILLE, Ark. – University of Arkansas head women's basketball coach Mike Neighbors announced the addition of Lacey Goldwire as an assistant coach on Thursday.
Goldwire brings four years of recent postseason coaching experience to the bench for the Razorbacks.
"This is the first win as a Razorback for us," Neighbors said. "Lacey provides us with an immediate impact performer in the Southeastern Conference before we ever play a game. She has matured from player to young coach into a recognized elite coach in a very short time frame. Lacey has accomplished that through her ability to connect with people and to form trusting relationships with them.
"Lacey will give our current student-athletes someone who has lived in their world as a player," Neighbors continued. "She will give them someone who can relate to the day-to-day challenges each of our players face in the classroom and on the court. Lacey becoming a Razorback was a very important foundation building block and I'm looking forward to getting started."
Goldwire comes to Fayetteville from Iowa City where she worked with the Hawkeyes wing players and served as the team's recruiting coordinator. Goldwire's first season at Iowa was the first of back-to-back trips to the NCAA Tournament. At 27-win season included a second round appearance in the Big Dance in 2013-14.
Iowa returned to the NCAA Tournament in 2014-15 and defeated 14th-seeded American (75-67) in the first round and 11th-seeded Miami (88-70) in the second round. The victory secured a Sweet Sixteen berth at home on Mediacom Court in Carver-Hawkeye Arena. The Hawkeyes closed their season with a 26-8 record overall, a runner-up finish in Big Ten Conference play with a 14-4 mark, and a No. 11 national ranking in the USA Today Top 25 Coaches' Poll — the highest for the program since 1995-96. Iowa was one of 13 teams nationally to finish undefeated at home with an 18-0 mark, setting a program record for wins at home in a single season.
Goldwire and the Hawkeyes were one win shy of 20 in 2015-16 playing in the WNIT, but played to 20 wins in 2016-17 going deep into the WNIT bracket with victories over Missouri State, South Dakota and Colorado.
During her time in Iowa, Goldwire worked with consensus All-America selection Samantha Logic whose honors also included being named a WBCA Division I Coaches All-American, USBWA All-American, ESPN Second Team All-American, and Third Team Associated Press All-American. Logic was the only player in NCAA history to accumulate at least 1,500 career points, 800 rebounds, 800 assists, and 200 steals – and was one of 12 players in the country to be invited to attend the 2015 WNBA Draft where she was selected with the 10th overall pick.
Goldwire spent the 2012-13 season as an assistant coach at Morehead State. Prior to joining the Eagles' staff, Goldwire served on the Oklahoma State staff for four seasons — two as a student assistant and two as a graduate assistant. Following Oklahoma State's tragic loss of its head and assistant coach during a plane crash in November of 2011, Goldwire was elevated to interim assistant coach where she took on added recruiting duties. During her time with the program, the Cowgirls won 80 games and advanced to the postseason all four years, winning the 2012 WNIT championship.
Goldwire, an Oklahoma City native, played collegiately at East Central (Okla.) University where she ranked fifth in career scoring with 1,340 points. She averaged 21.1 points and 5.9 rebounds as a senior and was tabbed Lone Star Conference North co-Player of the Year and Second-Team All-South Central Region. She also earned ECU's Athlete of the Year honor in 2007-08. She was named honorable mention All-LSC following her sophomore and junior campaigns.
Goldwire, an all-state and all-city player at Del City (Okla.) High School, graduated from Oklahoma State with a bachelor of science in education and a master's degree in teaching, learning and leadership in 2010.
Follow us on Twitter at @RazorbackWBB for more information.