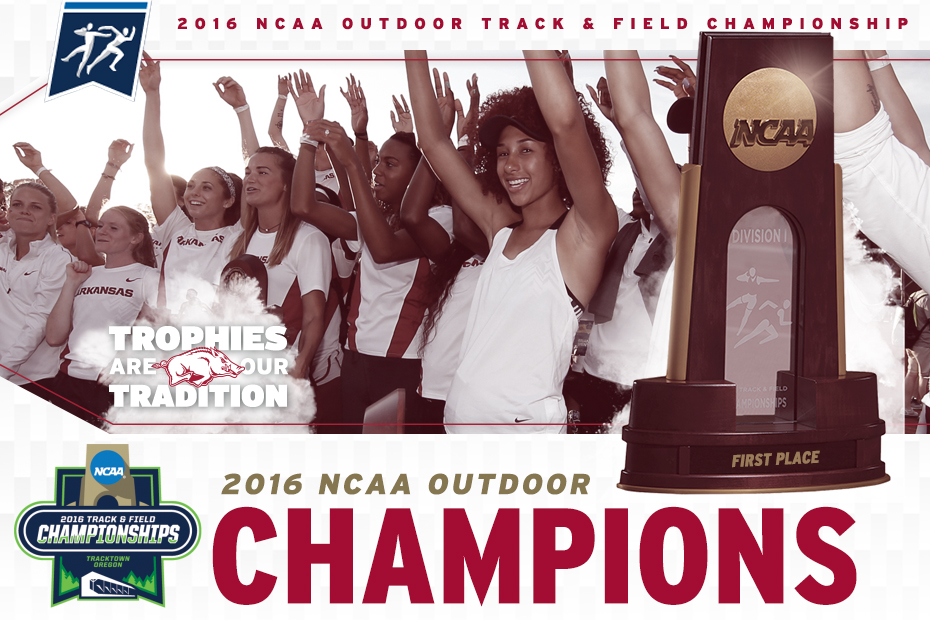 No. 1 in the Nation
EUGENE, Ore. – History was made Saturday evening at Hayward Field in Eugene as the Arkansas women's track and field team rallied together to win the program's first NCAA Outdoor Track and Field Championship with a score of 72.
It was the second national victory for the Razorbacks, who won their first at home in Fayetteville, Arkansas at the Randal Tyson Track Center during the 2015 NCAA Indoor Championship.
Expectations were high for coaches and student-athletes alike heading into 2016 season finale as all parties affiliated with the program knew exactly what the talented group of young women were capable of. Their preparation during the offseason culminated into their most coveted prize — a national crown – something that narrowly eluded them during the indoor season.
Following a first day score production of 26 points, generated by Taliyah Brooks (third place, long jump), Dominique Scott (first place, 10K) and Lexi Weeks (first place, pole vault) Arkansas took day four by storm accumulating more points in a two-hour time frame than all of their past two-day NCAA meet totals in previous years.
#NCAATF Scorers Day Two
The final day of the competition opened up with an outstanding effort by combined events performers Alex Gochenour, Payton Stumbaugh and Leigha Brown in the heptathlon. Gochenour had an all-around solid showing finishing inside the top-10 of six of the seven events. Entering the event as the 16th seed, Brown sprinted to a new PR of 5,677 points with wind-aided personal bests in the 100 hurdles and the 200 that propelled her up to 10th place. One of the top performers in the pentathlon during the indoor season, Stumbaugh reprised her role as a multis contributor finishing sixth in the heptathlon to close her first season as a Razorback with four All-America honors.
Another event with more than one Razorback entry, the 3,000-meter steeplechase saw senior Jessica Kamilos and freshman Devin Clark demolish their previous personal bests en route to securing 12 points for Arkansas. Kamilos boldly trailed New Mexico's Courtney Frerichs, the eventual national champion, closely for the majority of the race going on to cross the finish line in a new program record of 9 minutes 41.28 seconds – almost seven seconds faster than her previous record. Not to be left out, Clark also made major moves during the 3K race keeping stride with veteran distance runners who paced the freshman to a new American junior record of 9:49.25.
A scholar and an athlete, senior Taylor Ellis-Watson impressed the crowd at Hayward Field with valiant efforts in the open 400 as well as the 4-x-400-meter relay. With slightly over an hour separating the two events, the Philadelphia native managed to post two sub-51 quarter-mile performances earning herself two silver medals. The program record-holder in the 400, Ellis-Watson finishes her phenomenal tenure as a Razorback as an 11-time All-American.
Already a national champion (10K), Scott capped her final collegiate meet in spectacular fashion, cruising to her second event victory with a time of 15:57.07 in the 5,000. A national runner-up in the event one year prior, Scott returned this season with an increased mastery of how to properly execute the 12 1/5 lap race maintaining pace with the lead pack through most of the race. She took charge of the event with 600 meters to go out-kicking the field to complete her career as the most dominant national performer in Razorback history with five NCAA individual event titles.
During the 2015-16 season, Arkansas women's track and field collected an NCAA national title (outdoor), an NCAA national runner-up (indoor), an NCAA top-10 finish (cross country) and swept the Southeastern Conference titles.
With collegiate competition behind them, the Razorbacks will shift their focus to prepare for the 2016 U.S. Olympic Trials from July 1-10 at Hayward Field in Eugene.
NCAA Outdoor Team Scores
1. Arkansas (72)
2. Oregon (62)
3. Georgia (41)
4. Texas (36)
5. Texas A&M (35)
6. LSU (31)
7. Kansas State (29)
7. Stanford (29)
9. USC (28)
9. Florida (28)
NCAA Outdoor Championship Results
Hayward Field
Eugene, Oregon
100 Meters semifinal
Kiara Parker (21) – 11.65
400 Meters semifinal
Taylor Ellis-Watson (2) – 51.55Q
Daina Harper (14) – 52.97
400 Meters final
Taylor Ellis-Watson (2) – 50.86
5,000 Meters final
Dominique Scott (1) – 15:57.07
10,000 Meters final
Dominique Scott (1) – 32:35.69
100 Meter Hurdles
Payton Stumbaugh (12) – 13.13
Alex Gochenour (20) – 13.32
400 Meter Hurdles semifinal
Damajahnee Birch (17) – 58.64
3,000 Meter Steeplechase semifinal
Jessica Kamilos (3) – 9:55.35Q
Devin Clark (5) – 9:58.26Q
3,000 Meter Steeplechase final
Jessica Kamilos (3) – 9:41.28 (2)
Devin Clark (5) – 9:49.25 (5)
4-x-100 Relay semifinal
Arkansas A: K. Herman, T. Ellis-Watson, D. Harper, K. Parker (8) – 43.84
4-x-400 Relay semifinal
Arkansas A: B. Swinton, D. Harper, M. Dobbins, T. Ellis-Watson (2) – 3:28.76Q
4-x-400 Relay final
Arkansas A: D. Birch, D. Harper, M. Dobbins, T. Ellis-Watson (2) – 3:27.94
Pole Vault final
Lexi Weeks (1) – 4.50m/14-9
Tori Weeks (14) – 4.05m/13-3 1/2
Ariel Voskamp – NH
Long Jump final
Taliyah Brooks (3) – 6.35m/20-10
Kelsey Herman (24) – 5.71m/18-8 ¾
Heptathlon final
Alex Gochenour (4) – 5,962 points
Payton Stumbaugh (6) – 5,868 points
Leigha Brown (10) – 5,677 points
Taliyah Brooks – DNF
For more information on Arkansas track and field including in-meet updates, follow @RazorbackTF on Twitter.