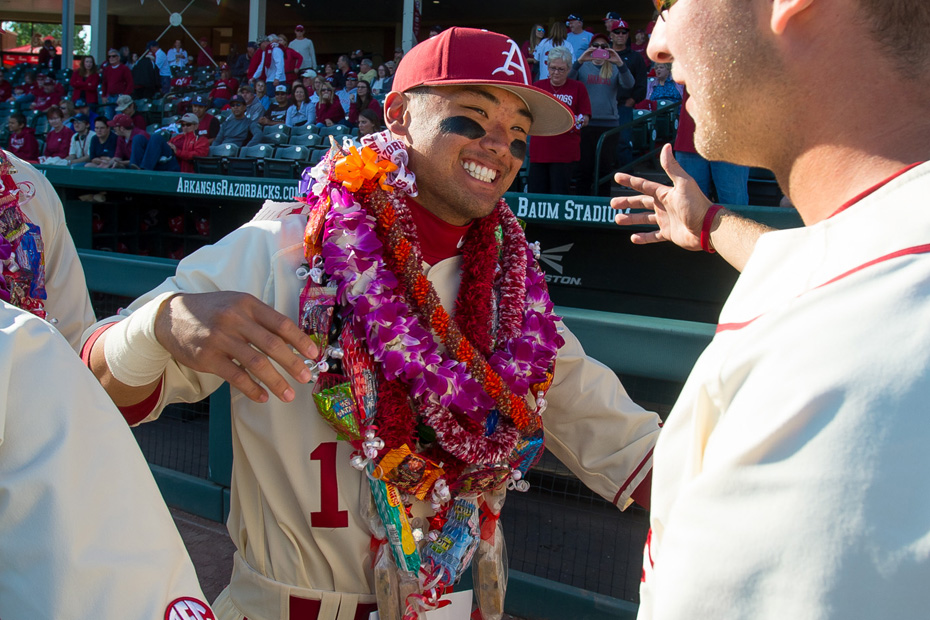 Nomura Named to Community Service Team
FAYETTEVILLE, Ark. – Senior infielder Rick Nomura has been named to the 2016 SEC Baseball Community Service Team as announced by the league office Wednesday morning.
The SEC supports a Community Service Team for each of its 21 league-sponsored sports. The Community Service Team looks to highlight an athlete from each school who gives back to his community in superior service efforts.
The Waipahu, Hawaii, native has helped organized numerous community service projects in Arkansas, including the Book Hogs program and the Arvest Heart Walk. He is a member of the Student Athlete Advisory Committee (SAAC) and Campus Connections Committee.
The Book Hogs program involves Razorback student-athletes visiting local elementary schools to read with children and emphasize the importance of reading while in school.
Nomura is currently hitting .286 on the year, .304 in conference with a team-leading 14 doubles, along with 4 home runs and 27 RBIs. He is currently majoring in kinesiology.
Joining Nomura on the community service team is one member from each of the 14 member schools of the SEC, including:
Zac Rogers – Alabama
Jordan Ebert – Auburn
Dane Dunning – Florida
Trevor Kieboom – Georgia
Dorian Hairston – Kentucky
Doug Norman – LSU
Brady Bramlett – Ole Miss
Nathaniel Lowe – Mississippi State
Nolan Gromacki – Missouri
Jonah Bride – South Carolina
Eric Freeman – Tennessee
Michael Barash – Texas A&M
Ryan Johnson – Vanderbilt
UP NEXT
The Razorbacks head to Starkville, Mississippi, this weekend in the final SEC series of the year. Game 1 of the series will be played Thursday at Dudy Noble Field. First pitch is slated for 6:30 p.m. CDT and will be broadcast on SEC Network+.
For more information on Razorback Baseball, follow @RazorbackBSB on Twitter.