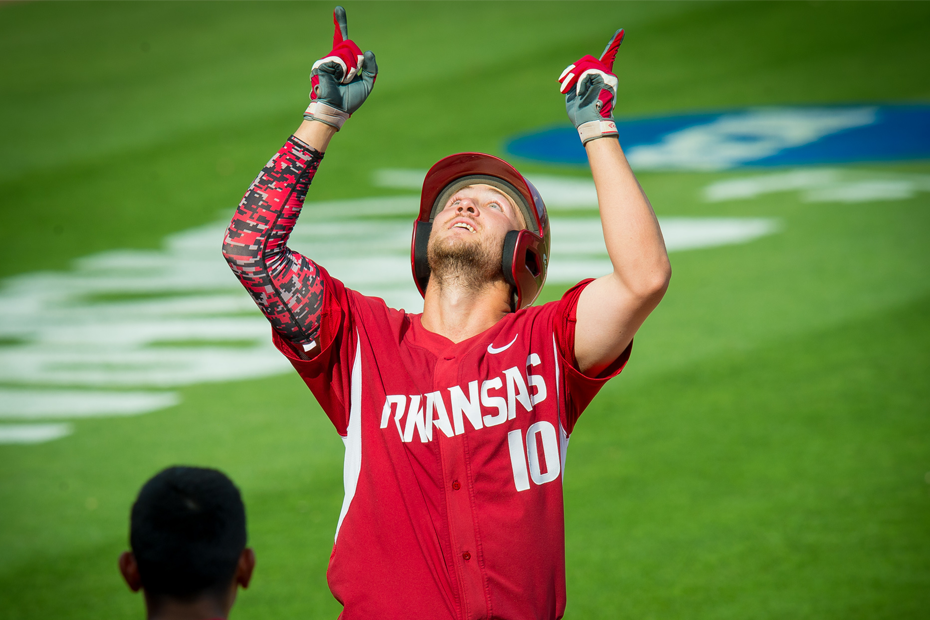 #OmaHogs One Win Away From CWS
Box Score | Photo Gallery | Arkansas Quotes
FAYETTEVILLE, Ark. – The Arkansas Razorbacks (39-22) are just one win away from its eighth trip to the College World Series.
In front of a record crowd at Baum Stadium, Arkansas scored 18 runs in an 18-4 win over No. 8 National Seed Missouri State (48-11) in Game 1 of the NCAA Fayetteville Super Regional.
Missouri State took an early 1-0 lead with a second-inning home run but the Razorbacks battled back, plating three runs in the fourth thanks in part to a two-run single by Tyler Spoon.
Arkansas kept scoring with a six-run sixth inning. Golden Spikes Award finalist and SEC Player of the Year Andrew Benintendi led off the frame with his 19th home run of the season, tying him for the national lead. Joe Serrano also homered, hitting a three-run shot that put the Razorbacks up 10-1.
Serrano finished the game 3-for-4 with two doubles, two runs scored and four RBIs. The senior is now batting .563 (9-for-16) in the NCAA Tournament with six RBIs and four extra-base hits.
All nine starters in the Arkansas lineup had at least one hit as the Razorbacks continued to drive in runs, scoring two more in the seventh and six again in the eighth. The 18 runs Arkansas scored marked the third-highest output in an NCAA Tournament game in program history.
The Razorbacks also got a solid performance on the mound from starter Trey Killian (3-4). The right-hander threw six innings, allowing three runs and striking out one.
Hosting a Super Regional for just the second time in program history, Arkansas set a Baum Stadium attendance record with 11,869 fans on hand to see the Razorbacks take Game 1.
Game two of the best-of-three Super Regional will take place at 1 p.m. on Saturday and will be nationally televised on ESPN2.
Game Notes
– Arkansas is one win away from making its eighth College World Series appearance.
– The Razorbacks are playing in its sixth Super Regional in program history and second at Baum Stadium.
– Arkansas is 8-5 all-time in Super Regional games and 3-0 at Baum Stadium.
– The Razorbacks improve to 4-2 all-time in the first game of Super Regionals.
– The last two times Arkansas won the first game of a Super Regional it went on to sweep the series (2004, 2009).
– The Razorbacks are now 70-58 all-time in the NCAA Tournament and has won 16 tournament games in the past four years.
– Arkansas has won 11 of its past 12 against Missouri State and are 50-21 overall against the Bears.
– The Razorbacks have won 24 of their past 31 games.
– Arkansas' 18 runs is the third highest in a NCAA Tournament game in program history and is the most in a NCAA Tournament game since defeating Grambling 19-7 in the 2010 Fayetteville Regional.
– The Razorbacks scored in five consecutive innings for the first time since scoring in six straight innings on April 15 against Stephen F. Austin.
– Arkansas snaps Missouri State's program record and nation-leading 19-game winning streak.
– Michael Bernal extended his hitting streak to a career-long 14 games.
– Andrew Benintendi hit his 19th home run of the year to tie for the national lead.
– Trey Killian posted his team-leading seventh quality start of the year.
– Joe Serrano went 3-for-4 at the plate with a home run and four RBI and is hitting .563 (9-for-16) in four NCAA Tournament games.
– Clark Eagan drove in a career-high four runs.
– Tucker Pennell had the first multi-hit game of his career.
– Twelve Razorbacks collected a hit and nine players drove in at least one run.
– Arkansas hit multiple home runs for the 15th time this season.
– The Razorbacks turned three double plays and have now recorded 62 on the season.
Listen:
Andrew Benintendi hits his 19th home run of the season…
Joe Serrano gives Arkansas a 10-1 lead in the sixth…
For more information on Arkansas baseball, follow @RazorbackBSB on Twitter.