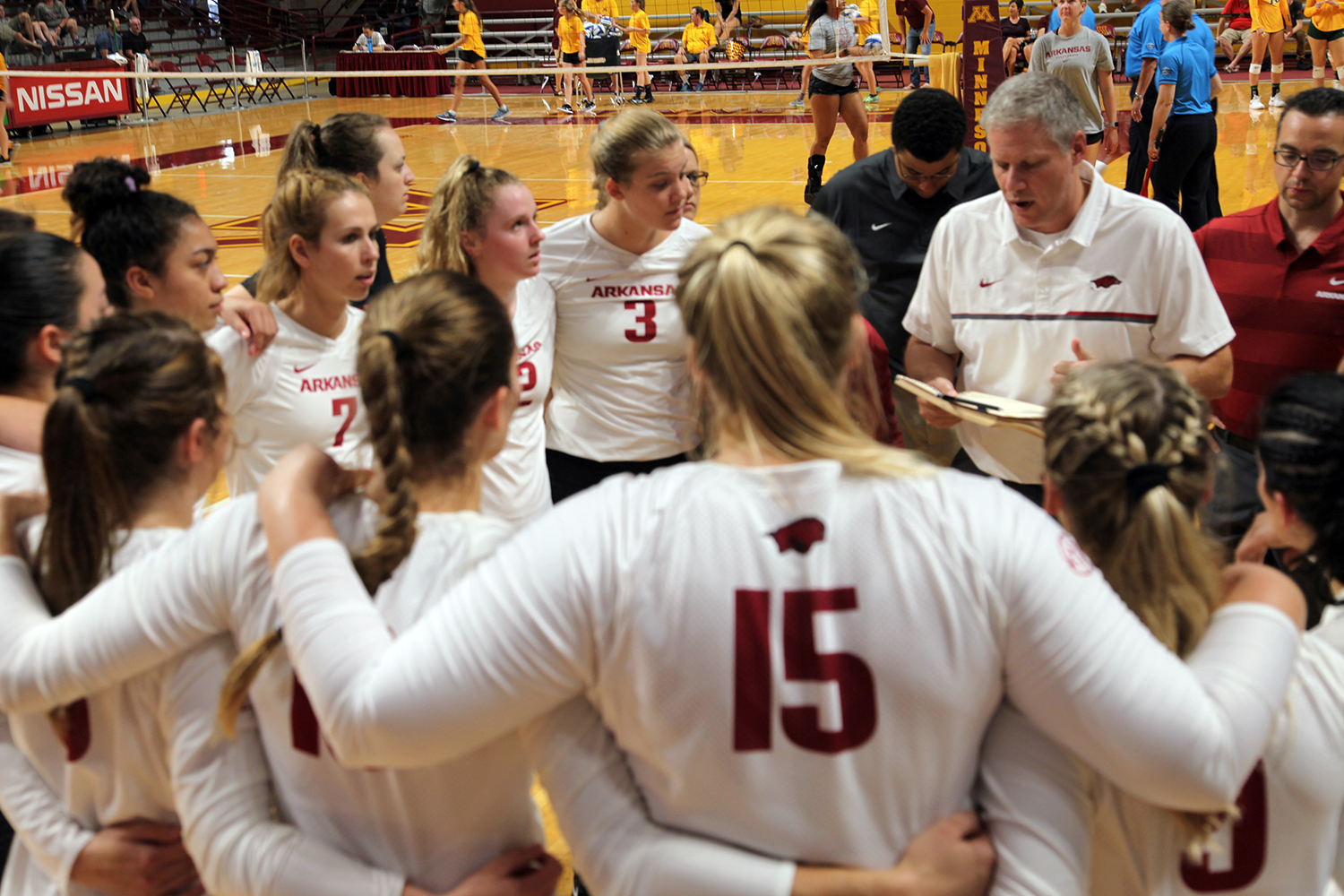 Razorbacks Split Two Matches in Minnesota
MINNEAPOLIS, Minn. – The University of Arkansas volleyball team split a pair of matches Saturday on the final day of the Diet Coke Classic in Minneapolis. The Razorbacks finish the weekend 2-1 and are now 3-2 overall through two week of the 2018 season. Arkansas opened the day with a four-set win over North Dakota State before dropping its finale to host and No. 3 Minnesota.
On the strength of their standout play this weekend, seniors Kelly O'Brien and Okiana Valle earned a spot on the 2018 Diet Coke Classic All-Tournament Team. Valle averaged 4.30 digs per set while O'Brien led the Razorbacks during the weekend with 3.20 kills per set aided by her career-high effort against the Gophers.
The Razorbacks now return to the Natural State with eyes on next weekend's Arkansas Classic in which the team will host Buffalo, Butler and Northwestern at Barnhill Arena. Individual match tickets are $5 while UA students and fans 17 years and younger receive free admission.
FINAL
Arkansas 3, North Dakota State 1 (22-25, 25-15, 25-16, 25-12) | Box Score
Attendance: 4,728 | Time: 1:48
Maturi Pavilion (Minneapolis, Minn.)
#RazorStats
• Stat leaders vs North Dakota State
o Kills: Logan Brown – 12 (career high)
o Digs: Okiana Valle – 21
o Blocks: Three each w/ 2.0
• Double-Doubles
o Rachel Rippee – 40 assists, 11 digs (20th of career)
• First-ever meeting between the two programs
Sophomore Logan Brown led a trio of Razorbacks in double figures with a career-high 12 kills to go along with a .370 hitting percentage against the Bison. She replaced her previous best of nine kills first established last season against Sam Houston State. O'Brien and sophomore co-captain Elizabeth Pamphile each added 11 kills in the four-set victory. Junior setter Rachel Rippee tallied the 20th double-double of her career with 40 assists and a season-high 11 digs.
The Razorbacks limited North Dakota State to a .031 hitting percentage, thanks in part to a match-high 21 digs Valle. It marked her second outing of the young season with at least 20 digs. Sophomore Paige Johnson had 10 digs against NDSU and, along with freshman teammate Lauren Evans, picked up three service aces.
After dropping the first set, Arkansas steadied to rattle off the next three sets for its third-consecutive win. The Razorbacks committed 11 attack errors in the opening frame but tallied just 12 over the next three sets. The team's defense responded in kind and held the Bison to a .000 efficiency in the final three sets of the match.
FINAL
No. 3 Minnesota 3, Arkansas 0 (25-15, 25-19, 25-18) | Box Score
Attendance: 4,804 | Time: 1:29
Maturi Pavilion (Minneapolis, Minn.)
#RazorStats
• Stat leaders at Minnesota
o Kills: Kelly O'Brien – 14 (career high)
o Digs: Okiana Valle – 12
o Blocks: Kelly O'Brien – 2.0 (0-2)
• Only the second meeting in the series, first since 1996
O'Brien led all players with 14 kills, replacing her previous career high of 13 from Arkansas' season opener against Kansas. She has now reached double figures in three of five matches this year. Pamphile and Hailey Dirrigl each tallied eight kills in the match. For the third time this season, Rippee missed out on a double-double by one dig. She finished the night with 39 assists and nine digs.
Defensively, Valle picked up a match-high 12 digs and was joined in double figures by Johnson who collected 10 digs for a second time in two matches Saturday.
For more information about Arkansas volleyball, follow @RazorbackVB on Facebook, Instagram and Twitter.