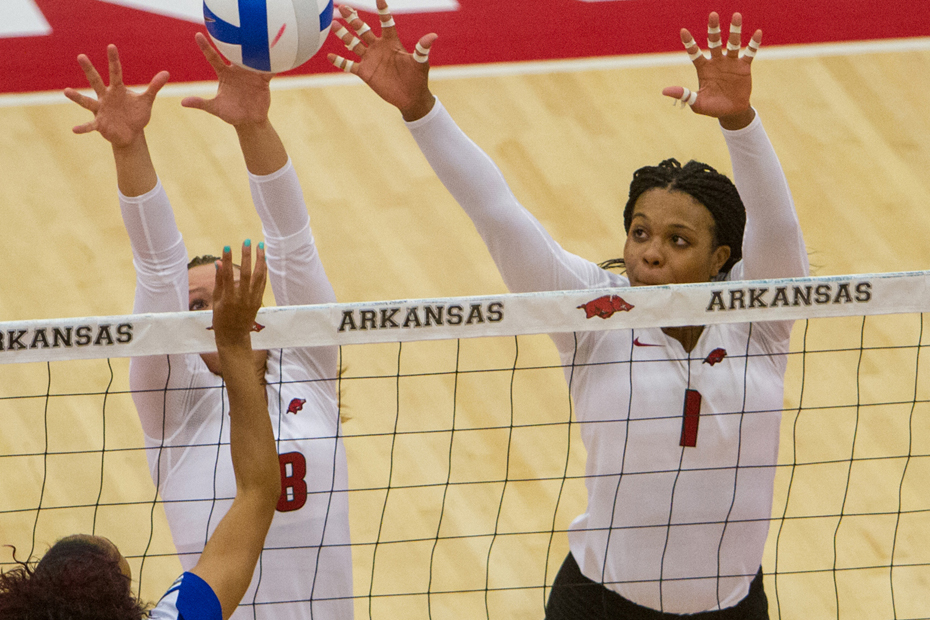 @RazorbackVB Hits Midpoint of Spring Schedule
FAYETTEVILLE, Ark. – In its second of four spring competition dates, the University of Arkansas volleyball team hosted Kansas last weekend and played an unconventional five-set match with each set going to 25 points which allowed all players to see time on the court. The Razorbacks won sets one and four, and in the fifth set, both teams mixed up their line-ups to work on various in-match scenarios.
Over the first four sets, the Razorbacks' defense at the net was strong with 3.00 blocks per set and 16.25 digs per set. Collectively, Arkansas totaled 12 total blocks—four solo and 16 assisted—to go along with 65 digs including a team-high 19 digs in the third set.
The remainder of the spring season includes a Thursday road match at Missouri State followed by Saturday's spring finale against TCU which is set for an 11 a.m. (CT) first serve at Barnhill Arena. The match is free to attend and open to the public. Pulliza will also host a coaches clinic on the Friday between the two spring matches. The one-day clinic will begin at 10 a.m. (CT) and cost $95 including lunch for all attendees.
The spring contest capped a busy week for the program that included head coach Robert Pulliza releasing his 2015 April signing class which featured Kimi Davis, Juliette Fidon, Fernanda Güitron and Okiana Valle. With the February addition of Pilar Victoria, the Razorbacks will welcome five newcomers to the 2015 roster. The team will be guided by its 11 upperclassmen including soon-to-be seniors Monica Bollinger, Chanell Clark-Bibbs and Liz Fortado.
The Razorbacks are also gearing up for the 2015 Arkansas Volleyball Summer Camps. The camp schedule features Lil' Backs Camp (June 29-July 1), Position Camp (July 6), All-Skills Camp (July 7-9), Team Camp I (July 10-12), Team Camp II (July 14-16), Junior High Play Day (July 18) and Serving Clinic (July 18). For more information, visit the Razorback camp home page at ArkansasVolleyballCamps.com.
For more information about Arkansas volleyball, follow @RazorbackVB on Twitter.