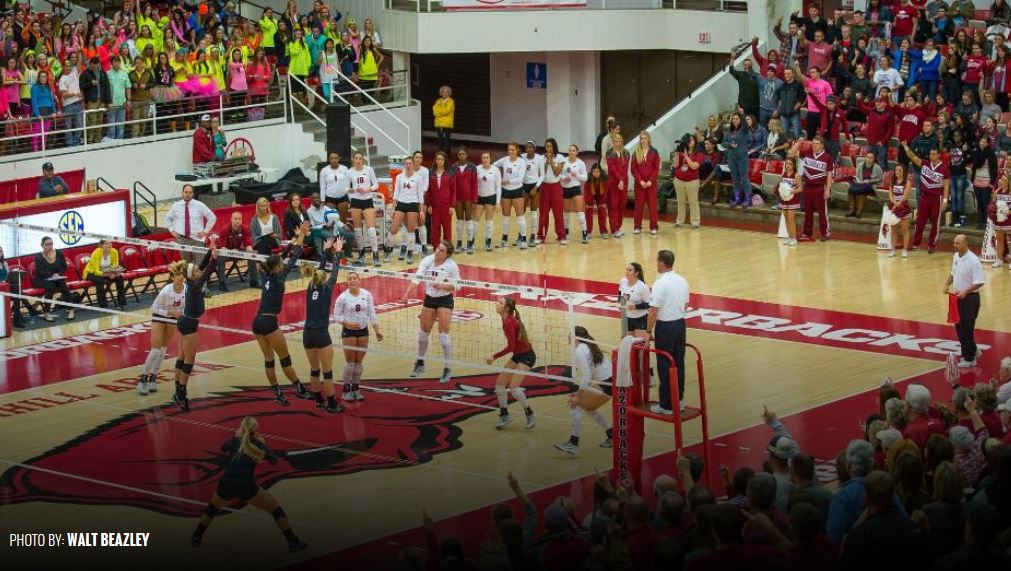 @RazorbackVB Knocks Off South Carolina in Five
FAYETTEVILLE, Ark. – The University of Arkansas volleyball team opened its three-match home stand Friday night with a five-set win over South Carolina in front of 2,349 fans at Barnhill Arena. The Razorbacks were paced by a career-high 19 kill from Liz Fortado while reigning SEC Freshman of the Week Bailee Hankenson posted her sixth double-double with 55 assists and 11 digs. With the win, Arkansas improves to 14-13 overall and 8-6 in conference play.
In the decisive fifth set, the score was tied at 7-all when the Razorbacks scored on back-to-back kills from Fortado and Ana Sofia Juisno. An attack error by South Carolina (15-11, 5-8 SEC) gave the home team a 10-7 lead. The Gamecocks pulled to within one at 12-11 but Hankenson and Chanell Clark-Bibbs teamed up for consecutive blocks to give Arkansas match point. The Razorbacks secured the win on the next point when a Carolina attack landed long.
Arkansas has now won three matches in a row including back-to-back five setters. With Friday's triumph, the Razorbacks are now 4-6 in five-set matches this season. Three of those wins have come in SEC play. Arkansas increases its all-time series lead against South Carolina to 23-10, and has won nine of the last 10 meetings between the two teams.
Fortado was one of four Razorbacks with double-digit kills in Friday's match. With 19 kills, she eclipsed her previous best of 17 kills established earlier this season in an Oct. 12 home match against Georgia. Fortado was joined in double figures by Meredith Hays with 18 kills, Clark-Bibbs with 16 and Jusino with 10. Clark-Bibbs has 10 or more kills in six of her last seven outings.
Defensively, Clark-Bibbs led Arkansas' effort at the net with a match-high seven total blocks while Hankenson added five blocks to her stat line. Behind the block, libero Monica Bollinger tallied 20 kills for her fifth 20-dig performance of the year and Kori Ortiz had 12 digs for her first double-digit showing of the SEC season.
The Razorbacks continue their three-match home stand Wednesday evening when they host Texas A&M in a match that will be televised by the SEC Network. First serve is scheduled for 6 p.m. (CT) at Barnhill Arena. Arkansas will be making its fifth appearance on the newly launched network and the second on its home floor.
Final
Arkansas 3, South Carolina 2 (25-17, 25-18, 23-25, 20-25, 15-11)
Time: 2:15 | Attendance: 2,349
Fayetteville, Ark. | Barnhill Arena
#RazorFacts
• Stat Leaders vs. South Carolina
o Kills: 19 – Liz Fortado
o Digs: 20 – Monica Bollinger
o Blocks: 7 – Chanell Blark-Bibbs
• Second-largest crowd (2,349) in program history
• Leads all-time series vs. South Carolina, 23-10
o 12-4 in Fayetteville
o Won nine of the last 10 meetings
• Double-Double Watch
o Bailee Hankenson: 55 assists, 11 digs (sixth of the season)
• Three-consecutive matches with no attack errors for Ana Sofia Jusino
o Hitting .561 (23-0-41) during that stretch
• Next match: Nov. 19 vs Texas A&M at Barnhill Arena
o First serve at 6 p.m. (CT) on SEC Network
o Fifth appearance on SEC Network this season
For more information on Arkansas volleyball, follow @RazorbackVB on Facebook, Instagram and Twitter.