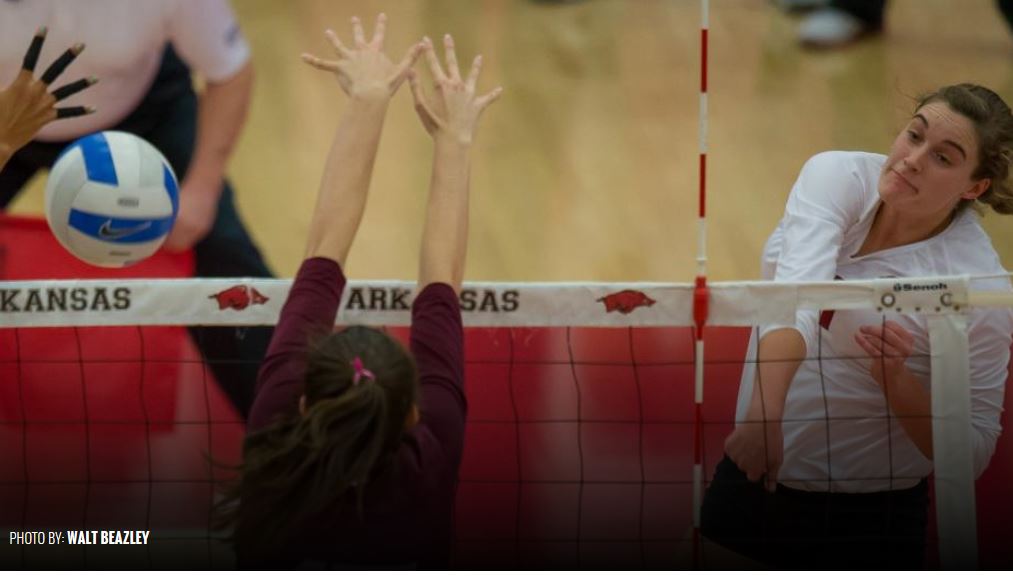 @RazorbackVB Loses to Texas A&M in Four Sets
FAYETTEVILLE, Ark. – The University of Arkansas volleyball team lost its penultimate home match of the season with a four-set loss Wednesday evening to Texas A&M at Barnhill Arena. The Razorbacks were paced by a double-double from senior Meredith Hays and 14 kills from Chanell Clark-Bibbs. With the setback, Arkansas drops to 14-14 overall and is now 8-7 in SEC play.
With her second kill of the match, Hays became the 16th player in program history to reach 900 career kills. She finished the night with a match-high 19 kills and added 12 digs to complete her 11th double-double of the season. She now has 20 double-doubles in her Razorback career. Wednesday's match marked her 18th outing of the season with 15 or more kills, 10 of which have come against conference opposition.
Clark-Bibbs has now reached double digits in seven of Arkansas' last eight matches. In reserve duty, Savannah Voelzke was third on the team with a season-high nine kills. She did not commit an attack error in 13 swings, finished the match with a career-high .692 hitting percentage. The Razorbacks also picked up career-best efforts from Kori Ortiz with 15 digs and Adrien Wohlschlaeger with 19 assists.
Facing an 0-2 match deficit, the Razorbacks went out to an early lead in the third set and used a mid-set push to take a 15-10 lead after an ace off the hand of Monica Bollinger. Arkansas maintained its advantage throughout the set but led by just two points at 20-18 after an Aggie kill. The Razorbacks steadied to win five of the final six points of the set, picking up the game with a kill by Clark-Bibbs.
Arkansas trailed by as many as nine in the opening set before pulling to within three—Texas A&M, 20-17—after Danielle Harbin and Ana Sofia Jusino teamed up for a block. However, the Aggies reeled off the final five points of the set to take the match lead. The second set played out in a similar fashion with the Razorbacks closing an early deficit before Texas A&M (18-8, 10-5 SEC) pulled away for a 2-0 lead.
The Razorbacks close out their 2014 home schedule Sunday when they host No. 6 Florida at Barnhill Arena. First serve of the conference matchup is set for 11 a.m. (CT) and will be televised live on the SEC Network. Trey Bender and Dain Blanton will handle the play-by-play and color commentary duties, respectively. Sunday's match will be Arkansas' sixth appearance on the network this season.
Final
Texas A&M 3, Arkansas 1 (25-17, 25-19, 19-25, 25-20)
Time: 1:51 | Attendance: 578
Fayetteville, Ark. | Barnhill Arena
#RazorFacts
• Stat Leaders vs. Texas A&M
o Kills: 19 – Meredith Hays
o Digs: 15 – Kori Ortiz
o Blocks: 3 – Meredith Hays
• Meredith Hays tallied her team-leading 11th double-double of the season
o Finished match with 19 kills and 12 digs
o 20th double-double of Razorback career
• Career-High Watch:
o Kori Ortiz – 15 digs (previous: 14 vs. Cleveland State, 9/19/14)
o Savannah Voelzke – .692 hitting percentage (previous: .321 vs. Mississippi State, 11/24/13)
o Adrien Wohlschlaeger – 19 assists (previous: 4 vs. Middle Tennessee, 9/6/14)
• Milestone Watch:
o Meredith Hays: 16th player in program history with 900 career kills
o Bailee Hankneson: needs eight assists to become sixth setter in program history with 1,000 assists in a single season
• Chanell Clark-Bibbs has at least one ace in 13 of 15 SEC matches this season
• Next match: Nov. 23 vs No. 6 Florida at Barnhill Arena
o First serve at 11 a.m. (CT) on SEC Network
o Sixth appearance on SEC Network this season
For more information on Arkansas volleyball, follow @RazorbackVB on Facebook, Instagram and Twitter.