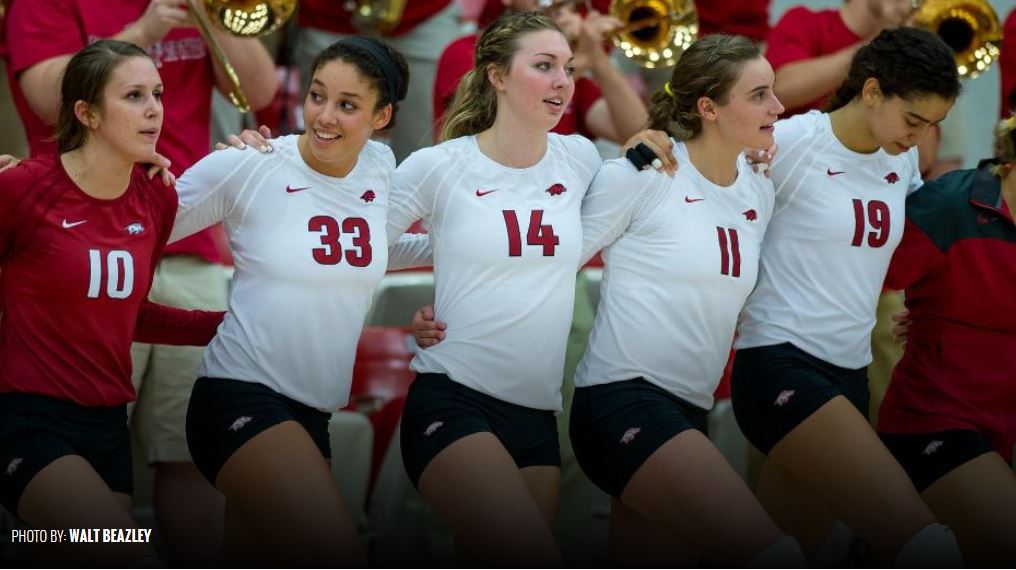 @RazorbackVB Plays at Georgia on SEC Network
ATHENS, Ga. – On the heels of a straight-set win Friday at Auburn, the University of Arkansas volleyball team closes out its road weekend Sunday afternoon against Georgia. The SEC matchup is slated for a 1 p.m. (CT) and will be televised on the SEC Network. The Razorbacks enter the match with a 12-13 overall record and a 6-6 mark in conference play.
Sunday's match is the second meeting between the two teams this season and marks Arkansas' fourth television appearance on the newly launched network. Melissa Lee and Missy Whittemore are slated to handle the play-by-play and color commentary duties, respectively. Fans can also login online to watch the match through the WatchESPN app. Arkansas is 2-1 in its first three SEC Network broadcasts this season.
The Razorbacks own a 20-9 advantage in the all-time series against Georgia (11-13, 3-9 SEC) and have won 10 of the 15 matches played in Athens. With its win earlier this year, Arkansas has won the last four meetings against Georgia. When the two teams met Oct. 12 in Fayetteville, senior Meredith Hays had a match-high 23 kills while junior Liz Fortado tallied a career-high 17 kills in a five-set win that doubled as the 100th career victory for head coach Robert Pulliza.
In Friday's weekend opener, the Razorbacks snapped a five-match slide with a straight-set victory over Auburn. Hays led all players with 13 kills and completed her ninth double-double of the year with 10 digs. Chanell Clark-Bibbs chipped in with nine kills and a match-high six blocks while Bailee Hankenson dished out 36 assists. Defensively, the Razorbacks held Auburn to a .124 hitting percentage.
During SEC play, Hays is averaging a league-best 4.68 kills per set and 5.01 points per set with five of her nine double-doubles coming against conference opponents. Clark-Bibbs is ranked fifth in league play with a .394 hitting percentage during SEC play. She enters Sunday's match with five-consecutive matches with nine or more kills, hitting at least .300 in each match. Hankenson is tops among freshmen setters and fifth overall with 10.98 assists per set in SEC play.
Off the court, Pulliza joined other male members of Arkansas' athletic department on Nov. 2 for one final shave in November as part of its #StachesForSlive campaign. The initiative is in tribute of SEC Commissioner Mike Slive and to raise awareness and funds to battle prostate cancer. Fans wanting to make a donation are encouraged to do so through the UAMS Rockefeller Cancer Institute.
For more information on Arkansas volleyball, follow @RazorbackVB on Facebook, Instagram and Twitter.