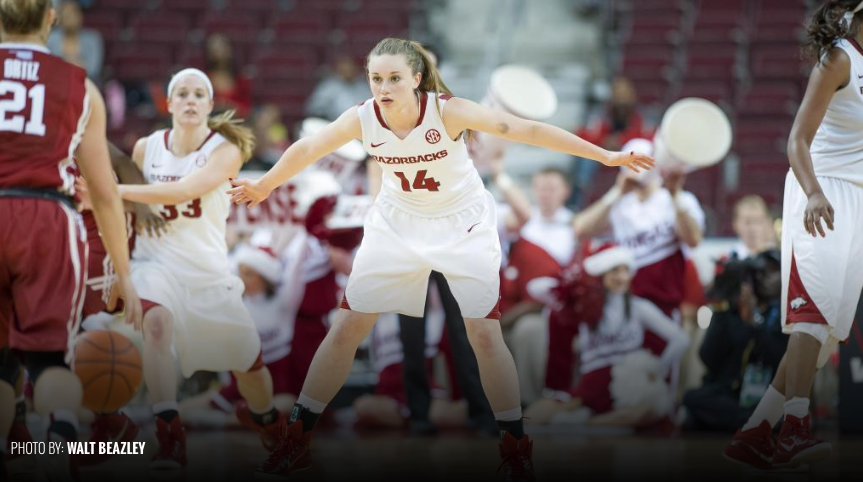 @RazorbackWbb Hosts No. 5/8 Texas A&M
JUMP BALL
The University of Arkansas women's basketball team hosts No. 5/8 Texas A&M in its conference home opener. The Razorbacks dropped their initial Southeastern Conference game of the season, falling 71-57 to Ole Miss in Oxford, Miss., on Friday night. Sunday's game will mark the beginning of three-straight games for the Hogs in which they will face an AP Top 25 opponent.
RAZORBACK BASKETBALL FIRST FIVE
1. TOUGH ROAD AHEAD
Sunday's matchup with No. 5/8 Texas A&M marks the first game of a brutal three-game stretch for the Razorbacks in SEC play as Arkansas will face three-straight ranked opponents. Texas A&M will mark the first AP Top-5 team Arkansas has welcomed to Bud Walton Arena since No. 5 Tennessee beat the Hogs on Jan. 30, 2011. After Sunday, Arkansas will travel to Starkville, Miss., to face No. 17/18 Mississippi State Jan. 8 and then host No. 8/9 Tennessee Jan. 11. The upcoming three games marks the first time Arkansas has played three consecutive opponents ranked in the AP Top 25 since 2012 when the Hogs played No. 17/15 Georgia, No. 11/9 Kentucky, and No. 6/7 Tennessee in a row in early January.
2. SEC OPENERS
Playing in its 24th season of Southeastern Conference basketball, Arkansas returns to Bud Walton Arena Sunday for its conference home opener. The Razorbacks are 7-16 (.304) in home openers as this will be the fifth straight season in which Arkansas will be squaring off with a ranked foe in its first conference home game. Arkansas last won its conference home opener on Jan. 6, 2011, when it defeated No. 10/11 Kentucky.
3. CONFERENCE CALL FOR JACKSON
A 2014-15 Preseason All-SEC first team selection, sophomore Jessica Jackson seems to find an extra gear when it comes to competing in the nation's toughest conference. During her freshman season, Jackson averaged 16.2 points and 6.2 rebounds per game and was named to the 2013-14 All-SEC freshman team and an All-SEC second team selection. In this season's conference opener against Ole Miss, Jackson poured in a team-high 17 points. Jackson has played in 18 career conference games and has scored in double figures in 14 of those games. In fact, she is averaging 17.2 points per game in 18 career SEC games compared to 14.1 points in 26 non-conference games, a jump of 3.1 points per game.
4. BANK ON BROOKS
After appearing in all 30 games as a true freshman last season, sophomore Kelsey Brooks has inserted herself as a dynamic option for the Razorbacks this season. The Olathe, Kan., native is twice already this season a recipient of the SEC Player of the Week honors (Dec. 1 and 15) and leads the team and the conference in scoring with 16.6 per game. She also leads the team in steals per game (1.9), is second in assists per game (3.2), and is fourth on the team in rebounds per game (5.8). Brooks has started all 13 games and scored in double figures in 12 of them. She has scored over 20 points three times in her last nine games. Brooks has made significant improvements in every statistical category from last season. Her biggest jump, however, is in scoring, where she is averaging 10 points more this season – 6.4 last season compared to 16.6 this season.
5. HOGS CLEAN THE GLASS
Part of the reason for Arkansas' early-season success thus far has been its ability to rebound the basketball. The Razorbacks own a +12.8 edge on the boards, leading the SEC and ranking top 10 in the country. In fact, Arkansas has outrebounded 11 of 13 opponents this season. The two games in which the Hogs have been outrebounded are by a combined nine boards. Arkansas has limited opponents' second chances, ranking first in the SEC in defensive rebounding percentage at 74.7 percent.
SCOUTING TEXAS A&M
•    The Aggies enter Sunday's contest with a 13-2 record and are 1-0 in SEC play following a 75-61 win against Vanderbilt Friday night.
•    Courtney Walker leads the team in scoring with 15.1 per game, while Courtney Williams averages 14.3 per game
•    Texas A&M is sixth in the SEC scoring 72.1 points per game and gives up 55.3 points per game which ranks seventh
•    The Aggies rank first in the SEC, allowing opposing teams to shoot just 32.5 percent from the field
•    Gary Blair (Texas Tech, '72) is in his 12th season as head coach of A&M with a record of 276-111. He is in his 30th season overall as a collegiate head coach, owning a 684-274 mark. Blair has significant ties to the Arkansas women's basketball program, as he was the head coach of the Razorbacks from 1993-2003. During his 10 seasons in Fayetteville, Blair piloted the team to a 198-120 record and five NCAA Tournament appearances, including the program's only Final Four appearance in 1998. Current Arkansas assistant coach Christy Smith played for Blair when she was a guard for the Razorbacks from 1994-98. Current director of basketball operations Amber (Nicholas) Shirey served on Blair's coaching staff during the entire 10 years, as Shirey has been with the Razorbacks ever since her graduation from the university in 1992.
•    Aggies assistant coach Amy Wright played for Blair at Arkansas from 1998-2002 and is the school's all-time assists leader with 717.
•    Arkansas leads the all-time series with Texas A&M, 20-5, including a 10-1 mark in games played in Fayetteville. Since A&M joined the SEC in 2012-13, Arkansas is 0-2 against the Aggies. The last meeting, Feb. 27, 2014, resulted in a 77-54 Aggie victory.
PREVIOUS GAME: OLE MISS 71, ARKANSAS 57 (Jan. 2, 2015)
The Razorbacks dropped their SEC opener, falling to Ole Miss. Arkansas struggled to find its rhythm offensively, shooting 35 percent from the field and committing 17 turnovers. The Rebels converted Arkansas' turnovers into 28 points as Ole Miss shot 50 percent. Sophomore Jessica Jackson poured in a team-high 17 points while senior Jhasmin Bowen contributed 15. Trailing by eight at the half, Arkansas was down by as many as 19 in the second half before pulling to as close as nine with just under two minutes to play.
POSTGAME NOTES (Ole Miss, Jan. 2, 2015)
•    Sophomore Jessica Jackson has scored in double figures in 11 of 13 games this season after she posted a team-high 17 points tonight.-
•    Senior Jhasmin Bowen scored 15 points, the seventh time this season she's been in double figures.
•    Arkansas outrebounded Ole Miss, 35-34, the 11th opponent in 13 games Arkansas has beat on the boards
•    Arkansas falls to 14-25 in the all-time series against Ole Miss
Arkansas Basketball Notes
BALANCED ATTACK
The Razorbacks have demonstrated a balanced offensive attack this season, with three players averaging double-digit points (Brooks 16.6, Jackson 14.6, Bowen 12.1) and a fourth narrowly missing the threshold (Wolff 9.5). Arkansas has received double digit scoring from at least three players in 11 of 13 games this season.
SCORING SOPHOMORES
Arkansas has received solid play from a pair of sophomores. Kelsey Brooks and Jessica Jackson lead the team in scoring, averaging 16.6 and 14.6 points per game, respectively. In fact, Jackson and Brooks have accounted for 46.1 percent of the team's total scoring, the most of any duo in the SEC. Twice this season the Jackson and Brooks duo have combined for over 40 points in a game (46 vs. Iowa, 47 vs. Oklahoma).
A WOLFF ON THE BOARDS
Coined the "heart and soul" of the team by Coach Dykes, junior Melissa Wolff has been a key Hog in Arkansas' rebounding numbers as she is averaging nearly a double-double with 9.5 points and 9.2 rebounds per game. In fact, Wolff has tallied four double-doubles already this season, the most on the team. Wolff has six career double-doubles, and Arkansas is 6-0 in games when she records a double-double. The Cabot, Ark., native very well could have had four more double-doubles added to her resume as she has been a double-double threat in just about every game this season. She nearly finished with a double-double against Iowa (9 and 10), South Dakota State (9 and 16), Rutgers (11 and 8) and Missouri State (10 and 9). Wolff's 9.2 boards per game leads the team and ranks third in the SEC.
GETTING DEFENSIVE
Arkansas has shown an ability to put the clamps down defensively this season. In fact, the Razorbacks are holding opponents to 34.5 percent shooting from the field, ranking fifth in the conference while also holding opponents to 55.2 points per game. Furthermore, Arkansas is holding its opponents to just 0.832 points per possession.
The Razorbacks have gotten after it on the defensive end of the floor and have held their opponents to without a field goal for large chunks of time. Through 13 games, 21 times the Razorback defense has held their opponent to without a field goal for over four minutes. Additionally, 14 times this season Arkansas has held their opponent to without a field goal for over five minutes. Arkansas held Tulsa to without a field goal for a 9:22 minute stretch on Dec. 14, a season-best for Arkansas' defense.
DOUBLE TAKE
Arkansas has recorded eight double-doubles from four different players. In comparison, Arkansas tallied 10 double-doubles all of last season. Junior Melissa Wolff has accounted for four double-doubles this season, giving her six for her career, as she went for 17 and 13 against Nicholls, 14 and 10 against Savannah State, 15 and 11 against Richmond, and 12 and 10 against Grambling. In fact, she's recorded six double-doubles in 15 career starts. Senior Jhasmin Bowen has tallied two this season, going for 12 and 10 against Nicholls and 17 and 12 against Tulsa, giving her five for her career. Sophomore Jessica Jackson has six career double-doubles, including one this season while sophomore Kelsey Brooks recorded her first career double-double Nov. 23 against Northwestern State.
DISHING IT OUT
Along with one of the top point guards in all of college basketball in Calli Berna, the Razorbacks have distributed the ball effectively this season. Arkansas has assisted on 58.5percent of its made field goals this season, including a season-best 78.9 percent (15 assists on 19 field goals) in a road win against MTSU Nov. 20. Berna ranks sixth in the conference with an individual assist-to-turnover ratio of 1.9:1. Berna ranks second in the conference, averaging 4.7 assists per game.
TOUGH ON THE ROAD
In non-conference play, the Razorbacks played away from Bud Walton Arena in six of their 12 games. Arkansas has established a perfect 6-0 (3-0 away, 3-0 neutral) mark in away/neutral site games, tied with South Carolina among SEC teams for the most wins coming away from home during the non-conference schedule.
The Razorbacks have grown accustomed to winning while donning the traveling red jerseys, having won their last 12 true non-conference road games in a row dating back to the 2009-10 season.
RECORDS WATCH
Senior Calli Berna stands in second place all-time in program history for assists with 562 career assists. Amy Wright (1998-02) owns the school record with 717 assists. If Berna averages 10.3 assists per game over the season's final 15 regular-season contests, she will tie the school record. In addition, Berna's 562 career assists ranks her sixth for current active assist leaders in the NCAA.
HOME SWEET ARKANSAS
With a large portion of Razorback supporters scattered across Arkansas, the Hogs have a history of playing games throughout the state. Facing Oklahoma Dec. 21, the Razorbacks made their first appearance in Little Rock and Verizon Arena since 2009 and the program's 10th overall trip to Little Rock, where the Hogs have tallied a 6-4 (.600) all-time record. The Oklahoma game also marked the 23rd overall game played in the state of Arkansas for the Razorbacks, owning an all-time record of 16-7 (.700). The 2015 SEC Women's Basketball Championship will be held in Verizon Arena March 4-8, 2015.
DON'T TAKE IT PERSONALLY
Arkansas' relentless team defense has resulted in a number of defensive stat lines, but the one thing it has not resulted in is personal fouls called against them. Arkansas is averaging just 16.8 personal fouls called against them a game, resulting in opponents averaging 17.1 free throw attempts per game. In fact, Arkansas has committed less fouls than 10 of 13 opponents this season.
700 PROGRAM WINS
Arkansas defeated Tulsa 64-53 on Dec. 14, giving the Razorbacks their 700th program win. Arkansas joins nine other SEC schools (Tennessee, Georgia, LSU, Auburn, Vanderbilt, Ole Miss, Kentucky, South Carolina, Texas A&M) that have 700 or more program wins.
As the 2014-15 campaign continues, Arkansas is in the midst of its 39th season of women's basketball, owning an overall program record of 702-438 (.616). In those 39 years, Arkansas has advanced to postseason play a total of 21 times, including 10 trips to the NCAA Tournament.
"FINE WITH NINE"
It is no secret Arkansas will have one of the smaller roster sizes across the country. In fact, with only nine players the Razorbacks have the smallest roster in the SEC. However, head coach Jimmy Dykes has embraced each and every player on the roster and has continued his daily preaching of "Be Arkansas," saying he is "fine with nine."
"I'm fine with nine. That's where we are," Dykes said while addressing the media Nov. 7. "With only nine players, the first 23 practices, we didn't back off one second because we have to be in top physical condition. If we only have nine going into the season, those nine have to be ready to play a lot of minutes … That term 'Be Arkansas' has helped me in recruiting, but it's also helped me define who we are as a basketball team. Being Arkansas is being a great teammate, being tough, being coachable, working your tail off every day, understanding what it takes to be a legit program at this level. I only want players who want to 'Be Arkansas' and I have nine of them right now who want to 'Be Arkansas.'"
BERNA WALKS IN COMMENCEMENT
Senior Calli Berna has truly exemplified what it means to be a student-athlete at the University of Arkansas and participated in commencement exercises on Dec. 20 inside Barnhill Arena. Graduating with a bachelor of arts in broadcast journalism, Berna will move on to graduate school at UA where she will pursue sports management. The Fayetteville, Ark., native has earned academic distinction from the SEC three times (SEC First-Year Academic Honor Roll 2011-12, SEC Academic Honor Roll in 2012-13 and 2013-14) and from the university six times (Arkansas Athletic Director's List Fall 2011, Spring 2012, Fall 2012, Fall 2013, Spring 2014 and Arkansas Honor Roll Spring 2013). Berna joins Joey Bailey as the second graduate on the team as Bailey graduated with a degree in journalism and is pursuing her MBA.
JACKSON NAMED TO PRESEASON ALL-SEC COACHES FIRST TEAM
Sophomore Jessica Jackson was named to a Preseason All-SEC First Team selection by the coaches as released by the conference Nov. 5. As a freshman last season, Jackson led the team and ranked seventh in the conference in scoring, averaging 16.2 per game.
DYKES SIGNS FIVE IN FIRST RECRUITING CLASS
In his first full recruiting class, first-year head coach Jimmy Dykes added five players to his 2015 class during the early signing period in November. Two ESPN Top 100 nationally ranked players highlight the class and three of the five players are from the state of Arkansas, continuing Dykes' promise to "Be Arkansas" and keep top in-state talent at home. Jordan Danberry (G, 5-7) is a five-star recruit ranked No. 47 in the 2015 class by ESPN out of Conway, Ark. She was named the 2014 Arkansas Gatorade Player of the Year after averaging 15.7 points, 6.8 rebounds, and 6.5 assists as a junior. North Little Rock's Malica Monk (G, 5-5) is a four-star prospect ranked No. 64 in the 2015 class by ESPN. Monk was the first player to commit to Dykes and Coach says she is one of the fastest players baseline-to-baseline with a basketball in her hand in the entire 2015 class nationwide. Bailey Zimmerman (G/F, 6-1) is a three-time all-state tournament team selection out of Hattiville (Arkansas) High School and listed as a three-star prospect. Keiryn Swenson (G/F, 6-1) was a member of the 2014 6A All-State team out of Maize (Kansas) High School and is listed as a three-star prospect. Swenson had Division I offers in basketball, volleyball, and track and she will throw the javelin for Arkansas' track and field team in the spring. Briunna Freeman (G, 5-9) has scored over 1,500 points in her career at Pelham (Georgia) High School and is a two-time AA All-State first team selection. Dykes notes her incredible athleticism, adding in that Freeman can dunk a tennis ball.
For more information on Arkansas women's basketball, follow @RazorbackWBB on Twitter.