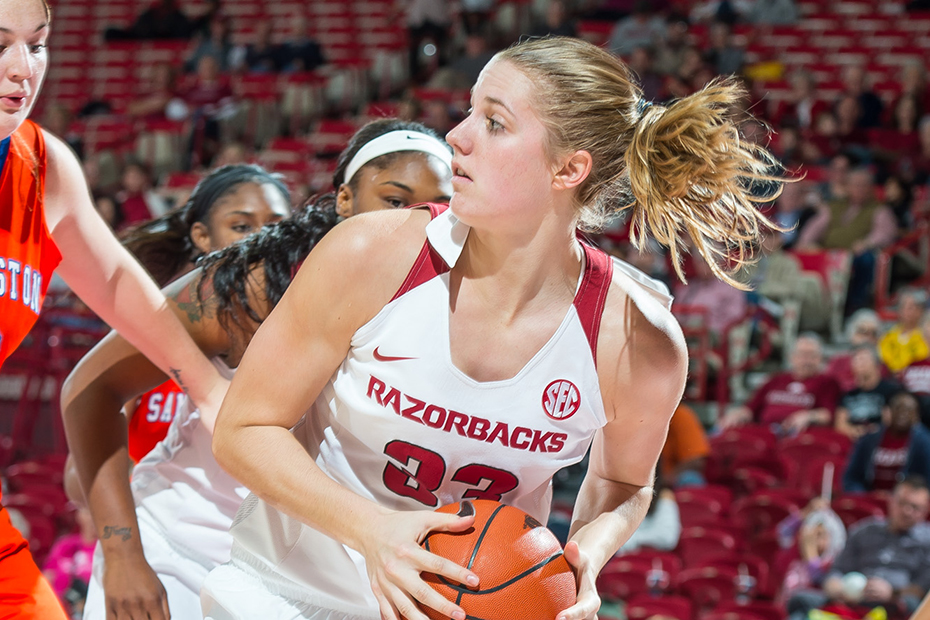 Road Will Test W. Basketball
Arkansas Notes | SDSU Notes | Game Audio
FAYETTEVILLE, Ark. – The University of Arkansas women's basketball team faces its first road test of 2015-16 traveling to Brookings, South Dakota, taking on the South Dakota State Jackrabbits Wednesday at 7 p.m.
The Razorbacks are out to a 2-0 start with wins over Southeastern Louisiana and Sam Houston State last weekend. The Jackrabbits are 1-0 this season.
The Razorbacks entered the season knowing big tests awaited a young team but players have stepped up early to answer the call.
Expected leaders Jessica Jackson and Kelsey Brooks have lived up to the preseason billing so far. Jackson, a junior forward from Jacksonville, Arkansas, opened the season with back-to-back double-double performances and leads the team with 16.5 points per game and 11.5 rebounds per game. She posted a career-best 13 boards in the win over SHSU.
Brooks, a guard from Lenexa, Kansas, has also been impressive averaging 10.5 ppg, seeing time at the point and taking great care of the basketball.
Senior Melissa Wolff has seen limited minutes but Dykes expects for those numbers to climb and junior Khadijah West has already exceeded some of her career-bests in just two games this year.
The veterans have not had to shoulder all of the load in this young season. Junior college transfer Alecia Cooley is averaging 9.5 ppg and 7.5 rpg in 18.5 minutes of work. Three newcomers have been handling duties at the point paced by freshman Jordan Danberry with 7.5 ppg and 3.5 rpg this year.  Sophomore Devin Cosper has been solid at the point as has freshman Malica Monk. Both players are averaging 6.5 ppg this year.
Keiryn Swenson had a great game against SHSU with nine points in 16 minutes and Bailey Zimmeran and Briunna Freeman have gotten some important minutes on the court for the Razorbacks.
About Our Opponent
• Junior Kerri Young is the reigning Summit League Player of the Week
• SDSU defeated Marist 77-68 in their only game of the year
• Young had 12 points and 11 rebounds against Marist
• SDSU defeated Arkansas in overtime, 80-75, in the team's only meeting in program history in Bud Walton Arena last season
What Coach Dykes Says
South Dakota State is a veteran team with a veteran coach who has won a lot of ball games. They run a terrific offense and this would be a very, very tough test at any point in the season but especially when you have seven new players playing in their first road game as a Razorback is really a tough challenge. We need that challenge right now. There will be 4,000-5,000 people there and that will be great for us.
We can score. Last year after two games we were getting up 53 shots per game and right now we are getting up 80 shots per game. We're playing faster. I think we can score off of our defense. We have a long ways to go but I'm happy to be 2-0 and we know there is no let up as our schedule gets tougher and tougher.
For more information on Arkansas women's basketball, follow @RazorbackWBB on Twitter.