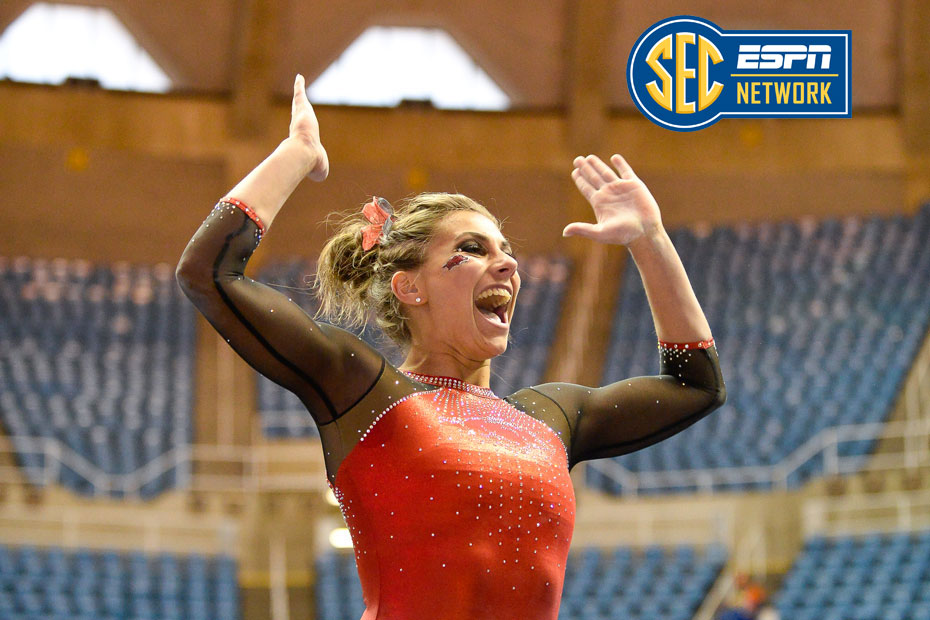 SEC Network to Broadcast Four Gymnastics Meets in 2016
FAYETTEVILLE, Ark. — Arkansas gymnastics will have four of its meets broadcasted on SEC Network in 2016, the SEC announced today. They will be the Razorbacks' first four conference meets of the year, which include two at Barnhill Arena and two on the road.
After opening the season at the Cancun Classic on Jan. 2, Arkansas returns to Fayetteville to host Georgia on Jan. 15 for the first Friday Night Heights broadcast of the season. The Bulldogs and Razorbacks begin at 7:30 p.m. as the second part of a back-to-back, with Alabama and Missouri starting at 6 p.m. The other home meet to be televised on SEC Network will be on Feb. 5 when Arkansas hosts Auburn at Barnhill Arena.
In Tuscaloosa on Jan. 22, the Razorbacks and Crimson Tide will be the opening Friday Night Heights matchup at 6 p.m. The Razorbacks will be looking for their second consecutive victory over the Crimson Tide after defeating No. 6 Alabama in Barnhill Arena last season. Finally, Arkansas' Feb. 5 meet at LSU in Baton Rouge will be the late feature on SEC Network against the Tigers.
The other home SEC meet, on Feb. 26 vs. Kentucky, will be streamed live on SEC Network +. As for now, the streaming status of the Jan. 17 home meet vs. Oklahoma and the March 11 home meet vs. Utah State are TBD.
In addition, both sessions of the SEC Championship in Little Rock on March 19 will be available live on a linear platform for the first time ever. Previously they aired in tape delay on ESPN2. Overall, 15 SEC events throughout the 2016 season will be presented in live coverage.
For more information on Arkansas gymnastics, follow @RazorbackGym on Twitter.