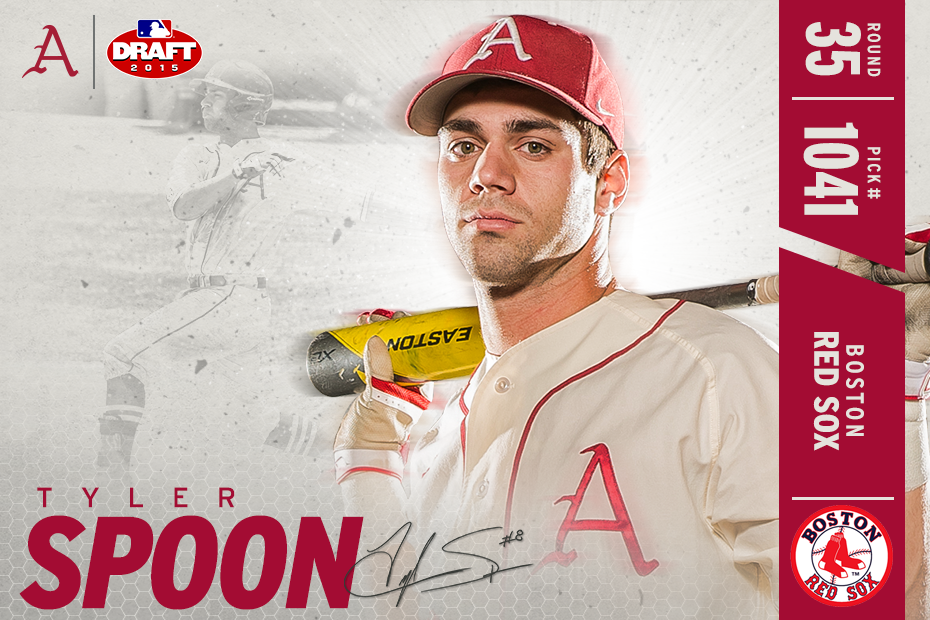 Spoon Taken by Red Sox in MLB Draft
FAYETTEVILLE, Ark. – Redshirt Junior outfielder Tyler Spoon was selected by the Boston Red Sox in the 35th round of the 2015 Major League Baseball First-Year Player Draft with the 1041st overall pick on Wednesday afternoon.
He becomes the fourth Razorback chosen in the 2015 Major League Baseball Draft and the second by the Red Sox, joining seventh overall pick Andrew Benintendi.
Spoon has put together three stellar seasons during his Razorback career, making three NCAA Tournament appearances and leading Arkansas to the College World Series in 2015.
He leads the team this season with a career-high 20 doubles and has a .331 batting average with six home runs and 54 runs batted in. Spoon has been named to the SEC Baseball Community Service Team each of the last two years and is selected in the MLB Draft for the second time in as many years after hearing his named called last year in the 36th round by the Oakland Athletics.
The Van Buren, Arkansas native is a .314 career hitter in 14 NCAA Tournament games, including a .375 mark this season with a team-high nine hits and eight runs batted in as he earned All-Tournament honors at the conclusion of the Stillwater Regional.
Spoon will make his first trip to the College World Series this weekend when Arkansas travels to Omaha for the eighth time in program history to play Virginia in the opening game Saturday at TD Ameritrade Park.