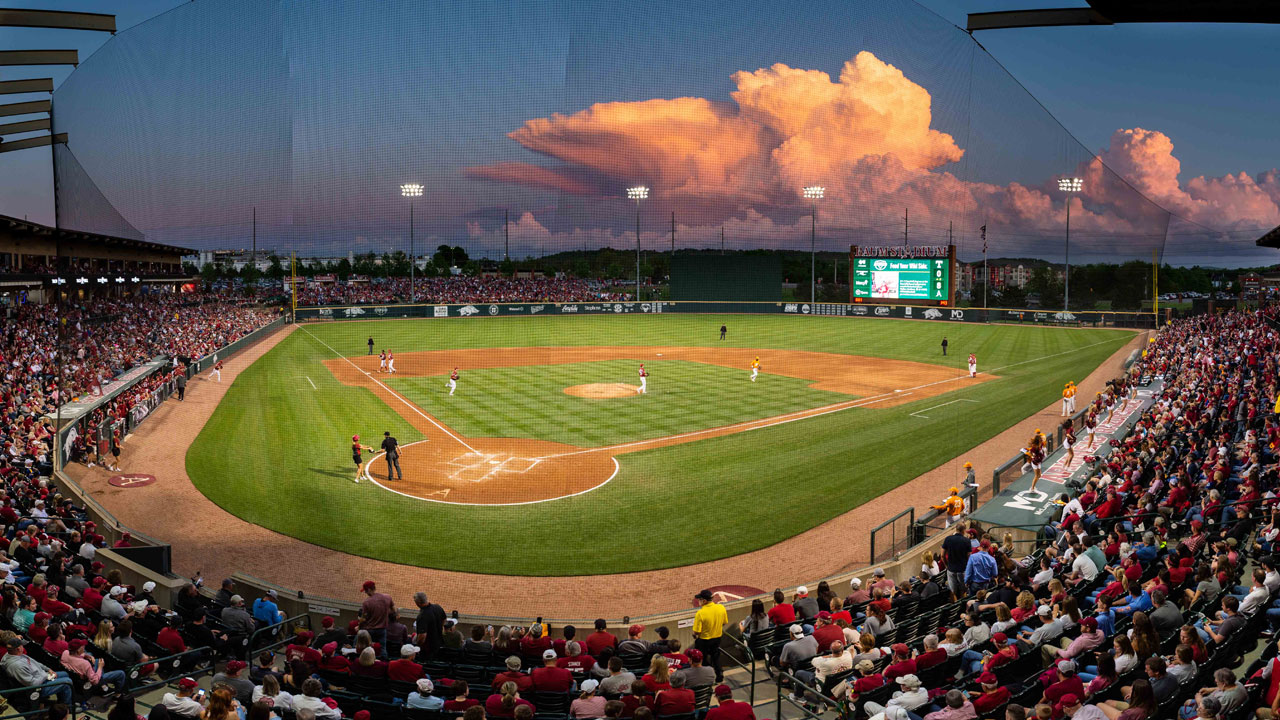 Super Regional Fan FAQ
What time do gates open?
Gates will open two hours prior to first pitch — which will be 9 a.m. on Saturday.
Pop-up Merchandise Shop Open Outside Hog Pen
Our speciality #OmaHogsSZN merchandise store just east of the Razorback Ticket Center will open at 8 a.m. Saturday. Feel free to take a break from the heat and come check out some products from the postseason collection. Re-entry into the stadium is allowed.
Can I bring my water bottle in?
Yes! Fans can bring in empty, clear, plastic water bottles that are 20 oz or less. You can fill up at any of our water fountains throughout the ballpark.
Where should I park?
Public parking is available near the stadium and will be filled on a first come, first serve basis in the Baum East lot and Lot 99 (Beechwood Avenue – northwest of Baum-Walker Stadium).
Razorback Foundation members who have a designated 2019 baseball parking pass may use their pass(es) to park in the same lots they used during the regular season. Should the Cardinal, White, and/or Baum East parking lots fill to capacity, vehicles with Cardinal (C) and/or White (W) hangtags will be directed to an overflow lot immediately adjacent to Baum-Walker Stadium and the Fowler Family Baseball and Track Training Center. Baum East (BE) hangtags will be directed to Lot 99. Parking personnel will be on-site to direct you accordingly.
Public ADA parking is available on a first-come, first-served basis within the Baum East Reserved area. – A limited number of ADA spaces are available on a first-come, first-served basis within the Cardinal lot for Cardinal (C) and White (W) passholders.
Clear Bag Policy
Fans can bring in one (1) clear bag (no larger than 12″ x 6″ x 12″) AND one small clutch purse (no larger than 4.5″ x 6.5″, the size of the palm of your hand, with or without a handle or strap). All bags and purses not meeting the above requirements will not be permitted. Although permitted, childcare items, including diapers, must also be carried in an approved clear bag.
Hog Pen Policy
There is a clear bag exception in the Hog Pen for containers carrying food and beverages. Food items may be brought into the Hog Pen in coolers or disposable bags. Beverage items may be brought in a cooler. Personal bags with no food or beverage brought into the Hog Pen must follow the clear bag policy
Per previous guidelines, any coolers, bags or containers carrying food and beverages admitted at the Hog Pen gates must stay in the Hog Pen area and will not be allowed past the checkpoint into the regular seating bowl.