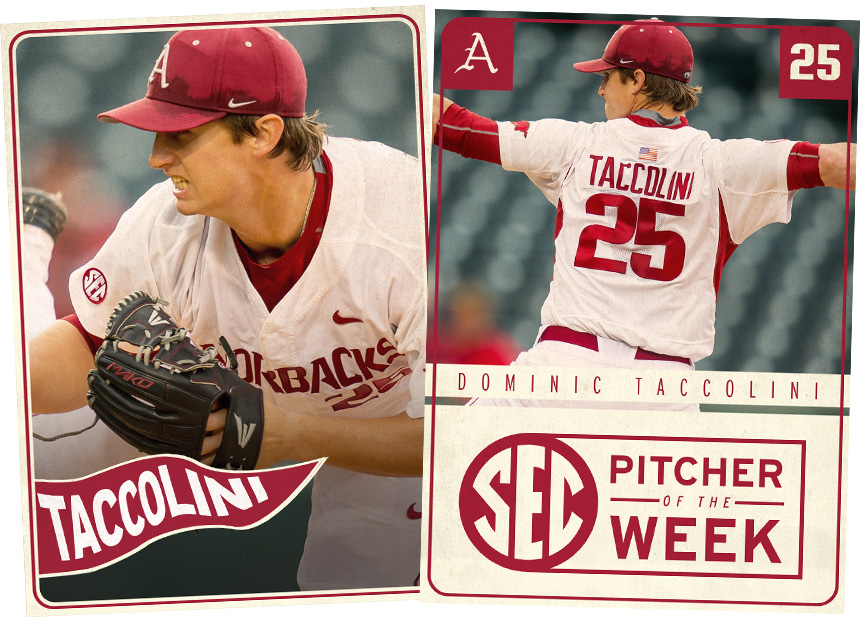 Taccolini Earns SEC Co-Pitcher of the Week Honor
BIRMINGHAM, Ala. – Junior right-handed pitcher Dominic Taccolini was named the SEC Co-Pitcher of the Week today as it was announced by the Southeastern Conference office. Taccolini had, arguably, the best performance of his career on the mound Friday in helping Arkansas snap an eight-game conference losing streak with a 1-0 victory over No. 12 Kentucky.
Taccolini earned his team-leading fourth win of the season, going a career-long 10 innings and striking out a career-high 10 batters without giving up a run against the Wildcats for the complete game shutout. Both the complete game and the shutout were the first of his career.
The complete game shutout was also the first by a Razorback since his teammate Keaton McKinney completed the same feat last year against Alabama (May 2, 2015).
Before Friday, Taccolini had only pitched 11 combined innings over his last five appearances, but his 10 innings of work against the Wildcats was the longest outing by a Razorback starting pitcher since Clint Brannon threw 11 innings against Tennessee in the 2004 SEC Tournament (May 26). Brannon's outing was not a complete game, however, as the Hogs lost that game 8-6 in 13 innings.
Now with the performance under his belt, Taccolini became the third pitcher in the nation to have a 10-inning outing this year and the first to throw a 10-inning complete game shutout. The 10-inning outing was also the longest by any SEC pitcher this season.
Taccolini continues to lead the Razorbacks with nine starts on the year and 52 innings pitched. His performance Friday lowered his ERA by almost a full run as it now sits at 4.50. The junior has only allowed 26 earned runs this year, walking 15 and striking out 47. Taccolini has held opponents to a .240 batting average, which is the third-lowest among all Razorback starting pitchers.
The Razorbacks have a single non-conference midweek game Tuesday against No. 23 Oklahoma State starting at 6:35 p.m. CDT at Baum Stadium. The Hogs will then host No. 3 Texas A&M for a three-game series starting on Friday.
For more information on Razorback Baseball, follow @RazorbackBSB on Twitter.
SEC Players of the Week (April 25)
Player of the Week – Gene Cone (South Carolina)
Co-Pitcher of the Week – Logan Shore (Florida)
Co-Pitcher of the Week – Dominic Taccolini (Arkansas)
Freshman of the Week – James McArthur (Ole Miss)