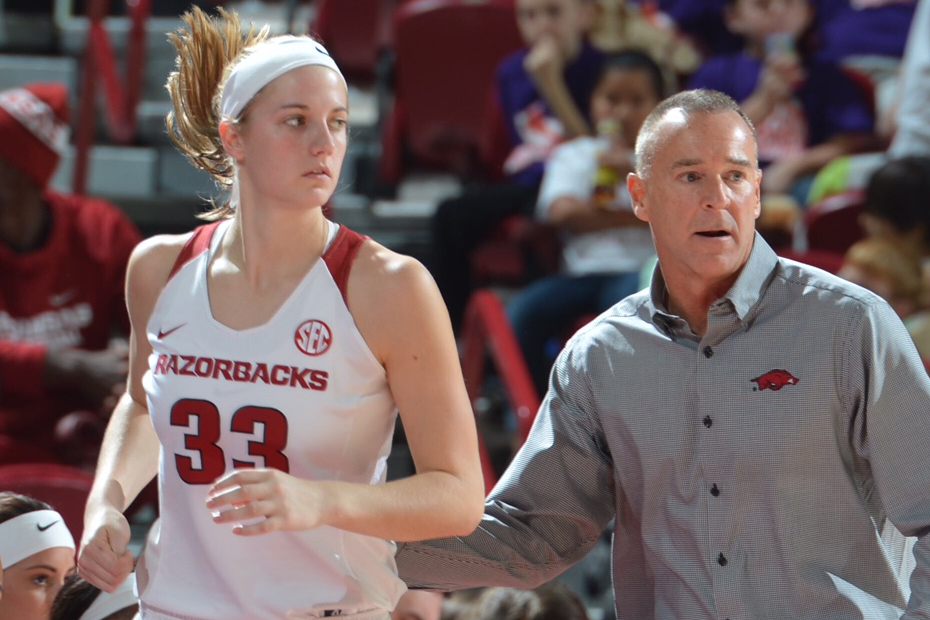 Tough Schedule Continues At LSU Thursday
FAYETTEVILLE, Ark. – The University of Arkansas women's basketball team has won three of its last four games against ranked teams and faces another challenge traveling to LSU Thursday as SEC action continues.
Arkansas (8-10, 3-2) has defeated some of the best teams in the nation and they face an LSU (7-10, 1-3 SEC) team who is 5-2 at home. Arkansas is 0-5 on the road this year. The game will air on the SEC Network Plus and is the first of two consecutive road contests for the Razorbacks.
The challenging non-conference schedule in which the Razorbacks faced two ranked teams on neutral courts, took on Rutgers, South Dakota State and Butler on the road, has prepped Arkansas for the always-tough SEC slate.
After opening with a loss at second-ranked South Carolina, Arkansas rebounded to down No. 13 Texas A&M in Fayetteville. The Razorbacks lost at No. 5 Mississippi State but returned home defeating No. 13 Tennessee and No. 24 Missouri in its most recent contests.
Junior Jessica Jackson is the only Razorback averaging in double figures this year. Jackson is second in the SEC with 17.4 points per game and is 16th with 6.9 rebounds per game this year. The Jacksonville, Arkansas native has scored in double figures in 15 of the 17 games she has played in and has tallied 20+ points in seven games in 2015-16.
After Jackson, the team is balanced with sophomore Devin Cosper averaging 8.0 ppg, junior Alecia Cooley with 7.3 ppg, junior Kelsey Brooks with 6.6 ppg, freshman Jordan Danberry with 6.4 ppg and senior Melissa Wolff with 6.2 ppg this year.
LSU has dominated the series but the Razorbacks have won the last three contests, twice in Fayetteville and one time in Baton Rouge, Louisiana. They have been low-scoring events with Arkansas scoring 63 points in two of the last three games. The Razorbacks average 61.8 ppg this year. Arkansas enters the game averaging more points and with a bigger rebounding margin than the Tigers.
NOTES
• Arkansas is the fifth youngest team in terms of returning scholarship players under the current head coach
• Arkansas opened the SEC season facing five ranked teams in the Associated Press Poll – the only team in the Big Five Conferences to do so
• The Razorbacks have three wins over ranked teams this year (No. 13 Texas A&M, No. 13 Tennessee, No. 24 Missouri)
• The last time Arkansas defeated three ranked teams in a season was 2011-12 (Vanderbilt, South Carolina and Tennessee [not all at home])
• It is the first time since 2001-02 that Arkansas has won back-to-back games over ranked opponents (2001-02 vs. No. 7 South Carolina, No. 8 Mississippi State)
• Arkansas has defeated six ranked teams under second-year head coach Jimmy Dykes
• Arkansas has faced seven teams who were ranked at the time the Razorbacks played them
• The Razorbacks will still face five teams who are ranked or mentioned in the AP Top-25 as of Jan. 19 — No. 22 Florida, No. 10 Mississippi State, No. 18 Tennessee, No. 23 Missouri and No. 9 Kentucky
• All-SEC candidate Jessica Jackson ranks third in all games and second in SEC-only games in scoring and is one of four players to rank in the top-16 in both scoring and rebounding in all games
For more information on Arkansas women's basketball, follow @RazorbackWBB on Twitter.