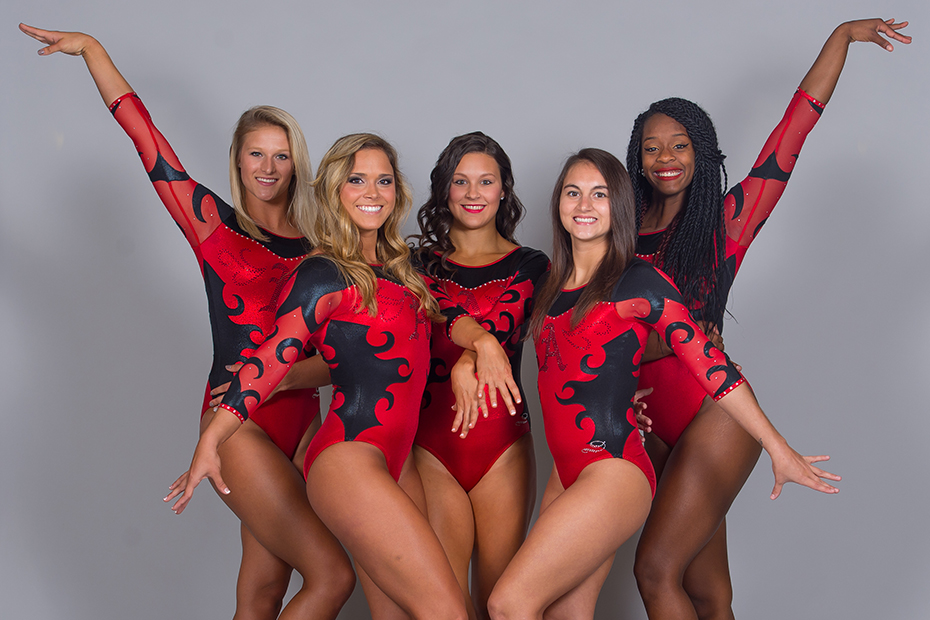 Utah State Preview: Bye Bye Barnhill
MEET INFO…
WHO: No. 11 Arkansas vs. Utah State
WHAT: Senior Night 2016
WHEN: Friday, March 11 at 7 p.m.
WHERE: Barnhill Arena
HOW TO…
ATTEND: Purchase Tickets
LIVE RESULTS: Stats
FOLLOW: @RazorbackGym
PREPARE: Meet Notes (PDF)
FAYETTEVILLE, Ark. — Four seniors on the Arkansas gymnastics team will compete for the final time at Barnhill Arena on Friday, March 11 when Utah State comes to town. The Razorbacks and Aggies face off for the second time in program history, with a first vault scheduled for 7 p.m.
Arkansas has rattled off three consecutive dual meet victories, and can make it four on Friday for the first time since 2011. The No. 11 Razorbacks tied a program record with a 197.225 on Feb. 26 vs No. 22 Kentucky and followed that up with a victory at Missouri on March 4. The SEC win over the Tigers was the team's fourth of the year, which marks only the third time in program history they have reached that number in a season.
Stephani Canizaro is in her fifth season at Arkansas, having earned an extra year of eligibility due to an injury that caused her to miss all of 2013. One of her goals this season was to become an All-American on uneven bars, and she has shown the capability to do that, tying her career high of 9.875 twice. Canizaro also posted a 9.900 on floor exercise in the team's first-ever win in Tuscaloosa on Jan. 22.
Sydnie Dillard established herself as one of the most consistent gymnasts in program history, having never missed a balance beam or floor rotation in her career. When Dillard's name appears in those lineups on Friday, it will be her 48th meet she will have competed in. She leads the team with a 9.838 average on beam this season and has posted eight scores of 9.825 or higher in 10 meets.
Erin Freier is having a career year on bars, leading the team with a 9.815 average this season with no score below a 9.700. Freier reached a career high and tied for the event title with a 9.925 against Kentucky on Feb. 26. With her score, along with Braie Speed and Paige Zaziski also matching that mark, the Razorbacks set a Barnhill Arena record with a 49.550 team score on the apparatus.
Keara Glover has appeared in every bars lineup for Arkansas this season at the lead off spot. Providing a much-needed spark after an opening 49.000 on vault against Kentucky on Feb. 26, Glover matched her career high of 9.850 on bars to get things started with a bang. Five routines later, the Razorbacks posted an incredible 49.550 that propelled them to tie their program-record score.
Heather Elswick has been unable to compete this year due to injury and will return next season for a fifth year of eligibility. But she will still be recognized following the meet with her incoming freshman class of Dillard, Freier and Glover.
"I felt it was important to celebrate Senior Night with my classmates," she said. "We've been through so much together, just like family … On the other hand, this is bittersweet because it feels like I have unfinished business. I guess I'm lucky to experience my classmates' farewell tour, but still get to come back for one more season at Arkansas."
For more #Gymbacks content during the season, please follow @RazorbackGym on Instagram, Twitter and Snapchat.