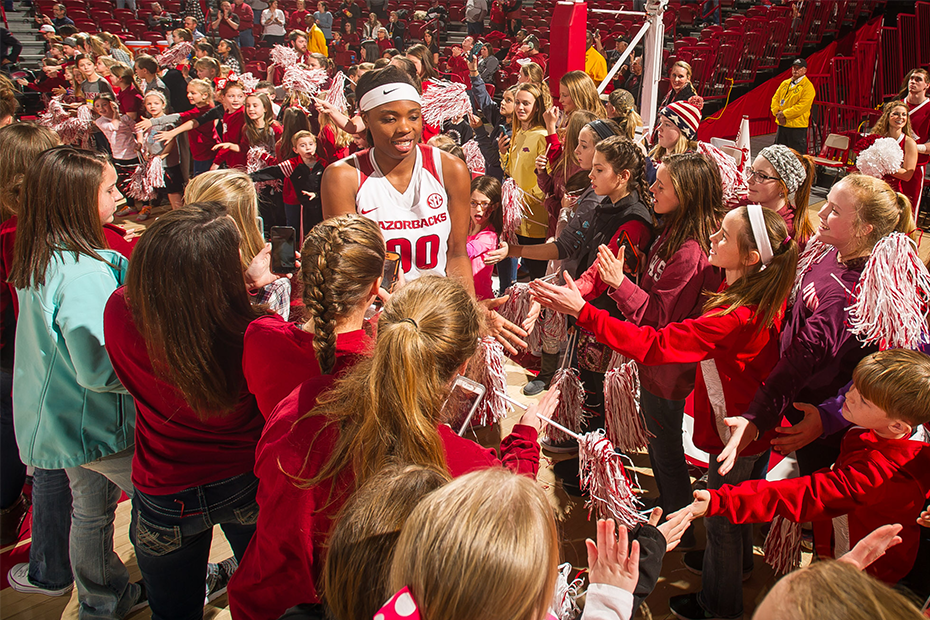 W. Basketball Opens SEC Play On The Road
Arkansas Game Notes | South Carolina Game Notes
FAYETTEVILLE, Ark. – University of Arkansas senior Melissa Wolff is coming off a 20-20 performance and is looking to lead the Razorback women's basketball into Southeastern Conference action at second-ranked South Carolina in the conference opener Sunday.
The contest airs on ESPNU at 2 p.m. CT, with Melissa Lee and Carolyn Peck calling the game.
THE GAME
Arkansas at #2 South Carolina
When: Sunday, Jan. 3, 2016 | 2 p.m. CT
TV: ESPNU
Audio: https://arkansasrazorbacks.com/wbb-live-audio/
Social: Twitter/Facebook/Instagram @RazorbackWBB
Arkansas is coming into the contest on a two-game winning streak with a victory over New Orleans in which Wolff posted career numbers in the win. Junior Jessica Jackson continues to lead the team in scoring and ranks fourth in the SEC with a 17.4 point per game average. Sophomore Devin Cosper is also playing well scoring in double figures in six of her last seven games.
The Razorbacks have their hands full to start the season. After opening at No. 2 South Carolina, the Razorbacks host No. 16 Texas A&M, travel to No. 8 Mississippi State, host No. 13 Tennessee and host No. 23 Missouri
ABOUT OUR OPPONENT
South Carolina comes into the contest with a perfect 12-0 record and ranked second in the country this season. This meeting is the second time in three years that the Razorbacks and Gamecocks have met in the conference opener with South Carolina winning all three of those match ups.
South Carolina has three players averaging in double figures led by A'Ja Wilson with 17.4 ppg. She is joined by Tiffany Mitchell with 14.2 ppg and Alaina Coates with 13.3 ppg.
THE SERIES
Arkansas and South Carolina have met 31 times, all since both teams joined the SEC. Arkansas leads the series 17-14 but the Gamecocks have won the last six meetings between these programs. Arkansas fell to South Carolina twice last year, first in the regular season and again in the third round of the SEC Tournament in North Little Rock, Arkansas.
STORYLINES
• Arkansas has been even with or out-rebounded 10 of 13 opponents this year
• Arkansas has held 11 of 13 opponents at or below their current scoring average
• Arkansas has won the turnover battle in nine games this year
• Arkansas is the fourth youngest team in the country and the youngest team in the SEC in terms of returning scholarship players under the current head coach
• Arkansas set or tied seven first period records and five individual records against New Orleans
• Junior Jessica Jackson has scored in double figures in 11 of the 12 games she has played in this season
• Senior Melissa Wolff had a double-double in the first half with a career-best 18 points and 12 rebounds
For more information on Arkansas women's basketball, follow @RazorbackWBB on Twitter.