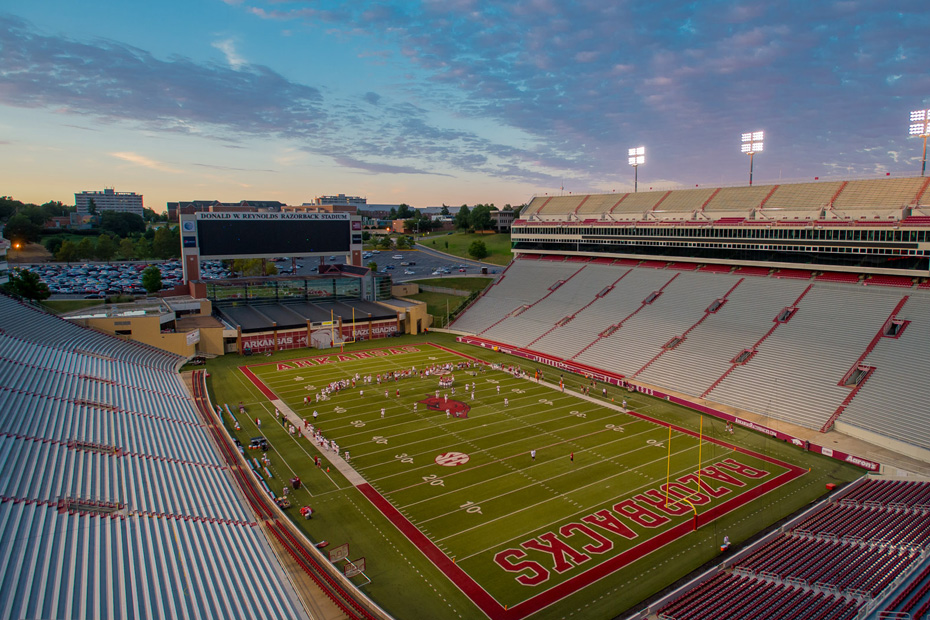 10 Things You Need To Know Before Kickoff
Schedule & Information | Game Notes (PDF)
FAYETTEVILLE, Ark. — Arkansas opens its 123rd football season and the fourth under head coach Bret Bielema Saturday when the Razorbacks welcome Louisiana Tech to Donald W. Reynolds Razorback Stadium.
Kickoff: Saturday, Sept. 3 at 3 p.m. CT
Location: Donald W. Reynolds Razorback Stadium (Fayetteville, Ark.)
TV: SEC Network | WatchESPN
#RazorFacts
• The Razorbacks have won all three meetings against the Bulldogs with Saturday's game being the first since 1997. Louisiana Tech, from Ruston, Louisiana, plays in the Conference USA. The Bulldogs finished 9-4 (6-2) last season and defeated Arkansas State 47-28 in the New Orleans Bowl.
• The Razorbacks hold a 702-480-40 (.591) all-time record and a 95-23-4 (.795) mark in season openers. Coach Bielema has a staggering 36-4 record against non-conference opponents during the regular season over his 10-year head-coaching career.
• Coach Bielema is 9-1 all-time in season-opening games as a head coach, including last season's 48-13 victory over UTEP. Additionally, Bielema has never lost a home opener during his career, posting a 10-0 mark in the first home game of the season.
• Arkansas has won 17 of its last 19 season openers, dating back to 1997. The Razorbacks have also won nine-consecutive home openers and are 98-20-4 (.819) overall in the first home game of the season. In the past nine home openers, Arkansas has outscored its opponents by an average of 46.8 to 14.2.
• Arkansas is one of only four SEC schools that did not change either coordinators this offseason.
Five Key Storylines
• Arkansas is coming off a season in which it went 8-5 (5-3) and won six of its last seven games, including a 45-23 decision over Kansas State in the 2016 Liberty Bowl. Arkansas is the only SEC West program to win a bowl game each of the last two seasons. The Razorbacks are receiving votes in both the AP and Coaches preseason polls.
• Austin Allen was named Arkansas' starting quarterback in April following the team's 10th practice of the spring. Allen is set to take the reins as the top signal caller from his older brother, former quarterback Brandon Allen, who was Arkansas' starting quarterback the past three seasons. Austin will make the first start of his career Saturday. A member of the Allen family has made 35 straight starts at quarterback for Arkansas.
• Arkansas is one of 13 FBS teams, including two in the SEC, to return nine or more defensive starters. The Razorbacks enter 2016 with the second-most returning tackling production in the nation at 86.8 percent and 67 career starts on the defensive line.
• Saturday's game marks Arkansas' first of nine contests against opponents who played in a bowl game last season. The Razorbacks have the ninth-toughest schedule in college football per ESPN.com's Preseason College Football Power Index. SEC teams represent eight of the top-25 toughest schedules nationally.
• Arkansas welcomes three new assistant coaches to its staff: former Iowa State head coach Paul Rhoads (defensive backs), former Buffalo Bills assistant offensive line coach Kurt Anderson (offensive line) and former Kansas running backs coach Reggie Mitchell (running backs).