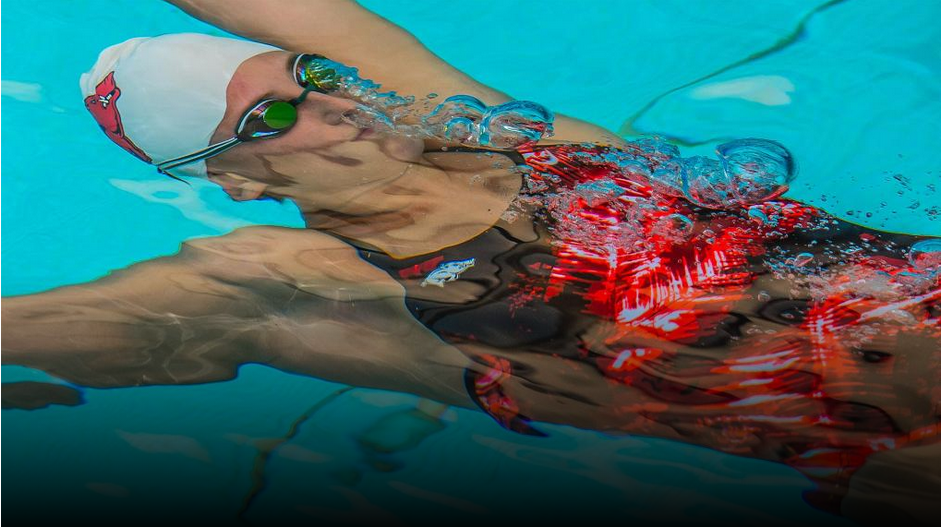 Anna Mayfield Named SEC Swimmer of The Week
FAYETTEVILLE, Ark. – After picking up four wins in Arkansas' win over Kansas, junior Anna Mayfield was named the Southeastern Conference Swimmer of the Week, as announced by the league Tuesday. The honor marks Mayfield's third conference honor as a Razorback.
With wins in the 100 backstroke (55.46) and 500 freestyle (4:51.78), Mayfield extended her individual-event win streak to three straight dual meets. Since the Razorbacks traveled to Vanderbilt on Jan. 10, Mayfield has touched the wall first in her last six solo contests.
Against the Jayhawks, Mayfield saw history repeat itself as she downed her own Robinson Natatorium pool record in the 500 freestyle when the Razorbacks last traveled to Lawrence, Kansas in 2013. The San Antonio, native logged a time of 4:51.78, besting her previous mark of 4:52.57.
Mayfield also aided the Razorbacks to first-place finishes in the 200 medley (1:43.56) and 200 freestyle (1:35.16) relays. On the day, Mayfield contributed 40 points to the Razorbacks' 194-105 win over Kansas.
The honor is Mayfield's first Swimmer of the Week accolade after being named Freshman of the Week twice in the 2012-13 season. This is the first weekly honor for the Razorbacks this season and first league accolade since current senior Susanna White was named Swimmer of the Week on Nov. 22, 2013.
UP NEXT
Arkansas will send a handful of swimmers to the Virginia Tech Invitational on Feb. 7-8 to prep for the SEC Championships in Auburn, Alabama on Feb. 17-21.