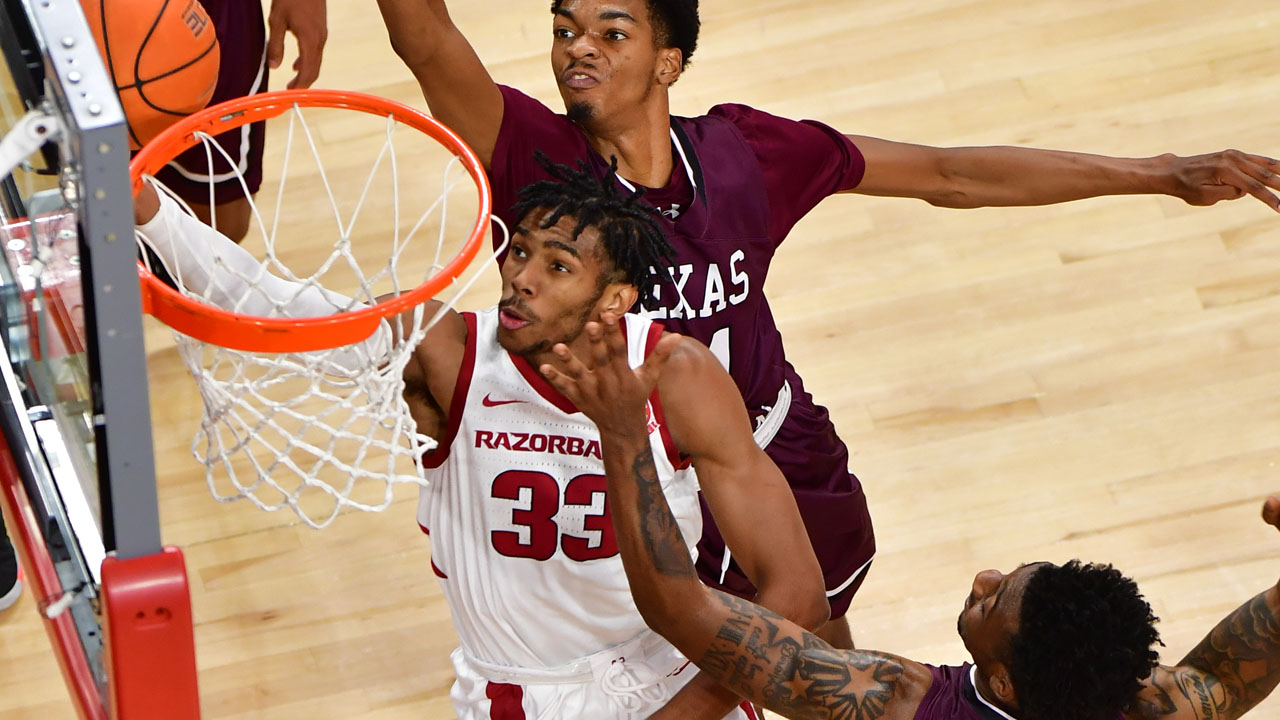 Arkansas Tames Tigers for 82-51 Win
FAYETTEVILLE – Arkansas was 0-of-13 from 3-point range in the first half but sophomore Isaiah Joe sank six triples in the second half as part of a 33-point effort in an 82-51 victory over Texas Southern Tuesday night at Bud Walton Arena in game two of the Collegiate Hoops Roadshow 0 Razorback Regional.
Joe's 33 points were one shy of a career high and the Fort Smith native pumped in 29 second-half points He added five steals, one shy of his career high.
Also leading the Hogs was graduate senior Jimmy Whitt Jr., who posted his sixth career double-double by scoring 17 points and grabbing 10 rebounds. Adrio Bailey finished with five blocked shots and Reggie Chaney, who saw his first action of the season, tied his career high with four steals.
Texas Southern, with 24 first-half points and 51 total points, was the first team in four tries to score over 20 points in the first half and score 50 points in a game on the Razorbacks. However, Arkansas held the Tigers to 34.5 percent shooting from the field and 18.2 percent from 3-point range (2-of-11).
No team has made more than two 3-pointers in a game versus Arkansas and opponents are a combined 8-of-69 (11.6 percent). Arkansas' defense also forced 24 turnovers and blocked 13 shots.
Arkansas returns to action Friday (Nov. 22) versus South Dakota. Tipoff at Bud Walton Arena is set for 8 pm.
FIRST HALF: Arkansas 37 – Texas Southern 24
Jimmy Whitt Jr., scored the first points of the game, but Arkansas trailed for just the second time this year, 3-2. The Razorbacks answered with a 9-0 run and an overall run of 13-2 to lead 15-5.
Arkansas surrendered 20 points in the first half for the first time this season. However, the 37 points by Arkansas are the second-most by the Razorbacks this season, trailing the 39 Arkansas scored in the first half versus Rice.
Whitt was 5-of-6 from the field and led Arkansas with 11 first-half points.
The Razorbacks led by 13 despite going 0-of-14 from 3-point range in the first half.
Arkansas' defense came away with seven blocked shots in the first half, including four by Adrio Bailey. The Razorbacks also forced 12 first-half turnovers thanks to three first-half steals by Reggie Chaney.
SECOND HALF: Arkansas outscored the Tigers 45-27 in the second half
Isaiah Joe opened the second half with a 3-point basket, extending the Razorbacks' streak to 1,015 games with a triple – the fourth-best streak in the NCAA.
Arkansas opened the second half on a 17-4 run, thanks to three 3's by Joe, to take a 26-point lead (54-28 at the 14:41 mark).
Arkansas led by at least 20 the rest of the second half.
Joe finished with 29 second-half points, making 8-of-13 from the field – 6-of-9 from 3-point range – and making 7-of-9 at the free throw line. Four of his game-high five steals came in the second half.
Arkansas only had four second-half turnovers (10 for the game) and, after allowing nine offensive rebounds in the first half, only allowed three in the second.
GAME NOTES
Arkansas' starting lineup was Jimmy Whitt (G) – Isaiah Joe (G) – Desi Sills (G) – Mason Jones (G) – Adrio Bailey (F) for the fourth consecutive game.
Arkansas won the tip for the third time in four games.
Jimmy Whitt Jr., scored the first points of the game, a fastbreak layup at 18:31. Arkansas has scored first in all four games this season.
Texas Southern took a brief 3-2 lead in the first half. The Tigers led for 18 seconds before Whitt started a 9-0 run and the Razorbacks never looked back.
Arkansas has only trailed twice this season for a total of 63 seconds (Arkansas trailed Rice early for 45 seconds in the season opener.
Arkansas is 7-0 all-time versus Texas Southern.
Arkansas is 4-0 to start the season for the first time since 2017-18.
Eric Musselman is 4-0 in his first year as Arkansas head coach. The last first-year Razorback head coach to start 4-0 was Nolan Richardson, who began 5-0 in 1985-86.
Just four games into his sophomore season, Isaiah Joe only needs to make 24 more 3-pointers to enter the school's all-time top 10.
For more­­ information on Arkansas Men's Basketball, follow @RazorbackMBB on Twitter.