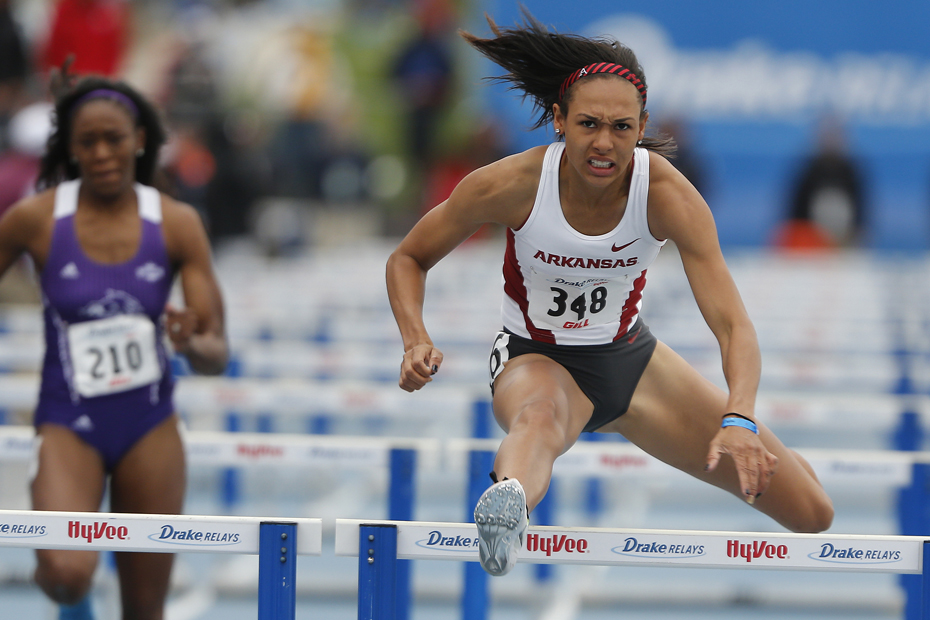 Brooks, 4x400m Qualify for #DrakeRelays Finals
DES MOINES, Iowa – The No. 5 University of Arkansas women's track and field team picked up a pair of qualifiers for finals Friday afternoon at the 106th Drake Relays. The Razorbacks will be represented Saturday by Taliyah Brooks in the 100-meter hurdles and their 4×400-meter relay team. Competition on day two of the annual event begins at 10 a.m. (CT) for Arkansas with the sprint-medley relay.
In the first event of the day, Brooks was the fifth-fastest overall qualifier with a time of 13.69 in the preliminary round of the 100-meter hurdles. Saturday's final is scheduled to go off at 2:18 p.m. (CT). In their program's history at the Drake Relays, the Razorbacks have won one title in the 100-meter hurdles (Brittany Hyter, 2012). Brooks has a personal best of 13.25 in the event from the John McDonnell Invitational.
The Razorbacks collected their second qualifier Friday with the performance of their 4×400-meter relay team. The quartet of Brianna Swinton, Daina Harper, Chrishuna Williams and Taylor Ellis-Watson combined for a season best of 3:31.77, good for the top time in the preliminary round. Saturday's final is scheduled to start at 3:45 p.m. Arkansas has won two Drake Relays in the event, most recently in 2011 when it set the meet record of 3:28.63.
Sandi Morris was Arkansas' lone field competitor Friday and finished second among collegians and third overall in invitational section of the pole vault. Billed as the Beijing World Championships Preview, the field featured top collegiate and professional athletes. Having stayed alive early with a third-attempt clearance at her opening height, Morris went on to finish the competition with final mark of 4.51m/14-9.5.
Along with the 100-meter hurdles, 4×400-meter and sprint-medley relays, Arkansas is also set for Saturday competition in the distance-medley relay and university section of the pole vault. The Razorbacks have won a total of nine Drake Relays titles, split between seven relay events and two individual efforts. Arkansas also holds meet records in the 4×400-meter and sprint-medley relays.
106th Drake Relays, Day 1
Des Moines, Iowa | Drake Stadium
100 Meters (prelim)
13. Regine Williams – 11.89 (-0.1)
800 Meters
10. Victoria Feole – 2:11.64
100m Hurdles (prelim)
5. Taliyah Brooks – 13.69q (-2.0)
16. Alex Gochenour – 14.38 (-2.0)
25. Leigha Brown – 14.71 (-2.0)
4x100m Relay (prelim)
9. Boakye/Williams/Harper/Swinton – 46.07
4x400m Relay (prelim)
1. Swinton/Harper/C.Williams/Ellis-Watson – 3:31.77 [SB]
4x800m Relay
4. Robison/Simko/Haiss/Kamilos – 8:37.58
Pole Vault (invitational)
3. Sandi Morris – 4.51m/14-9.5
The Razorbacks' next home meet is scheduled for May 1 with the Arkansas Twilight at John McDonnell Field. For more information about tickets for home events, call 800-982-HOGS (4647), email raztk@uark.edu or visit the Razorback Ticket Center located just east of Baum Stadium.
Arkansas is one of eight SEC teams in this week's USTFCCCA top-25 rankings with all eight positioned inside the top 21 spots. To open the postseason campaign, the 2015 SEC Outdoor Championships will be held May 14-16 at Spencer Stadium/Maddox Track in Starkville, Miss.
For more information on Arkansas track and field including in-meet updates, follow @RazorbackTF on Twitter.