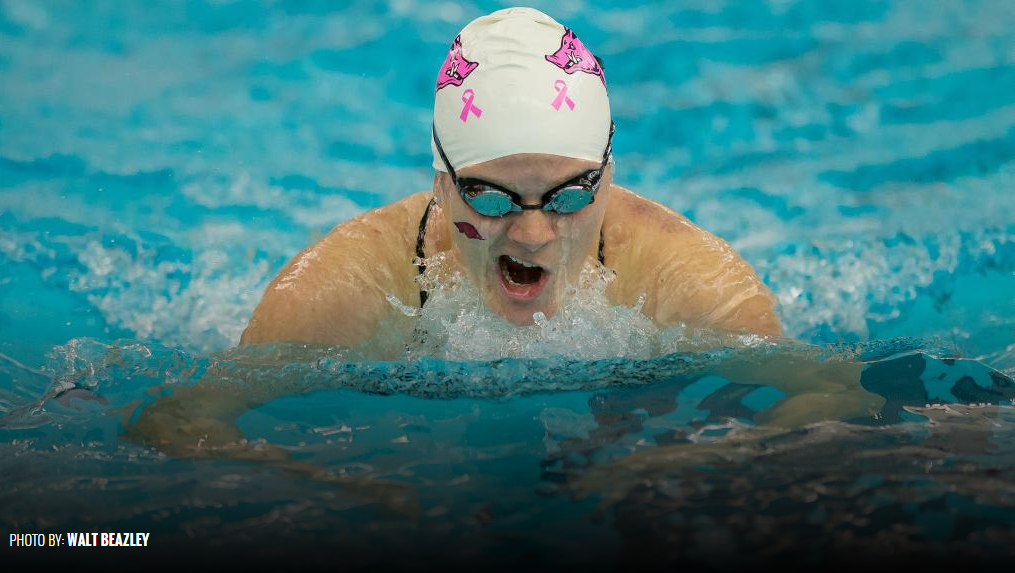 Daniels Paces @RazorbackSD on Day Four of SECs
AUBURN, Ala. – For the first time in five years, senior Nikki Daniels etched her mark in Arkansas swimming and diving history, becoming the first Razorback in half a decade to earn a spot on the SEC Championships podium and a top-three finish. The Wichita, Kansas native touched the wall third with a time of 59.52 in the 100 breaststroke finals on the fourth day of the 2015 SEC Championship in the James E. Aquatic Center Friday evening.
"I am so thrilled," said Daniels. "In a meet like this when every point counts it's so much more meaningful to race for your team than for yourself. I've been so close to that podium spot before, and to get it on my last chance was one of the highlights of my career as a Razorback."
The last Razorback to make an appearance on the SEC podium was Yi-Ting Siow when she was crowned the 2010 SEC Champion in the 200 breaststroke.
"I'm just so proud of her," said head coach Sean Schimmel. "For her to be here and to get top three is awesome. We're looking to build off that going forward. It was outstanding, I'm just so happy for her. Her work, her dedication, her commitment and trust in the process that shows up there."
Arkansas also set a new program record in the 400 medley relay to close the evening. Junior Anna Mayfield, Daniels, senior Susanna White and junior Maddie Monroe clocked a time of 3:35.09. The Razorbacks have set four records in as many days at the SEC Championships.
"The relays are rolling," said Schimmel. "The girls are doing a really good job of swimming connected and getting it done. They know when it comes time for the relays you've got to make things happen."
The Razorbacks opened the day in the 200 butterfly where three of their four swimmers clocked career-best times. Freshman Jessie Garrison registered a time of 2:00.15, good for the second alternate position heading into the finals. Junior Rachel Kessler and freshman Olivia Weekley also recorded a personal-best times with marks of 2:01.81 and 2:03.21, respectively.
In the 100 backstroke, the lone Razorback, senior Liz Braun, posted a career-best 55.15, good for the 29th spot of the prelims.
In the final individual event of the prelims, Daniels scorched her heat to out-touch her opponents for a season-best 59.46. Her time placed her as the No. 3 seed heading into the 100 breaststroke finals. Freshman Maddie Edwards also picked up a new personal record with a time of 1:04.44.
On the diving side, junior Hannah Bortnick racked-up a career-high 212.30 score on the platform dive.
200 Butterfly (Prelims): 26th – Jessie Garrison (2:00.15!), 39th – Taylor Weiss (2:01.74), 40th – Rachel Kessler (2:01.81!), 47th – Olivia Weekley (2:03.21!)
100 Backstroke (Prelims): 29th – Liz Braun (55.15!)
100 Breaststroke (Prelims): 3rd – Nikki Daniels (59.46#), 29th – Julia Banach (1:03.17), 34th – Maddie Edwards (1:04.44!)
100 Breaststroke (Finals): Nikki Daniels (59.52#)
Platform Diving (Prelims): 21st – Hannah Bortnick (212.30!), 27th – Shelby Bartlett (189.75), 28th – Nicole Gillis (188.25)
400 Medley Relay: Anna Mayfield, Susanna White, Nikki Daniels, Maddie Monroe (3:35.09%)
! – Personal Best
% – Arkansas Record
# – Arkansas Top-5 Time
For more information on Arkansas swimming and diving, follow @RazorbackSD.