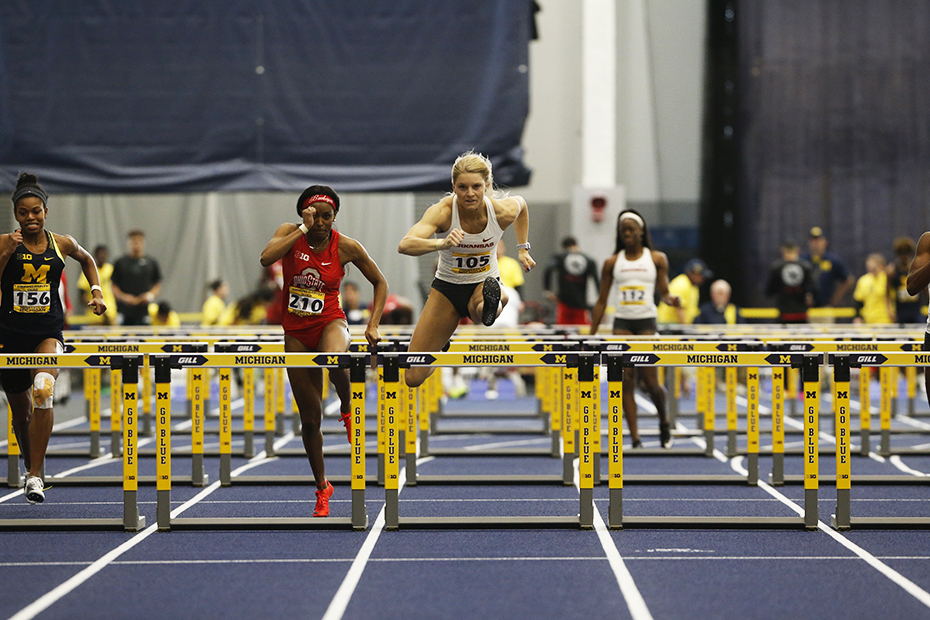 First Road Trip A Success For No. 2 Arkansas
ANN ARBOR, Mich. – The No. 2 Arkansas women's track team came away with five event titles, and facility records, in its first road tilt of the season at the Simmons-Harvey Quad in Ann Arbor, Michigan Saturday.
The Razorbacks laid claim to five event titles in the 60-meter dash, 200-meter dash, 60-meter hurdles, pole vault and the long jump. Arkansas finished in second with 129 points, ahead of Ohio State, who finished with 150, but ahead of Michigan and Michigan State who ended the day with 122 and 105 points, respectively.
"I think we're on schedule," said head coach Lance Harter. "We still don't have the whole team put together yet, but it was a great experience to go and test ourselves against non-SEC teams because the SEC is such a powerful conference and sometimes it behooves us to give our young kids a perspective of what the nations is about and how the SEC is such a monster."
After a successful 2018 home debut last weekend, Springdale, Arkansas native Payton Stumbaugh-Chadwick continued her early campaign with two additional event titles in the 200-meters and the 60-meter hurdles, bringing her early season total to four. Stumbaugh-Chadwick won her second 60-meter hurdles bout of the season, improving her season opening time and placing first with a time of 8.14. In the 200-meters, the senior tied her personal best with a time of 23:67. It was the first road trip since 2016 after missing the 2017 season with an injury.
"Payton (Stumbaugh-Chadwick) is just so far ahead of years past," said Harter. "The track is maybe not as fast as we're used to in times that we ran, I think that she impressed a lot of people."
Additional Notable Performances
Junior Tori Hoggard came away with the pole vault title with a height of 4.45m/14-7 1/4 while senior Taliyah Brooks took the long jump with a distance of 5.94m/19-6. Sophomore Taylor Werner took second in the 3,000 meter with a time of 9:10.40.
"Taylor (Werner) is going to be one of our great ones in the legacy of distance runners at Arkansas," said  Harter. "She has a very bright future ahead of her being so young, but immensely talented. It went across the board. We're looking forward to a great competition at the Razorback Invitational."
You Get A Record, And So Do You
Five Razorbacks came away with facility records in Michigan in their respective events. Jada Baylark took first in the 60-meter hurdles 7.38 to start the day while Stumbaugh-Chadwick's times in the 200-meters and 60-meter hurdles etched her name in the Wolverine record books. Hoggard and Senior Brooks marked the facility best in the pole vaults and the long jump, respectively.
Event Winners
60 Meters: Jada Baylark, 7.38
200 Meters: Payton Stumbaugh-Chadwick, 23.67
60 Meter Hurdles: Payton Stumbaugh-Chadwick, 8.14
Pole Vault: Tori Hoggard, 4.45m/14-7 1/4
Long Jump: Taliyah Brooks, 5.94m/19-6
Arkansas returns home next weekend to host the Razorback Invitational Friday Jan. 26 and Saturday Jan. 27.
Simmons-Harvey Quadrangular
January 20, 2018
Michigan Indoor Track Facility (Ann Arbor, Mich.)
60 Meters Prelims
1. Jada Baylark – 7.50
2. Kiara Parker – 7.51
3. Taliyah Brooks – 7.55
6. Tamara Kuykendall – 7.65
60 Meters Finals
1. Jada Baylark – 7.38 (Facility Record)
2. Kiara Parker – 7.42
3. Taliyah Brooks – 7.53
7. Tamara Kuykendall – 7.65
200 Meters
1. Payton Stumbaugh-Chadwick – 23.67 (Facility Record)
2. Jada Baylark – 24.01
3. Kiara Parker – 24.38
6. Tamara Kuykendall – 24.49
9. Janeek Brown – 24.95
400 Meters
3. Morgan Burks-Magee – 55.35
4. Sydney Hammit – 55.81
5. Sydney Davis – 56.82
800 Meters
4. Joy Ripslinger – 2:10.12
12. Ruth Wiggins – 2:15.17
15. Emily Jeacock – 2:18.24
Mile
3. Devin Clark – 4:46.58
4. Sydney Brown – 4:46.62
8. Carina Viljoen – 4:55.95
11. Rachel Nichwitz – 5:00.36
13. Claudia Verstraten – 5:04.12
18. Greta Taylor – 5:10.52
3,000 Meters
2. Taylor Werner – 9:10.40
6. Maddy Reed – 9:30.40
10. Ashton Endsley – 9:44.77
60m Hurdles
1. Payton Stumbaugh-Chadwick – 8.14 (Facility Record)
2. Janeek Brown – 8.32
4-x-400m Relay
2. Arkansas A – Brooks, Burks-Magee, Baylark, Chadwick – 3:40.03
Pole Vault
1. Tori Hoggard – 4.45m/14-7 1/4 (Facility Record)
2. Lexi Jacobus – 4.30m/14-1 1/4
3. Desiree Freier – 4.15m/13-7 1/4
4. Morgan Hartsell – 4.00m/13-1 1/2
5. Ellie Ramos Mata – 3.85m/12-7 1/2
High Jump
2. Carmen Sitz – 1.69m/5-6 1/2
Long Jump
1. Taliyah Brooks – 5.94m/19-6 (Facility Record)
Shot Put
11. Kelsey Herman – 12.04m/39-6
For more information on Arkansas track and field including in-meet updates, follow @RazorbackTF on Twitter.