From the Desk of Your AD
Hello Fellow Razorbacks!
It is the middle of April and so much is happening On the Hill! For a program like ours, the spring season schedule is always full, but the last few weeks have been particularly busy. I'm excited about all the things happening here at the Home of the Razorbacks and I hope you will have a chance to take part in the exciting things to come.
It has been just more than a week since we welcomed Coach Eric Musselman and his family to the University of Arkansas and the Razorback men's basketball program. In the past 10 days, I have been asked often about what made Coach Musselman stand out as we sought to find the next head men's basketball coach for the University of Arkansas. For me, these things were clear about Coach Musselman:
He is high-energy
He has a basketball IQ that is off the charts
He utilizes statistics and analytics to develop individuals and build a cohesive team
Most of all – he has a plan for the University of Arkansas and how we can be successful
From the time Coach Musselman arrived in Northwest Arkansas, he has gone to work to help elevate our program. In addition to meeting with our student-athletes, our coaches and support staff, contacting recruits and beginning to lay the groundwork for his program, Coach Musselman has been out in about in our state as well as representing the University of Arkansas in numerous local and national interviews.
Below is a sampling of some of the signature events, public appearances and interviews Coach Musselman participated in during his first week on the job:
Sunday, April 7
Monday, April 8
Tuesday, April 9
Wednesday, April 10
Thursday, April 11
Friday, April 12
Monday, April 15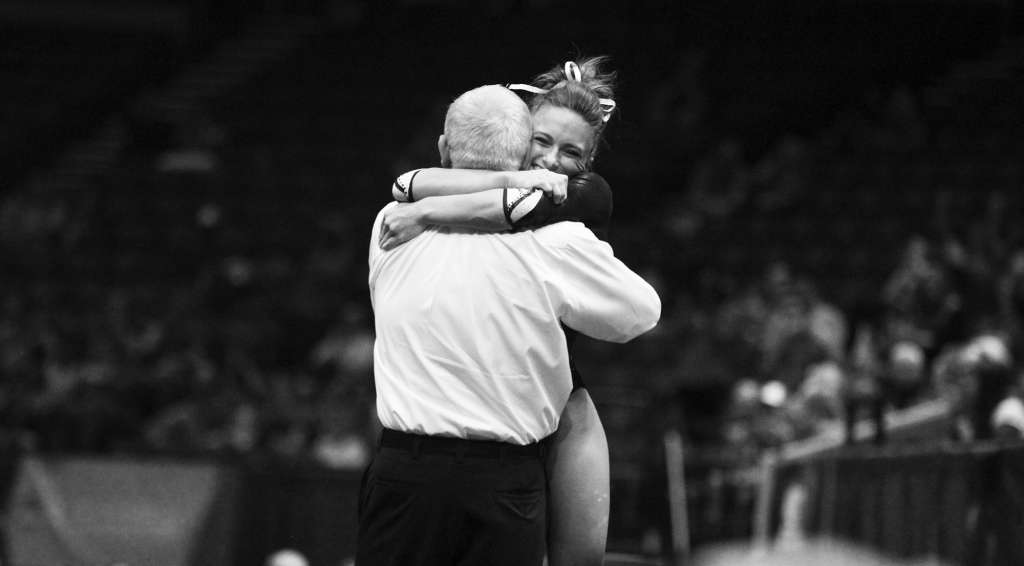 Closing of a Chapter
One thing is certain – the world of intercollegiate athletics is always evolving. The day after we officially welcomed Coach Eric Musselman and his family to our men's basketball program, we paid tribute to a longtime head coach who is stepping down after a remarkable career with our gymnastics program.
After more than 17 years, Arkansas Head Gymnastics Coach Mark Cook announced his retirement. It was a decision that Mark made on his own and deservedly so. If you haven't already, I hope you will take the time to review the official press release as well as a special Voices feature that reflects Mark's perspective on his career here at Arkansas and on his decision to retire. I know that Razorback fans join me in saluting Mark for his distinguished career and his longtime dedication to the Razorbacks!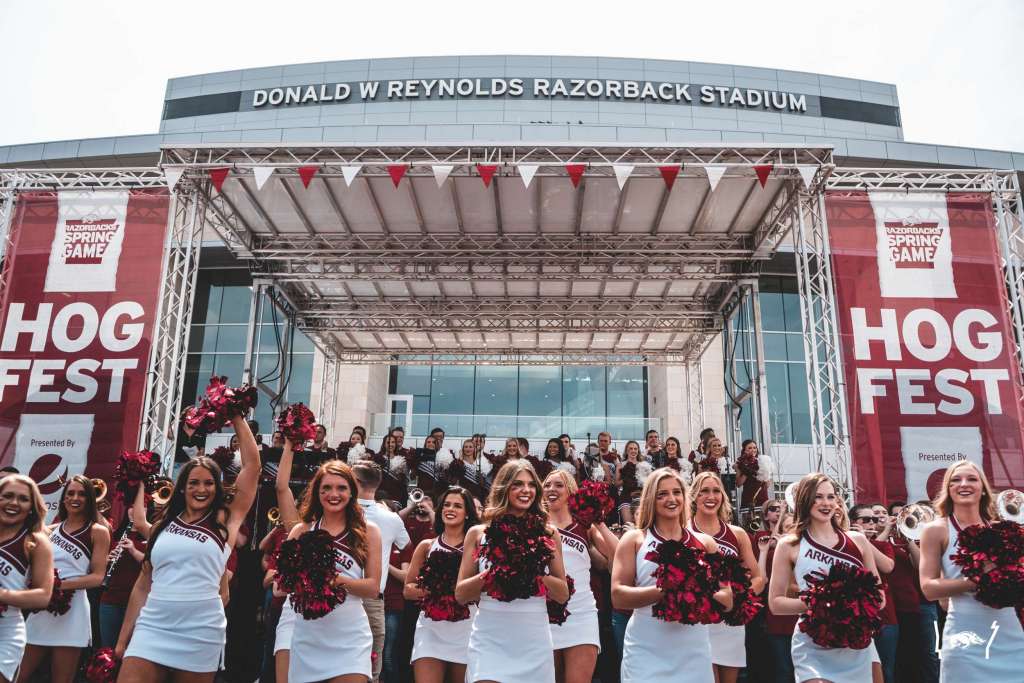 Spring Game Weekend
It was great to see so many of our former student-athletes, coaches and fans return for our Red-White Spring Game Weekend! From the family friendly events of HogFest to the A Club Reunion, it was a great way to conclude spring football, culminating with the final spring outing for Coach Chad Morris and our football team. On the night before the spring game, we honored 14 former Razorback student-athletes at the University of Arkansas Spring Sports Hall of Honor at the Fayetteville Town Center. We owe so much to the men and women who have competed as Razorbacks through the years and it is always exciting to celebrate the history and tradition that helps set Razorback Athletics apart.
Back to Grass
The Red-White Spring Game marked not just the end of spring football, but the final game on the Field Turf of Frank Broyles Field. Late last week, we removed the artificial surface to return to natural grass for the 2019 season. You can follow all of the progress as we return Frank Broyles Field to grass for the first time since 2009.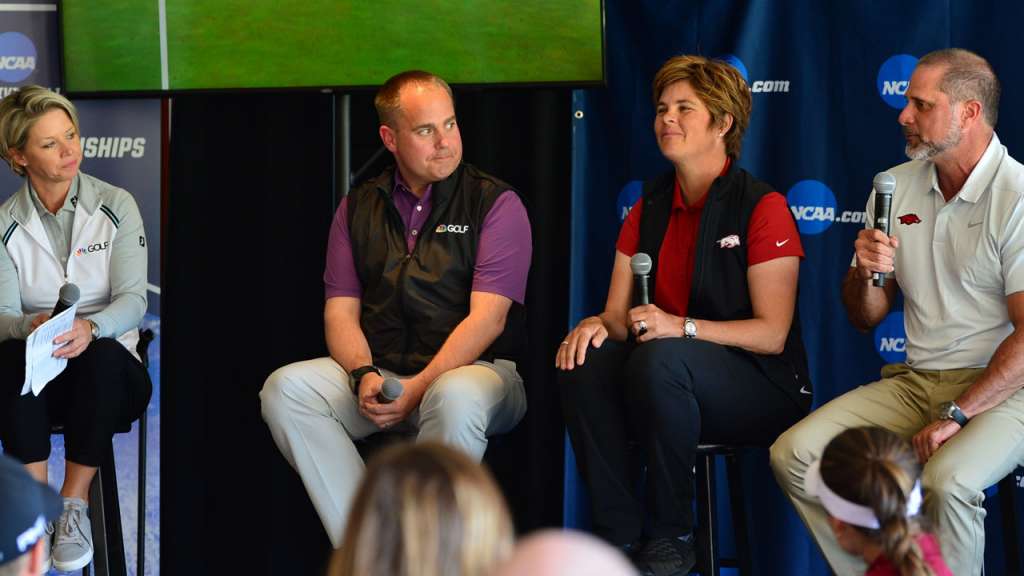 Home to the NCAA Championships
I had the pleasure of participating in a press conference last week promoting the upcoming 2019 NCAA Men's and Women's Golf Championships to be held at the Blessings Golf Club from May 17-22 (women) and May 24-29 (men). The press conference was emceed by former Razorback Lisa Cornwell and attended by several other great Razorback golfers including Stacy Lewis, Gabby Lopez and Austin Cook.
It is the first time the University of Arkansas has hosted this prestigious event and due to the generosity of a familiar Arkansas family, fans can attend for absolutely free. Thanks to Tyson Foods and the Tyson Family Foundation, fans have complimentary admission to watch the nation's best collegiate golfers compete for a championship. For more information on how you can be a part of this signature event, visit the official 2019 NCAA Men's and Women's Golf Championships home page.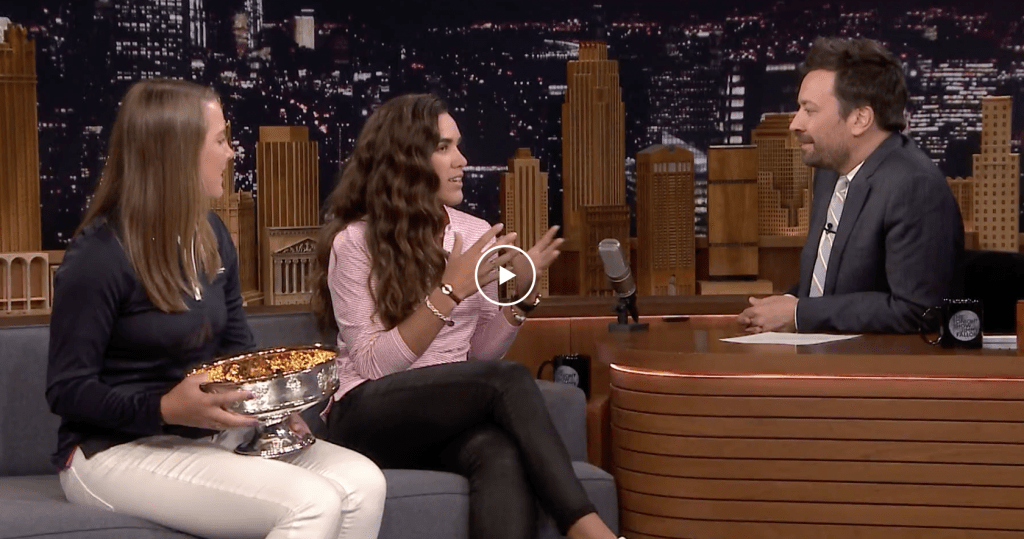 Historic Event
Speaking of history, Razorback women's golfer Maria Fassi was part of an extraordinary event recently. Maria finished as the runner-up in the inaugural Augusta Women's Amateur, played on the hallowed course of the Augusta National Golf Club in advance of the Masters. It was a milestone event for women's golf and Maria and tournament winner Jenna Kupcho made several national appearances following the tournament including on the Today Show and The Tonight Show with Jimmy Fallon. The Razorback Nation couldn't be prouder of Maria for the way she competed and represented the University of Arkansas!
Mark Your Calendars
Razorback fans, don't forget Coach Dave Van Horn and the Razorback Baseball team will be making their annual trip to Central Arkansas soon. The OmaHogs will take on the Grambling State Tigers at Dickey-Stephens Park in North Little Rock on Tuesday, April 30 at 6:30 p.m. It is always a great night of baseball in the Rock, so make sure you order your tickets now to join us!
Also, not too early to make your plans to join us for University of Arkansas Commencement weekend, May 9-12. Before you watch your favorite graduates get their diplomas, be sure to catch a SEC Western Division baseball showdown with LSU (May 9-11) at Baum-Walker Stadium or our men's and women's teams competing for another conference crown at the SEC Outdoor Track and Field Championships (May 9-11) at John McDonnell Field.
Snout Outs
Congratulations to our men's golf team who outdistanced the field by 19 strokes this past weekend at the Git-R-Done Husker Invitational in Lincoln, Nebraska. In addition to the team win, Tyson Reeder claimed his first collegiate medalist honor, shooting a final-round 69.
Two former Razorback men's golfers Andrew Landry and Alvaro Ortiz were among those who completed for the coveted Green Jacket at The Masters last week. Ortiz, who was competing as an amateur, finished the tournament at 2-under par, just one stroke shy of earning top-amateur honors. Landry finished at even par for the tournament after recording a 2-under par final round.
Super Sid has done it again! Less than a year after being inducted into the National Collegiate Basketball Hall of Fame, our own Sidney Moncrief is headed to the Naismith Memorial Basketball Hall of Fame. Sidney will join five other inductees at the official induction ceremony to be held September 5-7 in Springfield, Massachusetts. Congratulations to our Razorback Legend and soon to be two-time College Basketball Hall of Famer!
It was a pleasure to welcome more than 65 former Razorback men's tennis student-athletes and coaches back to Fayetteville this past weekend for an Alumni reunion. It was a great weekend of fun and fellowship as they gathered to cheer on Coach Andy Jackson and our men's tennis team to a victory in its final regular season home match against Auburn.
Until next time –
Go Hogs!
Hunter