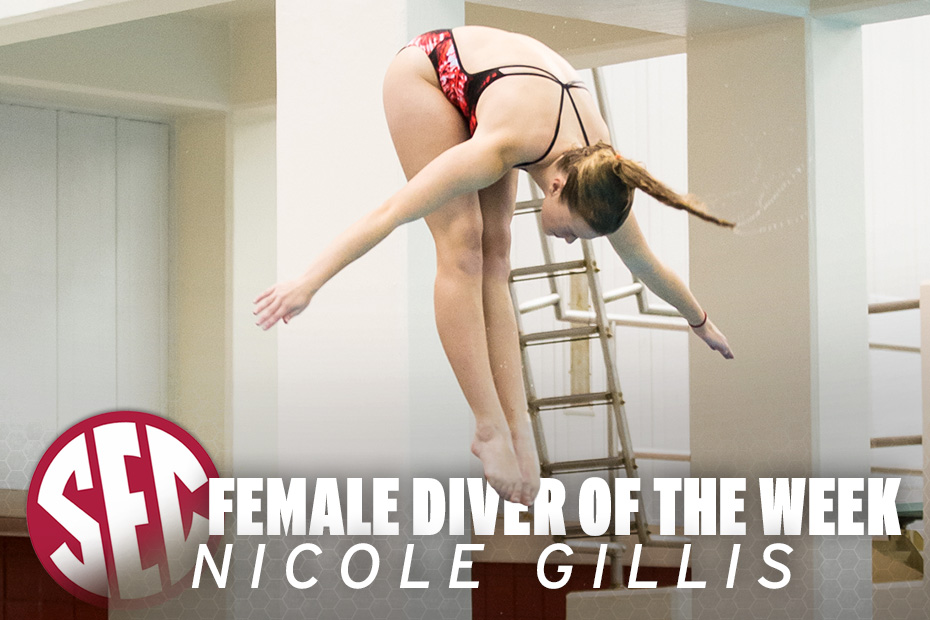 Gillis Named SEC Female Diver of the Week
FAYETTEVILLE, Ark.- The University of Arkansas Nicole Gillis earned an award from the Southeastern Conference on Tuesday based on her performance in the SEC opener win over Kentucky.
Gillis, a sophomore from Johannesburg, South Africa, was picked as the SEC Female Diver of the Week. She won the three-meter competition with a score of 297.08. Gillis also finished second place overall in the one-meter with a score of 278.75. Contributing 13 points to Arkansas' overall score, she helped the Razorbacks earn their second dual meet win of the season. Diving coach Jeff DiNicola enters his third season with the Razorbacks and Gillis is the first diver to earn the award under DiNicola's time at Arkansas.
At the first dual meet of the season against Nebraska, Gillis qualified for the NCAA Diving Zone Championships alongside teammate Hannah Bortnick. The competition will take place on March 7-9 in College Station, Tex.
The Razorback swimming and diving team will return to the pool on Friday Oct. 23-24th at the Rice Invite in Houston, Tex.
For more information on Arkansas swimming and diving, follow @RazorbackSD on Twitter.