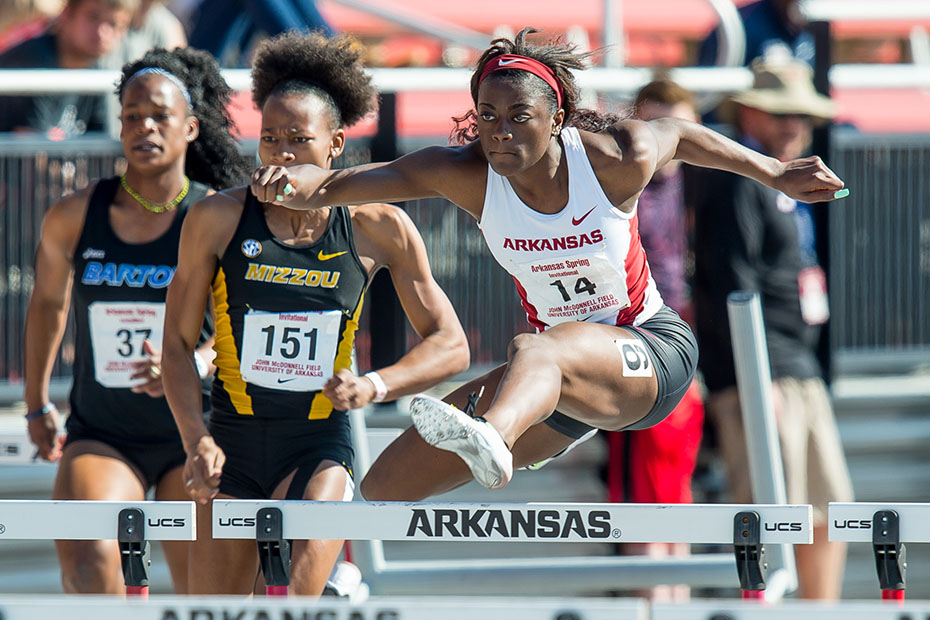 Herman Captures Heptathlon Behind Personal Bests
Heptathlon Day Two | Meet Schedule
FAYETTEVILLE, Ark. – Arkansas freshman Kelsey Herman emerged as a contender for one of the 24 2016 NCAA Outdoor Championships' combined events spots behind a strong day two performance in the heptathlon Thursday afternoon at the John McDonnell Invitational in Fayetteville.
Herman carried over the momentum from day one and claimed victories in all three events setting personal records in the final two competitions (javelin throw and 800-meter run) of the heptathlon.
The 2013 Arkansas Democrat Gazette Female Athlete of the Year started her day in the long jump posting a distance of 5.48/17-11 3/4. Herman then proceeded to the javelin throwing to a personal best of 33.71/110-7. She capped her impressive day knocking almost 10 seconds off her previous best in the 800 with a new PR of  2 minutes, 22.47 seconds.
Herman  closed the heptathlon with a new personal record of 5,489 points — a full 1,017 points clear of second place. Her current total places her among the top 24 collegians in the nation at No. 21.
Heptathlon Day Two (Texas Relays)
Kelsey Herman – 5,372 – 100 hurdles: 13.61, high jump: 1.66m/5-5 1/4, shot put: 10.89m/35-8 3/4, 200; 24.43w, long jump: 6.03m/19-9 1/2w, javelin throw: 30.47m/99-11, 800: 2:32.71
Heptathlon Day Two (John McDonnell Invitational)
Kelsey Herman – 5,489 – 100 hurdles: 13.60, high jump: 1.70m/5-7, shot put: 11.48m/37-8, 200: 24.43, long jump: 5.48/17-11 3/4, javelin throw: 33.71m/110-7, 800: 2:22.47
Live results for the meet will be available at flashresults.com.
Tickets are just $5 for adults and youth 17 and under get in free. Visit arkansasrazorbacks.com or call 800-982-HOGS and get your tickets today.
For more information on Arkansas track and field including in-meet updates, follow @RazorbackTF on Twitter.