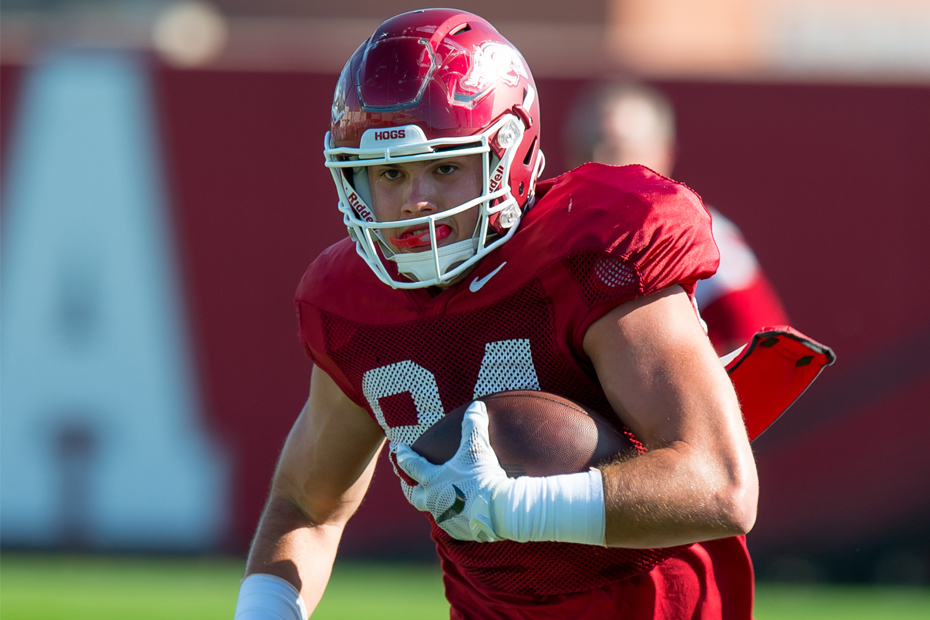 #HogsCamp Practice 8: Tretola & Henry Are Ready

Arkansas was outside again Friday afternoon for Practice 8 of fall camp. This workout was lighter, lasting only 19 periods in half pack (shoulder pads and thigh pads) as the team looks to stay fresh ahead of Saturday's scrimmage.
The Razorbacks will host Fan Day on Sunday from 2 – 4 p.m. at Donald W. Reynolds Razorback Stadium. Admission is free and fans can find more information here.
Three Takeaways
1. Offensive Stalwarts
The two best players for the offense in today's practice were senior Sebastian Tretola and junior Hunter Henry. Coach Bielema said following practice that Tretola was very impressive. The San Bernardino, Calif. native is more than 40 pounds lighter than when he arrived on campus just over a year ago, and it shows on the field. He's one of Arkansas' most athletic offensive lineman, getting outside the box and downfield to finish blocks on a variety of plays. He's also on the recently released Piesman Trophy watch list.
Henry is one of Arkansas' most reliable players and receivers. The tight end has improved his blocking this offseason and is poised for a big year, picking up first team All-American honors and earning a spot on the John Mackey Award watch list for the nation's top tight end.
2. Unheralded Defense
A couple of off-the-radar guys at very different points in their career have put together a string of good practices this week. Senior Mitchell Loewen continues to impress, lining up at a variety of different spots along the defensive line. Loewen began his career as a walk on and has played numerous position during his time on The Hill, but settled into the defensive line last season and played well in a reserve role. After missing time to injury, he's healthy now and is a big reason why the depth on the defensive line has been so impressive for the Razorbacks.
Another guy who has stepped up is true freshman Dre Greenlaw. He didn't have a position on National Signing Day, as the team listed him as both a safety and a linebacker. But as he continues to get into the weight room and grow, it's becoming clear that he's a natural fit at linebacker. He's spent the majority of camp backing up Brooks Ellis at the WILL linebacker position and while Ellis is fully entrenched as the starter, it's clear that Greenlaw can help the Razorbacks right away. Tomorrow's scrimmage features live tackling and Greenlaw is a guy that will certainly be exciting to watch.
3. Virtual Reality
Arkansas spent several periods of practice today recording content for its new virtual reality equipment. The technology, powered by StriVR, helps players experience practice-like situations in the film room. It's one of those "you can't believe it until you try it" technologies but trust us, the user really feels like they're in the middle of the field.
The Razorbacks will use the content they shot today, and in other practices, to improve film study and help diagnose plays and coverages quickly. With only a limited amount of time available to practice each week, this technology allows players to put themselves into practice situations on their own time.
#HogsCamp Social Media
Practice 8! Time to rock and roll #WoooPig pic.twitter.com/sfJPK1CFX2

— Razorback Football (@RazorbackFB) August 14, 2015
Turning back to offense with another freshman, @The3rdRawleigh . 22 days until Game Day! #WPS🐗 pic.twitter.com/YczQDUzjim

— Razorback FB Recruit (@RazorbackFBRec) August 14, 2015
Solid practice today. Ready for some live tackling in tomorrow's scrimmage! #Uncommon pic.twitter.com/vwx4bddMqj

— Razorback Football (@RazorbackFB) August 14, 2015